The Liberal Virus: Permanent War and the Americanization of the World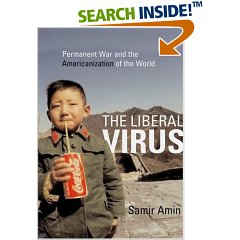 January 28 2008
The Liberal Virus: Permanent War and the Americanization of the World
by Samir Amin
NY: Monthly Review, 2004, 128 pp., pb
The first 40 pages had nothing MIM could disagree with. Samir Amin is a political economist of the Third World, who many may find difficult to separate from MIM.
According to Amin, the world is divided into a periphery and core, roughly parallel to the Third World and imperialist countries. Like MIM, Amin sees capital transfer from the Third World to the First World. However, Amin believes that a majority of the First World urban people are not middle classes.(p. 37)
Like MIM, Amin is not happy with post-modernism, Liberalism and economists who see an unfolding of the logic of Liberal laws of the economy.
According to Amin, there is a problem now with the one-half of the world that is still peasant.(p.32) The fact that Maoism treats the peasant question makes it the only game in town according to Amin.(p. 35) Nonetheless, Amin sees peasants as doomed economically or militarily if groups of 500 to 600 million do not break away from the core's economy and set their own peasant-friendly prices. He does not explain it, but says there is now a 2000 to 1 gap between the agricultural productivity of the most advanced agriculture today and the peasants' agriculture. He says the gap had been 10 to 1 as late as 1940.(p. 32)
For MIM, such a gap in productivity stems from a transfer of wealth that makes a different kind of agriculture possible. Ultimately that wealth comes from labor. It is not that technology or the productive forces give rise to wealth. Rather technology and productive forces arise because of labor.
Amin also ends the book talking about "social Europe," the difference where Europe sees itself as more social-democratic than the united $tates. Amin calls on Europe to stop financing the United $tates and he urges geopolitical alliances to handle U.$. imperialism.
"This liberal virus, which pollutes contemporary social thought and eliminates the capacity to understand the world, let alone to transform it, has profoundly penetrated the whole of the 'historical left' formed in the aftermath of the Second World War."(p. 41)
That's where the good part of the book ends, with the rest capitulating to "democracy."
Amin calls for social-democracy by holding up the specter of U.$. imperialism as something worse than any European imperialism was.(p. 80) While we agree with some of Amin's strategic thinking on Afro-Asiatic unity and dividing imperialists for instance, on the whole, The Liberal Virus is a capitulation.