Comments on "all sex is rape"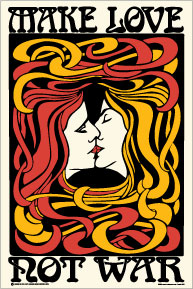 Comments on "all sex is rape"
(llco.org)
There are some Maoists and "anti-imperialists" in the First World who claim that "all sex is rape." At times, they take this line very seriously. Other times, they seem to hold that it is merely provocative rhetoric. The comments here are not a comprehensive refutation of everything they say. What is said here just addresses some aspects of the trend. One of their arguments from MIM goes like this:
"What alleged Marxists need to understand is that individual consent to a contract with an employer does not disprove exploitation and likewise individual consent to sex does not disprove rape. For the Liberals consent is the key both to employer-employee relations and sexual interaction. That's not Marxism. Whether it is alcohol or lies, sexual consent today is a joke. It cannot be taken seriously until after the coercive conditions affecting sexual consent are gone." (1)
This argument implies that truly consensual sex is sex that happens free of all coercion, in a context free of all oppression. Inequalities in power mean that true consent is not really possible under current conditions. According to this kind of thinking, decisions are always coerced in some way. Even an individual's desires are programmed by the patriarchy. In other words, all sex is rape regardless of whether people want to have sex or not, regardless of what they say or contract with each other. Individuals are not capable of freely choosing. Individuals are not capable of making informed, consensual, free decisions about their bodies. Since true consent free from all coercion is not currently possible, all sex is necessarily rape. Truly consensual sex, sex free of all coercion, they claim, can only happen once class and patriarchy have been abolished. Although these people often claim that their argument has no implication in terms of regulating behavior under current conditions, their arguments imply that those who have sex under current conditions are rapists. It is implied that the vast majority of humanity, including ordinary masses in the Third World, are rapists. Although these people do not connect this argument directly to advocacy of celibacy, advocacy of celibacy is part of the same package. Whether the authors themselves connected "all sex is rape" to advocacy of celibacy, their audience often does make the connection between the two.
Marx criticized the anarchist Proudhon's slogan of "all property is theft" as muddled. (2) "All sex is rape" and "all property is theft" are similar in some respect. There is a kind of truth there, but it is only a half truth. All interactions in class society are coerced in some sense, including trade and sex. Does that mean all actions in class society should be prohibited under current conditions in the same that we think that rape should be prohibited by legal sanction? Such is a kind of absurdity. In terms of property, a component of the people's struggle can be to restore a more just distribution of property, not simply to abolish property. Protection of indigenous land or the property of oppressed nations can be part of the revolutionary process. Demand and payment of reparations can be also. Under semi-feudal conditions, land reform, granting land, property, to the tiller, was the cornerstone of the New Democratic phase of the Chinese revolution. Is "theft" the best way to describe such progressive distributions of private property? Is "theft" the best way to describe land to the tiller or the restoration land to indigenous people? To say "all property is theft" obliterates important distinctions and can undermine the people's struggle under certain conditions. To claim "all sex is rape" makes a similar mistake. It is like the error Descartes makes in the Meditations. In the Meditations, Descartes' doubts about the world grow greater and greater as part of an attempt to determine what counts as true knowledge. At the peak of the skeptical exercise, what counts as real knowledge is only that set of propositions that cannot be doubted. By setting the criterion for knowledge so high, Descartes makes almost all knowledge impossible. So, this idealist move ends up obliterating the distinction between science and fiction, for example. We are left with only knowledge of the cogito, "I think, I exist," before Descartes relies on the sophistry of an ontological argument for the existence of God to guarantee knowledge of the world. Similarly, setting the bar for what counts as consent impossibly high obliterates the distinction between, for example, a wife initiating sex on her husband's birthday and the case of a masked man with a knife at a girl's throat forcing sex. To set the bar so high is completely at odds with what most people think, including rape victims themselves. Most victims themselves intuitively recognize the difference between consensual sex and rape.
"All sex is rape" arises from incorrect metaphysical assumptions about what the nature of human agency, coercion, and consent. To put it bluntly, reasonable consent is not necessarily a decision free of coercion in every sense. There are clear cases of coercion that raise to the level of rape. For example, a person who puts a knife at another's throat in order to have sex is a clear case of rape. However, if a woman, for example, lies about her age in order to make herself more sexually appealing, such behavior is not considered rape even though some people claim lying is a form of coercion. Even if lying is a form of coercion, certain lies connected to sex do not raise to the level of rape. There are also plenty of hard cases that are more difficult to determine. Even so, just because there are some hard cases does not mean all cases are equally hard to determine nor does it mean all sex is rape.
"All sex is rape" turns the vast majority of humanity into rapists, including the revolutionary masses themselves just as some anarchists see all humanity, even the poor, as degenerate, parasitic, even thieves. Such idealist thinking obliterates important distinctions and gives no guidance to revolutionary practice. Those who advocate "all sex is rape" claim that their line has utility for the revolutionary movement, that it undermines bourgeois feminism. Whereas it may be true that "all sex is rape" pushes bourgeois feminism toward a deeper analysis, in the end, "all sex is rape" still falls within the limits of bourgeois feminism. Similarly, Proudhon's "all property is theft" falls within the limits of bourgeois economics. "All sex is rape" may push practice away from bourgeois parliamentarism, but that does not mean it pushes practice in a proletarian direction. It pushes practice toward bourgeois so-called "consciousness raising," empty posturing, sometimes toward wrecking activity. It is a superficial analysis that, in the best case, gives no answer to the first question of revolution: Who are our enemies? Who are our friends? In the worst case, it leads to First Worldist pseudo-feminism and gender activism. In the worst case, it leads to an "Amazonian separatism" and wrecking activity that divides the proletariat and undermines their struggle. Also, it is damaging to the real struggle against rape because it belittles real cases of rape and also discredits anti-rape activists.
Sexuality is normal behavior for any complex species. Most people desire a sexual life even in the context of oppression. Most people do not desire to be raped. Not that ordinary language is always right, but most people recognize the difference between happy sex and rape. "All sex is rape" is so disconnected from reality that it does not correspond at all to the experiences of the vast majority of humanity. "Looks like there is a vacancy in the crazy town hotel" is a typical response to "all sex is rape." "All sex is rape" isolates its advocates from the masses in the Third World. Even in terms of organizing in the First World, it is a line that undermines the resistance movement by pushing away almost everyone except for a very tiny segment of First World college-based, hipster, gender activists. Is it a fantasy politics that confines one to a very small activist ghetto. It is a fantasy politics that pushes away most males and most females. It pushes away most poor people. It pushes away almost everyone. It is the bourgeois and petty-bourgeois fantasy politics of the isolated, ineffective and destructive.
The answer to "all sex is rape" and other forms of bourgeois pseudo-feminism is proletarian feminism. The answer to First Worldist pseudo-feminism is proletarian feminism. The answer is to promote egalitarian practices that are effective at moving our communities toward Leading Light Communism. It is to create practical standards that improve on existing behaviors, practical standards that will pull the community forward, but will also be recognize by the community as reasonable. It is to create a mass line, not merely declare an idealist formulation. The answer is a feminism that can be wielded effectively as a weapon by the oppressed because it is rooted in reality. The answer is a feminism that strengthens, not weakens the anti-imperial and revolutionary struggle. The answer is a feminism that speaks to the vast majority of women and men in the Third World. The answer is a feminism that addresses the truly oppressed. The answer is all-powerful Leading Light Communism.
Notes
1. http://www.prisoncensorship.info/archive/etext/faq/allsexisrape.html
2. http://www.marxists.org/archive/marx/works/1865/letters/65_01_24.htm
Deja un comentario / Leave a comment / Mag-iwan ng komento / Hinterlasse einen Kommentar / Αφήστε ένα σχόλιο
Contact the Leading Light
Want to join the struggle? Have a question? Do not be afraid to contact us. Email llco at llco.org