50th Anniversary of Chicano Moratorium - Bring Resistance to U.$. Militarism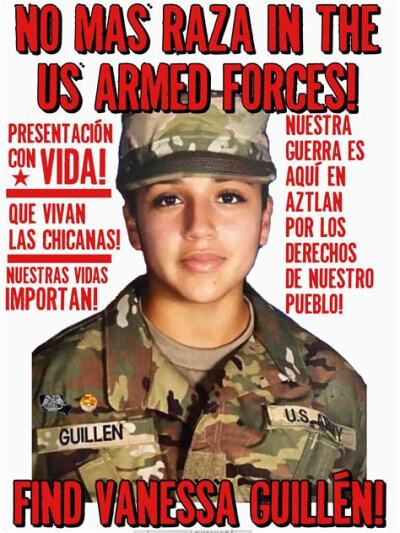 In July 2020, there was a Chicano Moratorium event in Oakland, CalifAztlán at San Antonio Park. On 5 September 2020, there was another Chicano Moratorium event in Arroyo Viejo Park, organized by the Chicano-Mexicano Resistance and local Brown Berets. These were beautiful events that celebrated the resistance of the Chicano Nation and remembered the initial event of 1970.
These events were held in the spirit of the demonstration held by the Chicano Moratorium Committee Against the Vietnam War on 29 August 1970 in East Los Angeles. That action was 30,000 strong, and at the time it was protesting the Vietnam War and the overwhelming deaths of Chicano soldiers in the U.S. war on Vietnam (20% of the deaths, while only 10% of the population). At least 4 people were murdered by the pigs that day.
The 2020 actions were joyous. The sun was out, familias were out, kids, babies, mamas and Raza. Chicano revolutionary organizations were there like the Republic of Aztlán, the Oakland Brown Berets and the Chicano Mexicano Resistance. Music performers were lively playing revolutionary rap by a local Chicano rap artist named Aztlán Native who performed. There was Chicano spoken word, Chicano poets, speakers and even an African group performed showing that Brown and Black unity.
One of the speakers at the July event was "Big John," formerly of the Chicano Revolutionary Party (CRP). The CRP was active in Oakland in the 1970s-80s. This speaker spoke of him being at the original Moratorium in 1970. I thought that was cool to hear about what took place in 1970 from someone who was there. Other speakers spoke of the need for anti-imperialism and liberation of the Chicano Nation. The crowds were very into the message of a Free Aztlán with shouts of "Chicano Power!", "Viva la Raza!" and "Chinga la Migra!" heard. Many attendees were interested in the book Chican@ Power and the Struggle for Aztlán that comrades had at the events, and some told us they already had a copy.
The mood was that Raza were happy to be amongst each other celebrating our continued Chicano resistance as a nation. People were dancing and having a good time.
Today the need for a Chicano Moratorium is just as relevant and probably even more necessary. Despite being 20% of the deaths during the Vietnam War, Raza have historically been underrepresented in the U.$. military. While Chican@ Power and the Struggle for Aztlán discussed military enrollment of Raza increasing from around 10% to 11.3% of active military from 2004 to 2012, 2017 data indicate that has jumped to 16%.(1) The U.S. military is browning. Just as the future of the U.S. population is becoming razafied (increasing to 18% in 2019), so too is the U.S. military. The U.S. military is what allows U.S. imperialism to continue exploiting the periphery. Whether dying in Vietnam or dying at Fort Hood like Vanessa Guillen, the military is not in the interest of Raza. And the key to stopping U.S. imperialism lies in a Chicano Moratorium.
Peeling Back the U.S. Military's Onion
When we think about an effective Chicano Moratorium, we soon realize in today's day and age We need to do more than simply march – even in the tens of thousands. We obviously need to add some manteca to the frying pan. Although marches and protest actions are needed and provide for good agitation, we also need to focus on other elements of the U.S. military's support structure. Shut off the valve from which its nutrients flow.
ROTC: We know that the Chicano nation is the U.S. military's prime focus because the numbers tell us that the fastest growing population of recruits today is Raza. There is also evidence that of Raza, it is wimmin Raza who are at the helm. Wimmin overall have gone from 5% of enlisted officers in 1975, to 16% in 2017.(1) But how are they recruiting Chican@s in such high numbers? One way is via ROTC in the schools. The U.S. military typically has ROTC in Barrio schools or impoverished areas where the Chican@ population is high. This is a direct assault on Chican@ youth where Amerikkka is turning its schools (brainwash camps) into military recruitment centers. So if we are to truly build a Chican@ Moratorium with teeth, a campaign to remove ROTCs from the schools should be included.
Chican@ Mass Education: Because We have all been born and raised under this occupation, many of us do not know that Amerikkka is a colonizer. We do not know that the U.S. military is the muscle used to oppress and exploit the Third World. Sadly, most Chican@s do not even know what the Chicano Moratorium is. The enemy will never arm a people it colonized with truth of its misdeeds. So there is a strong need for mass education of the oppressed nations and allies in general, and the Chican@ masses in particular.
Mass education is needed on a national level, from families teaching their households, Barrios teaching each other, Chican@ educators teaching students, parks having educational events, protest actions ensuring at least 1 speaker mentions it, graffiti artists writing it, musicians singing and rapping about it. The Chicano Moratorium needs to be mentioned in every movement paper, every activist blog and revolutionary website. All left parties, groups and orgs should ensure their members understand the Chicano Moratorium.
We must continue to highlight the stories of lives lost to U.S. militarism like Vanessa Guillen, so that the youth know the true nature of this system. Wimmin are being sexually assaulted regularly, oppressed people are being hung and murdered, and you don't even have to go to a war zone. It's right in Fort Hood, Texas, in occupied Aztlán.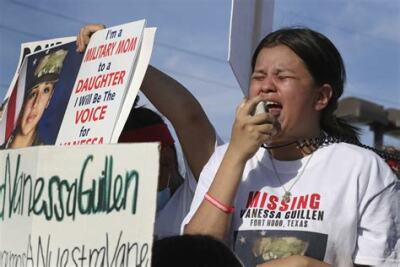 There should be Chican@ actions monthly in every county to educate the local Chican@ community on the Chicano Moratorium. At some point, after momentum is built, statewide actions can be held. Eventually nationwide actions can take place where Chican@s from all seven states can converge on one state for an annual Chican@ action.
Boycotts: Another element used by the U.S. military is media. Using commercials to show Chican@ youth proudly enrolling in the military. Some of these commercials are in Spanish. These are propaganda commercials meant to entice our youth with depictions of Raza youth being educated, prosperous and happy if they join the colonizer's military. We need to locate every TV station that plays these propaganda commercials and boycott the hell out of them.
A campaign to expose and boycott these propaganda stations should be spread and supported far and wide. This is another part of the oppressor nation's recruitment and brainwash program that needs to be shut down.
Conclusion
By utilizing this 3 prong approach of focusing on 1) ROTC, 2) Chican@ Mass Education, and 3) Boycotts, we will see a genuine Chicano Moratorium. One where we finally deal a blow to U.S. imperialism. The vanguard pushing today's Chicano Moratorium is unapologetically communist. We understand the social reality of Aztlán and thus can create campaigns whose main thrust is in driving Aztlán on the road to national liberation.
Notes:
1. Barroso, Amanda. 10 September 2019. The changing profile of the U.S. military: Smaller in size, more diverse, more women in leadership. Pew Research Center.