Affordable Care Act Underscores Need for Global Health Coverage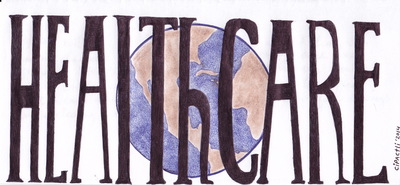 While capitalism advances technology and produces consumables at high rates, most people lack decent health care
April 1 - The deadline for enrollment in health insurance under the Affordable Care Act (ACA) passed last night, and there are now 4.4 million people in the United $tates newly enrolled in Medicaid health insurance plans sponsored by the federal government, and another 8 million people newly enrolled in government-regulated private insurance plans.(1) Those who do not enroll in any insurance and are not covered by a plan through their family, work or school will face fines. For people with incomes less than 400% of the federal "poverty line," the plans are subsidized by the government, and those with less than 138% of this cut off will receive free health care via Medicaid. In the end, for at least the lumpen class the penalty will actually cost them more than having health insurance would cost.
This new healthcare system in the United $tates, often called "Obamacare," is far from socialist, but it does serve as a good reminder of the failures of capitalism to care for some of the basic needs of imperialist country citizens. The United $tates has had government-run healthcare for military service people and their families since the 1800s, and for the relatively poor, disabled and elderly since the 1960s with the creation of Medicare and Medicaid. But these programs serve a minority of Amerikans, leaving the rest to seek health care through insurance provided by their work or through privately purchased plans or by paying directly for services. This means that people out of work or in jobs that don't provide insurance coverage are often left without any health insurance. The ACA attempts to address this problem by providing a government-run program to help insure citizens without coverage.
We're not going to take on the critics who say that health care quality would go down if run by the Amerikan government. These same people would abolish free universal education, privatize water distribution, and eliminate the fire department. This is a debate between different factions of the bourgeoisie, and not worth the time of communists, except to point out that we have fundamentally different values. We have no need to defend the ability of a capitalist government to run these programs well because we don't support capitalist governments. And we know that the profit motive does not make for greater "efficiency", as capitalists like to claim. We see this clearly in the United $tates where food is dumped rather than distributed to people going hungry, and the tremendous waste of money on advertising rather than meeting basic needs.
Communists think about health care the same way we think about education, food, clean water and other basic necessities. These are things we seek to provide to all people indiscriminately. We prioritize basic humyn needs over luxury items like boats, fancy cars, big houses, TVs, etc. Capitalism, on the other hand, functions on the concept that profitable luxury items are a priority over basic humyn needs. While in a matter of years capitalism has gotten hand-held computers into the hands of anyone with a little disposable income, the decades-long struggle against easily preventable diseases in the Third World continues. Millions of children under five years old die each year in southern Asia and Africa south of the Sahara as a result. We believe that the Affordable Care Act should offer these people free health care services as well. While the ACA has proven once again that small reforms in capitalism can be achieved when they serve the interests of imperialist country citizens, capitalism will never allow reforms to improve the lot of the rest of the world. In fact, even within U.$. borders non-citizens are not eligible for insurance under the ACA. Those most in need, working the hardest and most dangerous jobs for the least money, are still denied basic health care.
While it's easy for Amerikans to ignore what goes on outside of their borders, it should be an embarrassment for Amerikan imperialism that the individualism of its citizens is so strong that until now they had refused health care to even their own relatively well-off citizens. Even now, many across the country continue to fight and resist this new law. Prior to the Affordable Care Act, Amerikans who wanted to buy health insurance on their own were often rejected by the health plans for "pre-existing conditions." This means the health plans were picking only the healthiest individuals for insurance, leaving those with even minor history of health problems with no recourse because most insurance plans in the United $tates are privately run for a profit. Now most insurance in this country is still run for profit, but the federal and state governments provide minimum standards of care that must be provided with every policy, and sell these approved insurance plans on a marketplace, in hopes that the market competition inherent in capitalism will increase quality and transparency while reducing cost.
Abolishing the profit motive behind health care will be a priority for communists when we take control of a government. We want to make preventive care and treatment available to all people. The new ACA law in the United $tates does not eliminate private insurance or remove the profit from health care, and it's a fundamentally timid step towards universal coverage for Amerikans. But it does enable people to get health insurance regardless of income or health status. For Amerikan citizens this is progress. And for most it is part of the ongoing bribery of these citizens by the imperialists, ensuring their allegiance to the imperialist system. However, a large number of the uninsured in the United $tates come from the oppressed nation lumpen class, and the ACA is a positive step for the survival and healthy living of this group which has a relatively high material interest in revolution.(3) Overall we see the ACA as a progressive step towards universal health care for everyone in the world, if only because it demonstrates the concept of health care as a basic right.
We will continue to fight for health care for the world's exploited and oppressed, who are mostly found in the Third World, where even basic medical services are difficult to obtain. 801,000 children under age 5 die from diarrhea each year, most of which are caused by lack of access to clean water and sanitation. More than 3 million people die from vaccine-preventable diseases each year. 86% of deaths among children under age 5 are preventable and due to communicable, treatable disease, birth issues and lack of nutrition. These abysmal numbers would cost very little to rectify. Truly universal health care is a priority for communists, and the statistics above are just a few reasons why the overthrow of capitalism is literally a life or death issue for the majority of the world's people.
This article referenced in: