Christmas Vacation Lampoons the Bourgeoisie, but Not Capitalism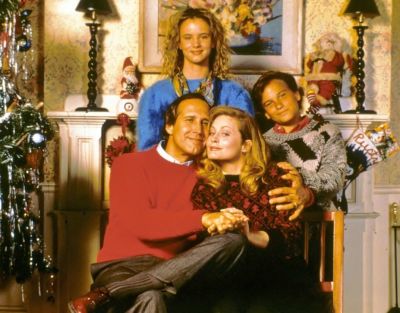 Movie Review:
National Lampoon's Christmas Vacation
1989

National Lampoon's Christmas Vacation depicts the struggles (if they can be called that) of Clark Griswold. It is Clark's quest to have the perfect Christmas for eir family: spouse Ellen and children Audrey and Rusty. Most of the first act of the film is dedicated to comedically exaggerated petty-bourgeois scenarios in this vein: getting the right tree, putting up the Christmas lights, shopping for gifts, and trying to keep the peace among family members (much extended family arrives in the form of both sets of grandparents, Ellen's cigar-smoking uncle Lewis and senile aunt Bethany, and Clark's redneck cousin Eddie, accompanied by eir spouse, children and dog). Christmas books and movies have long been vessels for anti-capitalist messages, even if they are tainted by idealism and economism: from Ebenezer Scrooge being frightened into giving concessions to the proletariat in A Christmas Carol(1), to the anti-imperialist solidarity of Whoville in How the Grinch Stole Christmas(2), to the anti-militarism parable of A Christmas Story(3). And a superficial "reading" of Christmas Vacation suggests that it may not only follow the same paradigm but even exceed these works and act as an inspiration for communist revolution (spoiler alert: the climax of the movie involves the forceful kidnapping of a member of the bourgeoisie). However, a deeper analysis reveals that, despite occasional flashes of progressiveness and a candid depiction of the labor aristocracy, the film does not provide useful guidance for revolution.
Throughout the movie, some potshots are taken at the bourgeoisie, but nothing too substantial. Clark's next-door yuppie neighbors are depicted as pretentious snobs, while eir boss is gruff and impersonal. But these attacks on the bourgeoisie are based on persynal mannerisms, not economic grounds. Clark is clearly a privileged member of the labor aristocracy. Ellen doesn't seem to work, and Clark makes enough to afford a couple of cars and a nice house, which ey bedecks with an over-the-top lighting display. Clark does not even seem to work hard to enjoy these things. In the whole movie, ey is shown at work in only three brief scenes. And in none of those scenes is ey actually engaged in labor. In the first, ey is chatting at the watercooler. In the second, ey drops off a gift and unsuccessfully attempts to ingratiate emself with eir boss. In the third, ey is sitting in eir office, looking over some plans for a persynal swimming pool. So Clark does not appear to work that hard, but ey does mention several innovations ey has made for eir company, which seems to be a manufacturer of chemical food additives although no manufacturing is ever shown onscreen.
Could Clark's mental labor as a chemist still be exploited by the bourgeoisie proper? The answer appears to be no: Clark is planning to pay for eir swimming pool with eir end-of-year bonus. Said bonus represents compensation for the value ey has produced in excess of eir salary and thus precludes em from being truly proletarian. Indeed, eir entire compensation is likely funded by the manufacture of chemicals ey has designed, presumably by Third World workers. Thus, Clark occupies the classic position of a labor aristocrat: someone who may be slightly exploited by the bourgeoisie, but who ultimately receives compensation in excess of the value of eir labor, as a beneficiary of imperialist superexploitation of the Third World proletariat.
As the film progresses, the minor and mainly apolitical subplots fade to the periphery (after some technical difficulties, Clark's light show wows the family and is never mentioned again), and a political thread assumes prominence. As it turns out, Clark is really counting on eir Christmas bonus. In order to expedite the construction of eir pool, Clark has put down a deposit and written a check that eir bank account can't cover. Clark is confident that eir performance will earn em a sizable bonus, but that confidence begins to wane as the days go by without word from the company. Finally, a messenger arrives on Christmas Eve with an envelope. Before opening it, Clark, apparently on the knife edge between luxury and financial ruin, expresses both eir anxiety regarding eir solvency and eir hope that the check will be large enough to not only cover the cost of the pool but also airfare to fly over all the extended family present (ten people!) to enjoy it when it is built. To much fanfare, Clark opens the envelope and finds that, to eir dismay, it only contains a subscription to the Jelly-of-the-Month club, a gift of nugatory value. Enraged, Clark launches into a tirade denouncing eir boss's perfidy and angrily expresses eir desire to see eir boss tied up. Taking Clark's words literally, Eddie slips out, locates Clark's boss (conveniently, Clark mentioned the neighborhood ey lives in during eir lengthy monologue), and kidnaps em. Bound, gagged, and festooned with a large ribbon, ey is Eddie's last-minute Christmas gift to Clark.
There are several issues with this scenario.
First, the stakes are very low. The only thing really at risk is Clark's bonus. Perhaps ey will have to live without the pool for another year. Perhaps ey will be charged by the bank for a bounced check. Perhaps ey will even have to forfeit the deposit ey made. But if Clark is low on cash, that is a problem of eir own making. We are talking about a persyn who probably spent over three grand just on the electricity for eir 250,000-bulb Christmas light display.(4) If Clark misses out on eir bonus, what is the big deal? Ey might have to pawn eir lights and forgo the spectacular light show next year. Eir family might even have to take fewer of their legendary vacations. But it seems unlikely that they are in danger of going hungry or having to sell the house or even the car.
Perhaps the aspect of Clark's misfortune which ey most keenly feels — and which is most relevant to Amerikan audiences — is what it represents. Denied an explicit share in eir surplus value (ignoring, of course, that ey still receives a salary of international superprofits), Clark is confronted by the prospect of eir potential proletarianization. Scarier than any Ghost of Christmas, the spectre of economic forces strikes fear into eir heart. Rather than act constructively, however, Clark, true to eir petty-bourgeois nature, reacts by pointlessly venting eir rage at eir family. Ey also attempts to ignore the problem by frantically following family Christmas rituals (providing time in the narrative for Eddie to complete eir mission with eir absence unnoticed). The proletariat of the 19th Century may have had to turn to the hard drug of religion — "the opiate of the masses" (5) — to cope with its actual oppression, but in Clark's case, nothing so strong is required, just what might be called the eggnog of the masses: a reading of "The Night Before Christmas" and also a Tylenol, washed down by a few cups of literal eggnog.
So, the stakes are low, but this movie is a comedy. Perhaps the events depicted can be seen as a microcosm of the proletarian struggle. Would a mere amplification of things produce a progressive view of international economic exploitation? Sadly, no. Clark is a member of the labor aristocracy, with an imperialist, petty-bourgeois, even bourgeois mindset. Even eir most innocuous actions are tainted with oppression. Eir actions throughout the film appear to be a re-enactment of Amerikkkan history and atrocities, down to a roughly chronological progression from European colonization to Amerikkkan imperialism in the Pacific. The movie opens with Clark driving eir family to the woods to chop down a Christmas tree instead of buying one, a handy metaphor for Amerikkkan theft of the land from Indigenous peoples and destruction of the environment, as well as a reminder that it was the timber of North America that originally drew the English colonizers. Next, Clark moves on to gender oppression. In "The Communist Manifesto", Marx and Engels wrote that the "bourgeois, not content with having the wives and daughters of their proletarians at their disposal... take the greatest pleasure in seducing each other's wives."(6) In multiple ways, Clark displays these bourgeois ambitions, although ey may be considered only petty-bourgeois due to eir lack of success. First, while shopping for Christmas gifts, ey flirts and leers at the female salesclerk. Later, ey has a daydream about eir pool in which the the vision of eir family playing is replaced by a fantasy of seduction by a womyn who the soundtrack implies to be an Indigenous Hawaii'an, thus tying together the gender and national strands of oppression.
Finally, there is Eddie. Despite eir simple appearance, Eddie is the fulcrum of one of the biggest paradoxes in the film: is ey a force for revolution or reaction? An uninvited guest, ey seems to be nothing but a source of problems, but ey ultimately saves the day with eir actions against the bourgeoisie. Is ey proletarian? Hardly. It is revealed that ey has been out of work for seven years. Aha! Perhaps ey is part of the lumpenproletariat. Even if that were true, ey would be part of the First World lumpen and receive a significant benefit from eir position as a resident of the imperialist u.$. Regardless, the facts reveal that Eddie is no lumpenproletariat hero. First, the reason for eir protracted unemployment is that ey is holding out for a management position — a classic petty-bourgeois aspiration. Furthermore, ey mentions that, despite having had to trade the home for an RV, ey still retains ownership in a plot of land, a farm and some livestock. Ey is still petty boourgeois, then; one who, despite reduced circumstances, holds on to a vestige of the family estate. In addition, another troubling aspect of Eddie's past is offhandedly revealed. Ey mentions that ey has a plate in eir head, provided by the VA. Therefore, ey is not just a passive recipient but an active participant in imperialism: one who enjoys the privilege of free healthcare in exchange for eir role in aiding Amerikan war crimes. Despite this, ey does fleetingly provide the film with its only sliver of appreciation for the destruction wrought by capitalism and u.$. imperialism. While shopping, Eddie asks Clark "Your company kill off all them people in India not long ago?", referring to the Bhopal chemical disaster that killed an estimated 16,000 people and injured as many as half a million more (7,8). "No, we missed out on that one," Clark dryly responds, and the conversation moves on, presumably because Eddie doesn't care. Meanwhile, Eddie causes a chemical disaster of eir own; after emptying the septic tank of eir RV into the sewer, subsequent scenes feature interstitial shots of a menacing green smoke rising from the storm drain.
But let's get back to the action. When we left the Griswolds, Eddie had just marched Clark's boss into the living room. Ungagged, eir first instinct is to fire Clark and call the cops. But after all of 30 seconds, ey has a change of heart. Apparently, all that was needed was a brief speech by Clark with an addendum by Rusty that withholding bonuses "sucks" to convince Clark's boss to drop all charges, reinstate the bonuses, and add another 20% to Clark's bonus. Clark is so overwhelmed that ey faints.
OK, seriously? If a 20% raise was all that was needed to address the iniquities of capitalism, MIM(Prisons) would disband and recommend you vote for Sanders instead. Actually, even that would be too radical. Fight for 15? More like fight for $8.70. Also, some aspects of Clark's boss's repentance ring false: ey calls Clark "Carl" and refers to em as the "little people". Has Clark received a permanent gain or is eir victory a tenuous and insecure one? We bring this up not to suggest that Amerikan labor aristocrats are truly oppressed, just to point out the vanity and futility of imperialism: despite afflicting so much suffering across the Third World, it has failed to completely resolve the contradiction between workers and bourgeoisie in Amerika.
Basking in their newfound affluence, however petty it may be, the Griswolds are rudely interrupted by the arrival of the pigs. Usually not motivated to do much work, the kidnapping of a member of the bourgeoisie has kicked the pig machine into high gear, and SWAT teams storm the Griswold home from every conceivable entrance, including several pigs rappelling through the windows. (Some pigs even kick down the door of the neighboring house; although this scene was probably meant to provide some comic relief and comeuppance to the yuppies, it also wouldn't be the first or the last time that property and lives were endangered by pigs getting the address wrong). The deference of the pigs to the bourgeoisie is further underscored by the arrival of the wife of Clark's boss in a car driven by a persyn whose heavily decorated dress uniform marks em as the chief of police. This persyn would also be identified by most viewers, on the basis of eir skin color, as "black". In fact, ey is the only non-white character with a speaking role in the entire movie. This detail is significant on several levels. First, the fact that the Griswolds live in Chicago, a city with substantial New Afrikan and Chican@ populations, but appear to interact exclusively with white Amerikkkans represents an likely-inadvertent, but nonetheless true-to-life, depiction of the highly segregated nature of housing and employment in Chicago. Second, we must wonder: what was the motivation of the moviemakers in casting a New Afrikan in this role? It could be mere tokenism, giving the sole New Afrikan actor a role that is effectively a chauffeur. Or perhaps they were being ironic, casting a New Afrikan as the head of the pigs, the institution that has perhaps committed the most violence against New Afrikans in recent decades. One shudders to think that perhaps they thought they were being progressive by casting a New Afrikan in a strategically Euro-Amerikan role and creating the illusion of an egalitarian, racially-integrated police force. The true contradiction in Amerikkka is that of nation, not race. Hence, a persyn who might be labeled as non-white can still, in some cases, manage to join the Amerikkkan nation and rise to the role of head pig (or even, as in the case of Barack Obama, war-criminal-in-chief); the situation in this film, then, seems prescient of the modern-day prominence of sheriff Clarke of Milwaukee, another midwestern town. Perhaps a Christmas comedy is the wrong place to look for an inspiring depiction of New Afrikan revolutionaries, but it is still unfortunate that all we have been given is a bootlicker to the bourgeoisie.
Many people have been killed by trigger-happy pigs, and a kidnapping on Christmas Eve seems like the kind of high-stakes situation that would bring in the pigs with guns blazing, but the predicament faced by the Griswolds is resolved with miraculous ease. After Clark's boss explains the situation, everybody relaxes, although Clark's boss is still admonished all-around for his idea of cutting Christmas bonuses (the head pig even says that ey'd like to beat em with a rubber hose — a seemingly progressive action that, due to its focus on individual retribution, is actually little more than adventurism; and even that idea comes across as an outburst that is never fulfilled). What about Eddie's toxic waste spill? An errant match tossed by Uncle Lewis ignites it, but the resulting explosion only serves to launch a plastic Santa and reindeer into the air, creating the perfect Christmas tableau in the sky and prompting a confused Aunt Bethany to spontaneously break into a rendition of the "Star-Spangled Banner". As the Griswolds and the pigs dance to Christmas songs in the house, Clark stands on the lawn and basks in eir achievement. "I did it," ey says. The perfect family Christmas.
But for us communists, things are far from perfect. Any potentially lumpen characters in the movie, who may have been teetering between revolution and reaction, have, by the film's end, fallen firmly on the side of reaction. Everyone else — the labor aristocrats, the bourgeoisie, pigs — was already there. This movie is best enjoyed not as a blueprint for revolution but as a satire of the Amerikan way of life. It offers hints of Amerikan brutality both domestically and abroad, as well as a depiction of the manner by which government institutions become tools of the bourgeoisie. But most of all, it exposes the reactionary nature of the labor aristocracy: the decadence of its "workers", the hypocrisy of its "morals" and the futility of any "revolutionary" action among the beneficiaries of imperialism.
The brief flicker of revolutionary action that does occur is quickly extinguished due to its limited scope and unsystematic nature. As Lenin once said, "When the workers of a single factory or of a single branch of industry engage in struggle against their employer or employers, is this class struggle? No, this is only a weak embryo of it" (9). How ironic then, that on the (probably mythical) day of Jesus' birth, the embryo of revolution was delivered as a stillbirth. Let us look forward, then, to December 26: the (real) day of Mao's birth. Beyond eir persynal achievements, ey stands as a symbol of real revolution. A genuine proletarian revolution, not a phony one led by Amerikkkan "workers", promises real solutions to the real problems facing the world: an end to the insatiable exploitation by capitalists, an end to the callous destruction of the environment, an end to the violence perpetrated every day by pigs. When that day comes, the workers of the world will unite and we can sing the "Internationale" together.