False STG Accusations Target Freedom Fighter in Ohio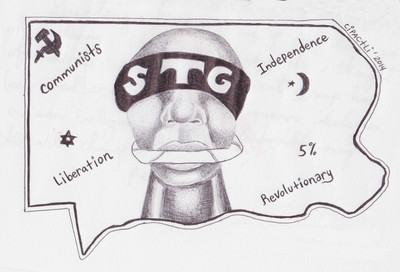 Due to another prisoner's actions who I correspond with regularly, I am being accused of ordering a hit on a prisoner "In an effort to further my position and recruiting purposes in security threat group (STG) activity." In fighting my supermax placement, I was able to get them to admit that the letter they are using as evidence was written in code. So they have no way of understanding what is really talked about in this letter. I went to the extreme of giving them some STG codes to show them that no hit was made on anyone's life and that they are making this out to be something that it isn't. This led to me being given another conduct report for possession of STG related material.
Following the advice from an older prisoner, I started using the grievance process to help fight my case instead of going the way of my past and becoming aggressive. This led to more harassment including cell searches in which conduct reports and grievances that I filled came up missing, making it seem as if I am making all this shit up!
I have been threatened with supermax placement since the day I got off this bus. Last year I was given 3 months in segregation over an incident where I was defending myself against another prisoner who attempted to stab me, and he was given less than a month. I was told that this was due to the fact that I had to have done something to provoke this individual! It's crazy. I used to read about other prisoners complaining of this kind of treatment and I'm ashamed to say that I used to doubt them and think that there had to be more to the story until I found myself facing the same set of circumstances.
Though I am a member of the United Blood Nation (UBN), I am not a gang member. To many that is hard to understand, but to explain it quickly, I feel that gang members rep colors and are more focused on ignorance. I am not concerned with the colors a person wears, the organization to which they belong or any of that. I am a freedom fighter. I stand for a cause. I read, study and follow the ideology of the Black liberation movements of the past. I encourage not only my young komrades but people who I associate and deal with to find knowledge of self and to study, build and to better themselves. I am no angel and don't claim to be. I still have a lot of work to do but I'm moving at a righteous pace and setting the tone and paving the way for the masses to follow in a meaningful and constructive manner.
---
MIM(Prisons) responds: It is interesting that the very method the prison uses for social control, targeting specific prisoners for segregation and other punishments, results in raising the political consciousness of those targeted. Experiencing this repression firsthand leads some who were entrenched in the lumpen mentality of fighting other prisoners to recognize the criminal injustice system is the common enemy.
This is an example of the dialectical relationship between repression and liberation, and is true in all historical eras and oppressive conditions — oppression breeds resistance. Repression of prisoners in the United $tates is one cog in the imperialist machine that condemns people all over the world for the benefit of the oppressor nations. Even though our struggle can seem overwhelming at times, we can have strategic confidence in our inevitable international victory over capitalism and all its devastating consequences. So long as oppressed people are being politicized and educated on the common enemy, from prisons in the United $tates to the mountains in Nepal, we will overcome our common enemy and finally be allowed to eat and sleep in peace. The more the imperialists oppress people, the more people can be drawn in to revolutionary activism.
We hope others will take an example from this comrade and work as freedom fighters to educate and organize others. How quickly and easily we achieve victory depends on how much political work we do today.