Georgia Prisoners Ready to Fight Negligence and Corruption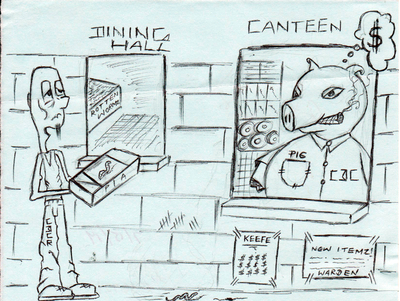 This prison degrades all to the lowest form. We are repeatedly refused showers, recreation, and medical attention after being abused by supervising officials. They are running in on us at 3am in full riot gear while we are resting in what peace we can get around here. The Certified Emergency Response Team (CERT) is run by a new sergeant and he is pepper spraying prisoners who pose no threat. He is ordering his subordinates to "shoot first and ask questions later."
We are being subject to excessive rectal searches just to take a shower. Our food is cold, spoiled and inadequately prepared. We don't receive beverages and staff talk over, sweat on, and handle our trays with no gloves, hair nets, or face masks.
This is only the tip of the iceberg. Me and my fellow lumpen comrades are definitely determined to sink this "titanic" along with other negligent and corrupt entities within the state. Always remember a closed mouth doesn't get fed. It's time to fight back with our minds, pens and comradery! Believe me that there's only so much that we are going to take laying down! Free all my like-minded brothers of the same struggle.
---
MIM(Prisons) adds: There is a growing movement of prisoners and lumpen organizations in Georgia standing up to the abuse and unjust conditions in the prisons in that state. Part of this work requires educating and organizing, and for this we need leaders like this comrade. Leaders are willing to put in the work exposing the conditions, and educating fellow prisoners about the need for unity and building for legal and non-violent actions that will further the anti-imperialist movement. United Struggle from Within (USW), the MIM(Prisons)-led prisoner organization, needs more comrades to step up and take on leadership roles behind bars. Get in touch with us for more information on working with USW.