Institutionalized Mind: The Breaking Process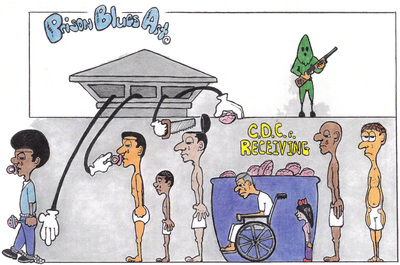 In prison one comes face to face with the harshest reality. A prisoner is at the mercy of his captors. Once confined the breaking process begins with the strip search — the intrusive search and viewing of one's body parts by complete strangers - over and over again. To refuse brings one response: assault and abuse. Physical assault at the hands of the prison guards (pigs) becomes a regular ritual.
The pigs will feed you a bag lunch consisting of bologna and cheese, three times a day, seven days a week, or a loaf and raw cabbage. The "Nutra Loaf" supposedly has all the nourishment a body needs baked into a loaf of bread.
The pigs will delay or destroy incoming and outgoing mail. There are men and women who go months without hearing from family and friends, as the pigs want you to believe no one loves you. Visits and phone privileges are denied as a form of disciplinary measure, for years at a time.
Then prisoners are placed in solitary confinement, in control units given various names: SHU, SMU, etc. In these units prisoners are locked down in the cells 23 hours a day. This is even done to pretrial detainees not yet convicted of crimes who in fact may be innocent. In the summer, heat is pushed through the vents, and in winter ice cold air is pushed in. Men are kept in ambulatory restraints (handcuffed, with waist chain and black-box, and shackles) or "four pointed" (handcuffed and shackled to a bed or restraint chair) for days at a time.
There are "cell extractions" where prison staff (pigs) suit-up in riot gear in five-man teams (allegedly a man for each body extremity). These five men enter a cell of one man, and beat him or her senseless, breaking arms, teeth, head, legs, ribs, etc. These are carefully crafted beatings with the words "stop resisting" yelled over and over for the camera operator who stands outside the cell, pointing the camera at the backs of the pigs in riot gear. The prisoners are then either "four pointed" or placed in ambulatory restraints. "Non-lethal" munitions are used, which are the chemical agents. They gas you until you choke; many have died this way. They throw concussion grenades into the small confines of the cell, which is a grenade that contains black balls. Or they shoot rubber balls into the cell at a range of five feet and less. Many have been maimed. These attacks are justified by reports concocted and written by staff to cover their ass. In fact, United States Penitentiary Lewisburg (USP Lewisburg), where the newly formulated Special Management Unit is instituted, has more cell extractions and men placed in restraints than any facility in the federal Bureau of Prisons, including ADX which supposedly confines the most dangerous prisoners in the country.
These abuses in American prisons are real and it's all designed to de-humanize the prisoners and destroy their sense of self-worth, self-respect, dignity and morals.
Often I ask young pigs "is there a difference between a man and an inmate?" The majority say yes, but when I ask the difference they cannot explain it. Others have come back later and said no, but their initial response is a "learned one." For example, new staff (pigs) are taught at training facilities (at Glencoe for federal officers, local places for state officials) to not eat prisoners' food, and to not drink prisoners' water. They are indoctrinated psychologically to view prisoners as sub-human, a separate species, in the same manner as the U.S. Constitution counted Black people as three-fifths human. In the year 2011, USP Lewisburg had on display in the institution toy figurines: a gorilla complete with orange pants, a broken handcuff attached to one wrist, and a toy white man in the costume of superman. This is how they view themselves and us.
But I will not delve too deeply into the racist mentality inside America's prisons; that is a well-known and accepted fact. There are many tortures perpetuated in America's prisons, from those stated above to sleep deprivation, sensory deprivation, to brutality and killings. These acts are well known and rarely is anything done.
Instead, the judicial system turns the proverbial blind eye. There are over a thousand cited juridical cases of prisoner lawsuits dismissed as frivolous, or on some contrived technicality, e.g. failure to exhaust administrative remedies/the institutional grievance process, even when that "grievance process" affords no capacity for redress. See Prison Litigation Reform Act, 42 USC 1997; 28 USC 1915(g), Woodford v. Ngo, 126 S. Ct. 2378 (2006), Booth v Churner, 532 U.S. 731 (2001).
In federal civil rights cases, the U.S. Attorney (and Department of Justice) for the district where the prison is located "represents" the prison staff at the tax payers' expense. In state 42 U.S.C. §1983 civil rights cases it is the state attorney general who represents prison staff, again at tax payer expense. Prisoners are rarely given an attorney to prosecute their civil actions.
Emboldened by success at having prisoner lawsuits dismissed, prison staff have become more abusive and more blatant. This abuse and torture has had the desired effect, and many prisoners stop reporting staff abuse and just accept it. Thus happens the moral decay of the prison population. Men and women who were social pariahs, when free, for economic reasons, become scavengers, who lack morals, integrity and principles. Human beings are confined and allow the conditions of that confinement to make them into predatory beasts. Whether you are incarcerated for murder, robbery, drug dealing, extortion, or burglary, these crimes have a rational basis, often poverty-bred crime.
In America's prisons, what morals and integrity are left in the prisoner are slowly eroded away. Those who never used alcohol become drunks on prison-made wine and white lightening; those who never used drugs become heroin addicts with self-made needles; psychotropic medication-babies; gunners-flashing and masturbating in front of prison staff; men raping weaker men.
Prisoners are not doing time, the time is doing them. Mentally, prisoners are being dumbed down. It used to be when the youth entered prison they received a book from elder prisoners and a knife from their comrades for protection from the other prisoners and the pigs. Now the youth sit in front of the idiot box (TV) tuned in to BET and MTV.
The majority of prisoners pled guilty and got more time than they deserved, yet few ever even look inside the law library; they cannot read or write, yet do not go to school. They simply play the yard all day, until they find themselves in the SHU for a stabbing over being drunk, fighting over a "punk" or some minor offense perceived as disrespect.
Prisoners have lost the identity of who their enemy is and is not. Do other prisoners lock you in at night, deny you visits and phone calls, throw your mail in the garbage, tell you to strip naked, squat, cough and spread 'em?
All these groups, formed for this fight against "oppression" or claiming to be pushing an agenda of growth and development, and representing truth, justice, etc., are only oppressing themselves. On every yard in the country more Bloods stab Bloods, Crips stab Crips, GD stab GD, Vice Lords stab Vice Lords, LK stab LK, Norteños stab Norteños, Southside stab Southside, and the pigs lock us all down at the end of the night. Where is the comradeship amongst yourselves in particular, and prisoners in general? Where are the George Jacksons of today, Geronimo Pratts, Huey P. Newtons, Albizu Campos, Lolita Lebrons of today? How can you be a man or a "G" and sit confined every day without ever trying to liberate yourself? Is that gangsta, to sit idle chasing dope for the rest of your years in the womb of oppression?
I commend and salute the brothers and soldiers of Georgia State Prisons that in 2010 had a six-facility work stoppage to protest deplorable prison conditions. Every year, there should be a whole month where prisons across America simply refuse work; working for under a dollar for your captors is a crime against yourself. Every time a prisoner is beaten, collectively, without discussion or plan, everyone should simply refuse to work.
In all prisons, and the federal system in particular, there needs to be a moratorium on prisoner-on-prisoner assaults. This needs to go on with each "gang" and I say "gang" because you do not act like freedom fighters, revolutionaries or movements.
"No people to whom liberty is given can hold it as firmly, and wear it as grandly as those who wrench their liberty from the iron hand of the tyrant." - Frederick Douglas
---
MIM(Prisons) responds: In June of 2010 we had someone write to us about the degrading conditions in Georgia prisons, while lamenting how sorry and submissive the prisoners in Georgia were. Six months later thousands of prisoners in at least 6 prisons launched a coordinated strike just as the comrade above describes. Eighteen months after that, a hunger strike is approaching the one month mark after expanding to multiple GA prisons as well. So, while everything about the breaking process this comrade describes above is true, its hold is not permanent on the minds of the oppressed.
It is already traditional that the month of August be used to honor those who came before us, and SAMAEL has answered this comrade's call for a countrywide fast and work stoppage on September 9, though only for 24 hours. We encourage comrades to use the month of August to do education work around the history of the prison movement. Get in touch with MIM(Prisons) if you need additional study materials. We hope this comrade will follow through on his own suggestions and organize where he is at for a day of solidarity with others in the United Front for Peace in Prisons on September 9.