Red-Green Revolution Solid on Environmentalism, Cloudy on Political Line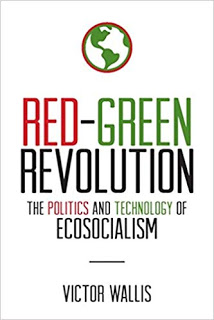 Red-Green Revolution
by Victor Wallis
2018 – Political Animal Press



Red-Green Revolution brings socialist theory into the 21st century. Wallis writes about the ecological crises that we face and very compellingly and comprehensively connects capitalism's drive to expand and exploit to the degradation of the natural world. In doing so he describes how the only way of saving the planet (and us) is for there to be social control of production as well as consumption (socialism). Merging the politics and economics of socialism with the need to preserve the natural environment shouldn't be an issue, but obviously it is. For the most part socialist movements don't always articulate the connection of capitalism to natural destruction, climate change, etc. (this shows in the way "green capitalism" movements seem to dominate the environmental movements, which Wallis discredits.) While environmental movements don't typically equate socialism with the solution to natural crises.

Wallis does an excellent job in joining the two, which should by now be a no-brainer. But it isn't, which is why this book is a necessary read. He begins by describing how the earth is used, subsumed under a system which uses it as a market. Market-driven incentives to exploit, expand, and profit make respect for natural limits minimal to non-existent.

"One can not expect people to be able to honor such limits until they are liberated from these drives." He could've ended the book right there on page 23. However, he continues to help us understand the totality and interconnectedness of the various aspects of ecology and socialism, further marrying the two.

This isn't the typical "appeal to people's conscience" environmental lit. It's got a blend of Marxist interpretation and is theoretical in its own right, as well as scientific and dialectical. Resting entirely on a materialist basis for socialist revolution, as it applies to ecology. Ecosocialism is the joining of the two. This is so very important, because it seems that the environmental movement is continuing to grow and even becoming more mainstream. Unfortunately, the more this happens the more it is kept within the framework of the capitalist system. "If a movement of this kind (ecosocial) is to grow, it must have theoretical underpinnings."(page 72)

Wallis truly does a great job of connecting most everything that has its "single issue" movement to the necessity of socialist revolution. From information/communication/education to agriculture/forests/fisheries to surveillance/repression/military to public health and health care services. Telling of how these things are operated under a capitalist market-oriented format and the subsequent effects allows one to further understand the totality of capitalism's domination of everything.

Regarding technology, the question of should it be democratically controlled or left in the hands of capital has its answer also in ecological concern, as Wallis articulates. He describes the various side effects and by-products that a lot of technologies (of which need for rests on no natural human need, but merely created by capitalism) produce and how they are detrimental to both the environment and human health. Which gives the answer to the above question: "The protection of human beings, not just as consumers but as involuntary recipients of particles with unknown properties, has become very much a collective responsibility. Hence the need for social control over production." (page 86)

In my opinion, one of the best points Wallis makes is in regard to the military actions. Rarely is this talked about how this is connected to environmental issues, but he does a nice job of doing so. Seeing how destruction, mass murder, displacement of populations, radiation caused by nuclear war, etc. all constitute environmental degradation, this should be easier to understand and unite against. He then connects these things to capital. "In the military sphere, the concentration of capitalist power has reached a previously unimagined level, where the agenda of global domination has become an article of consensus within the ruling class of the world's most powerful country" (page 87). Then in tearing down the commonly used pretext of "extending liberty" that capitalist empires (like the u.s.) use to intervene militarily into other nations affairs: "What unites the interventions, rather, is a pair of preoccupations central to the rule of capital, namely, 1) maximizing the sphere of corporate economic operations (now focusing especially on oil) and 2) blocking, punishing, and ultimately, destroying any attempt to chart an independent especially if socialist-development," (page 87) or what we would call "capitalist-imperialism."

There is much more in this only 198 page book, so I will close with encouraging all to read this thought provoking book and appreciate Wallis' contribution to socialist and ecological thought. Bringing the two together is an absolute necessity. Capitalism enjoys (enforces) hegemony in order to continue to exist. Among the people and our movements there must also exist a kind of people's hegemony if we will ever abolish oppression. I think environmental concerns are a great possible unifying theme that can bring more into the broader movement.

Where the book falls short is that Wallis doesn't commit to a clear political line. He speaks of change but offers no clear line of possible action to achieve it. The book is a good read in that he unifies socialist politics with the environmental movement. This is not always linked within revolutionary theory, and is more important now that climate change is a popular conversation even in mainstream politics. But the book is specific to ecosocialism only, and Wallis doesn't take a position on important questions like the cultural revolution or the labor aristocracy. His breakdown is useful in bringing environmentalists into the broader movement. His political line though quite cloudy.
---
MIM(Prisons) responds: We need more communist voices in the environmentalist movement. MIM published a theory journal on the topic of Environment, Society, Revolution back in 1997, in which it put forward a clear political line for Maoism as the path forward to stopping the destruction of the earth by humyns. In this journal MIM argued that "only by putting proletarian politics in command will we be able to address the problems of oppression and the exploitation of the non-human world." Books like this one from Wallis help get people on the correct path fighting imperialism, but we need to get more literature out there about the practical questions of revolutionary organizing today and the best path forward to ending the imperialist destruction of the earth.