Review: The Real Life of Alejandro Mayta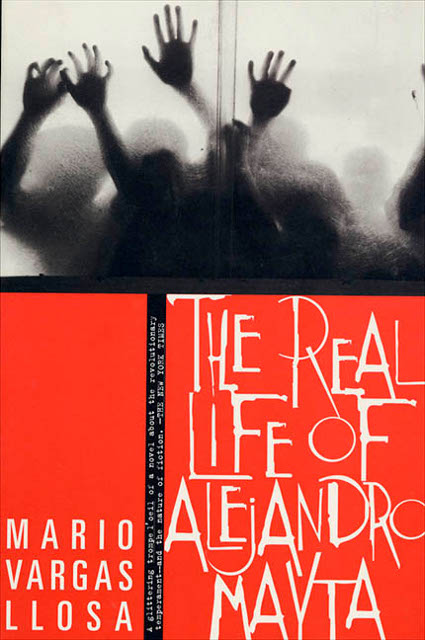 The Real Life of Alejandro Mayta
Mario Vargas Llosa
Aventura press, 1986
Peruvian author Mario Vargas Llosa won the Nobel Prize for Literature in 2010. Widely known as an author who writes about political events in Peru, and takes a vocal position on politics throughout Latin America, this review only addresses one of the many books he has written. But it is a good example of the political views of Vargas Llosa whose politics have made him an enemy of the people for many years. Vargas Llosa claims that he supported revolutionary politics earlier in his life, but if true, he firmly and thoroughly changed that and works hard as a critic of people's movements and a supporter of imperialist so-called democracy. He has written many works of both fiction and non-fiction, and lost a bid for president of Peru in 1990, during the height of the Peruvian Communist Party's fight for liberation of the Peruvian people, to Alberto Fujimori.
After being named the Nobel winner, Vargas Llosa said, "It's very difficult for a Latin American writer to avoid politics. Literature is an expression of life, and you cannot eradicate politics from life."(1) We would agree with that statement, and as we demonstrate in this review, The Real Life of Alejandro Mayta is a good demonstration of Vargas Llosa's reactionary politics.
In his acceptance speech for the Nobel prize, Vargas Llosa commented extensively on the "terrorists" in the world today who are the enemy of what he calls "liberal democracy" (capitalism). Spouting the best pro-imperialist rhetoric, Vargas Llosa makes the case for imperialist militarism with lies about the freedom and beauty of capitalist so-called democracy:

"Since every period has its horrors, ours is the age of fanatics, of suicide terrorists, an ancient species convinced that by killing they earn heaven, that the blood of innocents washes away collective affronts, corrects injustices, and imposes truth on false beliefs. Every day, all over the world, countless victims are sacrificed by those who feel they possess absolute truths. With the collapse of totalitarian empires, we believed that living together, peace, pluralism, and human rights would gain the ascendancy and the world would leave behind holocausts, genocides, invasions, and wars of extermination. None of that has occurred. New forms of barbarism flourish, incited by fanaticism, and with the proliferation of weapons of mass destruction, we cannot overlook the fact that any small faction of crazed redeemers may one day provoke a nuclear cataclysm. We have to thwart them, confront them, and defeat them. There aren't many, although the tumult of their crimes resounds all over the planet and the nightmares they provoke overwhelm us with dread. We should not allow ourselves to be intimidated by those who want to snatch away the freedom we have been acquiring over the long course of civilization. Let us defend the liberal democracy that, with all its limitations, continues to signify political pluralism, coexistence, tolerance, human rights, respect for criticism, legality, free elections, alternation in power, everything that has been taking us out of a savage life and bringing us closer – though we will never attain it – to the beautiful, perfect life literature devises, the one we can deserve only by inventing, writing, and reading it. By confronting homicidal fanatics we defend our right to dream and to make our dreams reality."
Vargas Llosa went on to talk about his political views:

"In my youth, like many writers of my generation, I was a Marxist and believed socialism would be the remedy for the exploitation and social injustices that were becoming more severe in my country, in Latin America, and in the rest of the Third World. My disillusion with statism and collectivism and my transition to the democrat and liberal that I am – that I try to be – was long and difficult and carried out slowly as a consequence of episodes like the conversion of the Cuban Revolution, about which I initially had been enthusiastic, to the authoritarian, vertical model of the Soviet Union; the testimony of dissidents who managed to slip past the barbed wire fences of the Gulag; the invasion of Czechoslovakia by the nations of the Warsaw Pact; and because of thinkers like Raymond Aron, Jean Francois Rével, Isaiah Berlin, and Karl Popper, to whom I owe my reevaluation of democratic culture and open societies. Those masters were an example of lucidity and gallant courage when the intelligentsia of the West, as a result of frivolity or opportunism, appeared to have succumbed to the spell of Soviet socialism or, even worse, to the bloody witches' Sabbath of the Chinese Cultural Revolution."
Finally, Vargas Llosa made clear his support for the neocolonial governments in Latin America, pretending that they represent "functioning" democracy in the interests of the people and "supported by a broad popular consensus.":
"We are afflicted with fewer dictatorships than before, only Cuba and her named successor, Venezuela, and some pseudo populist, clownish democracies like those in Bolivia and Nicaragua. But in the rest of the continent democracy is functioning, supported by a broad popular consensus, and for the first time in our history, as in Brazil, Chile, Uruguay, Peru, Colombia, the Dominican Republic, Mexico, and almost all of Central America, we have a left and a right that respect legality, the freedom to criticize, elections, and succession in power. That is the right road, and if it stays on it, combats insidious corruption, and continues to integrate with the world, Latin America will finally stop being the continent of the future and become the continent of the present."
This book is indicative of Vargas Llosa's work which does greater disservice to the revolutionary movement in Peru than those who write bourgeois fiction without pretending to have historical context or political purpose. The novel reviews the life of a fictional revolutionary activist in Peru in the 1950s who participated in a small focoist uprising before ending up in prison. The book describes revolutionary parties as all small marginalized groups wasting their time studying dead guys and debating theory. And it leaves the reader questioning the commitment of all who participate in revolutionary politics, assuming that everyone sells out somehow to pursue their own interests in the end. The peasants and workers are virtually ignored in the book, portrayed only as pawns in the work done by activists.
This novel focuses on a small Trotskyist party, the product of several splits in previous Trotskyist groups, and specifically on one of the party members, Alejandro Mayta. Interestingly, in a brief description of how Mayta ended up in this party, Vargas Llosa describes his movement from group to group, each time rejecting the previous one as not correct enough politically, until he ended up with the Trotskyists as the most pure political line he could find. MIM(Prisons) has some agreement with this description in that Trotskyism is pure idealism and it appeals to those who don't like to get their hands dirty with the realities of revolutionary politics.
Eventually Mayta deserts the Trotskyists to join up with a focoist movement in the mountains that is going to take armed action. He is galvanized by the idea of real action rather than the talk that his Trotskyist group has been engaging in for years. He is kicked out of his party, who consider the action premature, and also because Mayta has approached the Stalinists to participate in and support the focoist action.
Focoists believe that the armed actions of a small group of people will spark the masses to join the revolution. This is an incorrect view of revolutionary strategy. History has demonstrated that small groups of insurgents are not sufficient to bring about revolution; successful revolutions have come through the hard work of organizing the masses. As inspiration, many focoists look to the Cuban revolution, and Castro is mentioned repeatedly in the book. But the Cuban revolution is the only example focoists have of anything resembling success, and while that revolution did deliver a blow to U.$. imperialism, it created a state-capitalist country dependent on the Soviet Union.(2) Like other focoist actions, Mayta's small group is captured during their armed insurrection. And there is much debate about whether desertion, betrayal, or just poor planning led to their failure.
A recurring theme in this book is the claim by the narrator that the truth of history is impossible to determine. In interviewing people about the life of Mayta the narrator gets conflicting stories from everyone he talks to, and is unable to figure out exactly what happened. This nihilist position encourages people to just give up rather than seeking to understand and interpret history to help forward progress in the future. Ironically Vargas Llosa thinks he knows the definitive truth about the history of politics in many countries as he interprets history through the lens of the imperialists.
Through this fictional novel, Vargas Llosa manages to attack a vast range of revolutionary theories and practices, and leave the reader disillusioned and without hope for a better future for the people of Peru. He does not try to hide the poverty and despair that is the everyday reality of life for the Peruvian people, but condemns revolutionaries, politicians, and everyone else to failure in a maze of corruption, collaboration and irrelevant theories. There is no redeeming political value to this book which could depress even the most militant of activists.