Repression of Brazil's Slums to Prepare for World Cup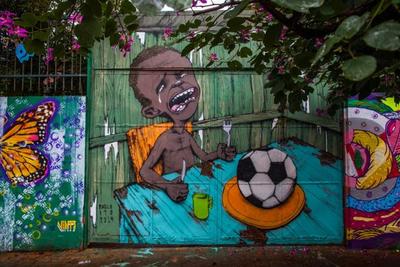 As Brazil prepares for the 2014 World Cup and the 2016 Olympics, it has been trying to create an image of safety and prosperity for the world to show that Rio de Janeiro is an optimum destination for both events and tourism. However, on closer inspection, what is going on behind the official facade tells an entirely different story; less than half a mile away from the sparkling beachfronts and hotels is one of the biggest shanty towns in South America, filled with filth and squalor, violence and death.(1)
The disparity between a growing number of thousands of impoverished citizens in Rio struggling to find adequate housing, employment, health care and other basic necessities, and the record-setting expenditure of $11 to 13 billion on the World Cup alone triggered huge protests less than a month before the soccer tournament begins. Homeless workers in Sao Paulo, Brazil's largest city, formed a group of 2,000 protesters who left their immense squatter camp to demonstrate outside the stadium where the opening World Cup game will be played June 12. Similar protests occurred in Rio, Recife, and elsewhere.(2)
In Rio, violent clashes broke out between police and squatters when authorities dislodged thousands of families from a newly formed favela in a complex of abandoned commercial buildings. Poor workers and their families have increasingly moved into such structures as affordable housing is becoming a rarity and rents skyrocket, yet hundreds of abandoned buildings stand empty.(3) One member of such an occupation movement put it this way: "It is a way to force distribution of income." Rubber bullets and gas were used against the squatters. Elsewhere, police and quasi-military "pacification" squads move into poor neighborhoods and favelas ostensibly to wrest control from drug traffickers. It is an attempt to drive the lumpen organizations away from these communities and restore police authority ahead of the upcoming games. But the program is controversial and has fallen under heavy criticism for using excessive force, at times killing residents. Groups such as Amnesty International say some 2,000 people die every year in Brazil in careless and violent police actions.(4) The mercenary company formerly known as Blackwater is helping provide security training in Brazil, stoking fears that the "pacification" of the slums is akin to an Iraq-style military occupation.(5)
In addition to the increasing use of militant tactics and hardware being used to "pacify" the favelas, thousands of Federal Army troops are being deployed to occupy such areas, including Rio's sprawling Maré complex of favelas. The militias will remain until July 31, after the World Cup concludes.(5) Authorities are also now promising to "secure" the slums using an elite military police squad called BOPE, a shadowy organization of highly trained special forces whose logo is a dagger piercing a skull. Meanwhile clandestine police "body dumps" have been discovered.(1)
The Brazilian government is learning that they can only push people so far who have little to nothing left to lose, culminating in widespread uprisings against state sanctioned brutality and indifference. Military equipment, personnel and tactics are increasingly being unleashed against the residents of slums in the name of increased security for the World Cup/Olympic games, while little to no prior offer of economic or housing aid is offered to the impoverished residents. The solution for the regime in power simply seems to be more repression and violence while it spends millions on stadiums and aesthetics.
The World Cup soccer tournament, like the Olympics, is a bourgeois bread and circus distraction, minus the bread. If the organizations behind these games were at all concerned about social justice or economic equality they would refrain from awarding to nations that conduct violence and economic terrorism on the poorest of their citizens the privilege of hosting their games and subsequent benefits. But history has shown time and again that such organizations are merely bourgeois capitalist lapdogs whose only concerns are self-promotion and profits for their economic masters and investors. This was shown in the blatant corruption of the Olympic committee some years back in Utah and continues unabated to this day. There can be no justice in a world where the fetishization of an officially sponsored diversionist sport occurs at the same time the cost of a single official soccer ball could feed a starving family for a month, who are also being shot at and gassed less than a mile from where such games are to take place!
Further, such militant tactics are being carried out in the name of an official battle against dangerous drug gangs, but if we are to take such justifications seriously then one would need to ignore the fact that it is the decadent culture and corrupt "war on drugs" itself of the imperialist power to the north that is mostly responsible for creating the conditions for such traffickers to exist and thrive. Especially in light of the fact that very few economic alternatives are offered to the youth of the favelas. While the bourgeois population of the United $tates provides the largest customer base for narcotics in the world, its farcical war on drugs, which it also tries to force on other nations such as Brazil, drives the prices of drugs to ridiculous levels. It's no wonder many impoverished and disillusioned people turn to trafficking. Again, the resolution is economic equality, not militant oppression.
The brutal repression of the people in Brazil for the sake of the "security" of the World Cup needs to be exposed and opposed by all who champion the oppressed everywhere. It will only come and go leaving the poor in worse condition for the expenditure of billions on such games instead of desperately needed social/economic programs. Support the peoples struggle in Brazil!