ULK 83: Prison Is War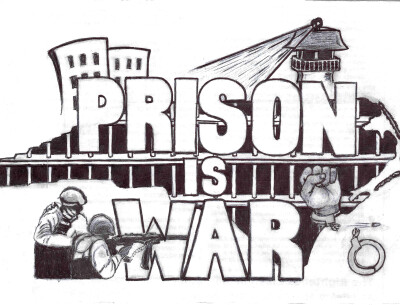 The theme of this issue of Under Lock & Key was inspired by recent essays and interviews by Orisanmi Burton, previewing material from eir upcoming book: Tip of the Spear: Black Radicalism, Prison Repression, and the Long Attica Revolt. Comrades in MIM(Prisons) and United Struggle from Within (USW) have been studying Burton's work. Though we have not had the opportunity to read the book yet, which comes out end of October 2023, we like a lot of the ideas ey has presented so far and the overall thesis that prisons are war.
As we go to press the genocidal war on Palestine is heating up. We have reports inside on Congo, El Salvador, Ukraine and Niger; and we don't even touch on Guatemala or Haiti. History has shown that as war heightens internationally, war often heightens against the oppressed nations within the empire as well.
In this issue we have reports of political repression as war in U.$. prisons. We also feature articles from comrades who organized around, and reflected on the Attica rebellion and Black August. This is the history that Burton analyzes in eir work, exposing the state's efforts to suppress the prison movement and how both sides were operating on a war footing. For over a decade readers of ULK have commemorated the beginning of Attica on September 9th with a Day of Peace and Solidarity, as part of the campaign to build the United Front for Peace in Prisons. But how do we get to peace when we find ourselves the targets of the oppressor's war?
Burton pushes back against some Liberal/reformist lines that have been advanced onto the prison movement to oppose the line of liberation. Burton's ideas harken back to V.I. Lenin, recognizing prisons as a repressive arm of the state, and the state being a tool of oppression and warfare by one class over another. War is one form of political struggle, and a very important one at that.
It is this framework that we have used to push back against "abolitionism." Our organization emerged from the struggle to abolish control units, a form of prisons that is torture and inhumane. We see the abolition of control units as a winnable, if difficult, battle under bourgeois rule. In a socialist state, where the proletariat rules over the former bourgeoisie, we certainly won't have such torture cells anymore; but the abolition of prisons altogether is a vision for the distant future. We find it questionable that Burton frames revolutionary communist martyrs like George Jackson as an "abolitionist".
Where we have more unity is when Burton takes issue with building the prison movement around the legalist struggle to amend the 13th Amendment of the U.$. Constitution that abolishes slavery except for the convicted felon. Burton points out the history of Liberal thought in justifying enslavement of those captured in just wars. As most in this country see the United $tates as a valid project, it could follow logically that it is just to enslave the conquered indigenous and New Afrikan nations, as well as nations outside the United $tates borders. We see how settlers in Amerika and I$rael are now justifying all sorts of genocidal atrocities against Palestine.
The challenge we have repeatedly made to the campaign to amend the 13th Ammendment is how this contributes to liberating oppressed people? How does it build power for oppressed people?
In one essay Burton draws connections to how the state was handling the war against the Vietnamese people at the same time as the war against New Afrika at home.(1) We have a draft paper out on the Revolutionary Internationalist Movement that discusses the counter-insurgency in Peru, and how the fascist U.$.-Fujimori regime locked communist leader Comrade Gonzalo in an underground isolation cell and then used confusion around political line to crush the People's War in that country. In Under Lock & Key 47, we reprinted an in-depth analysis of the use of long-term solitary confinement against the revolutionary movement in Turkey and the use of hunger strikes to struggle against it from 2000-2007. All of these historical examples, including to some extent New Afrika in the 1970s, involved an armed conflict on both sides. Today, in the United $tates, we do not have those conditions. However, we can look to the national liberation struggle in Palestine, and the connection to the prison movement there as a modern-day example.
Burton spends time exposing the politics of the federal counter-insurgency program PRISACTS. And one of the things we learn is that PRISACTS is officially short-lived as the counter-insurgency intelligence role is taught to and passed on to the state institutions. We see this today, especially in the handling of censorship of letters and reading materials we send to and receive from prisoners. We see the intentional targeting of these materials for their political content, and not for any promotion of violence or illegal activity. Our comrades inside face more serious consequences of brutality, isolation and torture in retaliation for attempts to organize others for basic issues of living conditions and law violations.
The arrest of Duane "Keffe D" Davis for involvement in the murder of Tupac Shakur has also been in the news this month. Keffe D is a known informant who confessed to driving his nephew to murder Tupac years ago in exchange for the dropping of a life sentence for an unrelated charge. Author John Potash notes that there were many attempted assassinations of Tupac prior to his death, at least one that involved the NYPD Street Crimes Unit. This unit was launched following the supposed "end" of COINTELPRO.(2) This directly parallels what we see with the "end" of PRISACTS and the passing of intelligence operations on to state pigs.
As we've discussed in drawing lessons from the repression of Stop Cop City, we need to take serious strategic precautions in how we organize. We must recognize the war being waged on us. If we treat this as something that can be fixed once people see what's going on, or once we get the right courts or authorities to get involved, we will never accomplish anything. And as always we must put politics in command. There is an active intelligence counter-insurgency being waged against USW and the prison movement in general, and the best weapon we have is grasping, implementing and judging political line.
Prison is War is not just a topic for ULK, it is a political line and analysis. We welcome your future reports, articles and artwork exposing the ways this war is happening in prisons today.
Notes: 1. Burton, Orisanmi (2023)."Targeting Revolutionaries: The Birth of the Carceral Warfare Project, 1970-1978." Radical History Review. Vol. 146.
2. John Potash on I Mix What I Like, 16 October 2023. (author of "The FBI War on Tupac Shakur and Black Leaders")