Review: The Anti-Exploits of Men Against Sexism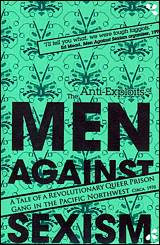 "The Anti-Exploits of Men Against Sexism"
Ed Mead
Revolutionary Rumors PRESS
[email protected]
This pamphlet is an historical account of the organization Men Against Sexism (MAS). It is written in an informal, story-telling style, from the perspective of Ed Mead, one of MAS's primary organizers. "Anti-Exploits" spans the development of MAS, from Mead's first encounter with the near-rape of a fellow prisoner on his tier in the mid-1970s, to the successful height of the organization and the eradication of prisoner rape in Washington State Prison. This success impacted facilities all across the state.
Men Against Sexism was created to bring prisoners together to fight against their common oppression. Mead recognized that homophobia, sexism, rape, and pimping were causing unnecessary divisions within the prisoner population. "Only by rooting out internalized sexism would men treat one another with respect."(p. 5) He brought together politically-minded prisoners, queers, and even some former sexual predators, to change the culture of what was acceptable and not on the tier.
We should take the example of MAS as inspiration to identify our own collective divisive behaviors on our unit, and attempt to build bridges to overcome these barriers. Mead's reputation of being a revolutionary, stand-up guy in defense of prisoners' rights preceded him across the facility, and helped him win allies in unlikely places.
In the mid-1970s, prison conditions were much different than they are today, and organizing MAS seems to have been relatively easy according to the account given. Of course there were challenges amongst the prisoner population itself (for example, MAS defending a convicted pedophile from being gang raped and sold as a sex slave put many people off) but the administration didn't play a significant role in thwarting the mission of MAS. The primary organizers were allowed to cell together, and several different prisoner organizations were mentioned which had their own meeting spaces.
Today it seems we are lucky if more than two prisoners can get together to do anything besides watch TV. This is a testament to the dialectical relationship between the prisoner movement and the forces of the state. During the time of MAS, the prisoner movement was relatively strong compared to where it's at today. After the booming prisoner rights movement of the 1970s, the state figured out that to undermine those movements they needed to develop methods to keep prisoners isolated from each other. Not the least significant of which is the proliferation of the control unit, where prisoners are housed for 23 or more hours per day with very little contact with the world outside their cell, let alone their facility.
MAS recognized that there is power in numbers. They collected donations from allies outside prison to purchase access to cells from other prisoners and designated them as "safe cells." MAS would identify newcomers to the facility who looked vulnerable and offer them protection in these group safe cells. This is in stark contrast to how the state offers so-called protection to victims of prisoner rape, which is generally to isolate them in control units.(1) Bonnie Kerness of the American Friends Service Committee writes of this practice being used with transgender prisoners, and the concept applies to all prisoners who are gender oppressed in prison no matter their gender identity,
"In some cases this can be a safe place to avoid the violence of other prisoners. More often this isolation of transgender prisoners places them at greater risk of violence at the hands of correctional officers…

"Regardless of whether or not it provides some level of protection or safety, isolation is a poor alternative to general population. The physical, emotional, spiritual, and psychological impacts of solitary confinement are tantamount to torture for many."(2)
As late as 2009, data was compiled by the Bureau of Justice Statistics (BJS) stating "Approximately 2.1% of prison inmates and 1.5% of jail inmates reported inmate-on-inmate sexual victimization, whereas approximately 2.8% of prison inmates and 2.0% of jail inmates reported staff sexual misconduct."(3) Certainly much of this staff-on-prisoner sexual assault occurs in general population, but isolating victims makes them that much more accessible.
Isolation as the best option for protection is the most obvious example of individualizing struggles of prisoners. What is more individualized than one persyn in a room alone all day? Individualizing prisoners' struggles is also carried out by the rejection of group grievances in many states. All across the country our comrades meet difficulty when attempting to file grievances on behalf of a group of prisoners. In California, a comrade attempted to simply cite a Director's Level Appeal Decision stating MIM is not a banned distributor in the state on h censorship appeal, but it was rejected because that Director's Level Decision "belongs to another inmate."(4) We must identify the state's attempts to divide us from our potential comrades in all forms, and actively work against it.
MAS worked to abolish prisoner-on-prisoner sexual slavery and rape, where the pigs were consenting to this gender oppression by noninterference. But the state paid for this hands-off approach when the autonomy of the movement actually united prisoners against oppression.
What about gender oppression in prisons today?
In 2003, under strong pressure from a broad range of activists and lobbyists, Congress passed the Prison Rape Elimination Act (PREA), and in May 2012 the final rules were completed. With the initiation of the PREA, statistics on prison rape are becoming more available. But comprehensive, sweeping data on the frequency of prison rape does not exist and so we can not detect trends from 1975 to the present, or even from 2003 to present. Despite high hopes for the PREA from anti-rape activists, we can't yet determine if there has been any benefit, and in some cases the rates of prison rape seem to be increasing.
When MAS was picking out newcomers to recruit into their safe cells, they were identifying people who they saw as obviously queer, or in some way likely to be a target. MAS was using their intuition and persynal experience to identify people who are more likely to be victimized. According to the BJS, in their 2009 study, prisoners who are "white or multi-racial, have a college education, have a sexual orientation other than heterosexual, and experienced sexual victimization prior to coming to the facility" … had "significantly higher" rates of inmate-on-inmate victimization.(1) Human Rights Watch similarly reported in 2001,
"Specifically, prisoners fitting any part of the following description are more likely to be targeted: young, small in size, physically weak, white, gay, first offender, possessing 'feminine' characteristics such as long hair or a high voice; being unassertive, unaggressive, shy, intellectual, not street-smart, or 'passive'; or having been convicted of a sexual offense against a minor. Prisoners with any one of these characteristics typically face an increased risk of sexual abuse, while prisoners with several overlapping characteristics are much more likely than other prisoners to be targeted for abuse."(5)


The descriptions above of who's more subject to prison rape are bourgeois definitions of what MIM called gender. Bullying, rape, sexual identity, and sexual orientation are phenomena that exist in the realm of leisure-time activity. Oppression that exists in leisure-time can generally be categorized as gender oppression. Gender oppression also rests clearly on health status and physical ability, which, in work-time also affects class status.(6) Since prisoners on the whole spend very little time engaged in productive labor, their time behind bars can be categorized as a twisted form of leisure-time. Prisons are primarily a form of national oppression, and gender is used as a means to this end.

Consider this statistic from BJS, "Significantly, most perpetrators of staff sexual misconduct were female and most victims were male: among male victims of staff sexual misconduct, 69% of prisoners and 64% of jail inmates reported sexual activity with female staff."(3) An oversimplified analysis of this one statistic says the biologically-female staff are gendered men, and the prisoners are gendered wimmin, no matter their biology. But in the United $tates, where all citizens enjoy gender privilege over the Third World, this oversimplification ignores the international scope of imperialism and the benefits reaped by Amerikans and the internal semi-colonies alike. While there is an argument to be made that the United $tates tortures more people in its prisons than any other country, this is balanced out with a nice juicy carrot (video games, tv, drugs, porn) for many prisoners. This carrot limits the need to use the more obvious forms of repression that are more widespread in the Third World. Some of our most prominent USW leaders determine that conditions where they're at are too comfortable and prevent people from devoting their lives to revolution, even though these people are actually on the receiving end of much oppression.

On a similar level, MIM(Prisons) advocates for the end of oppression based on sexual orientation and gender identity. But we are not jumping on the bandwagon to legalize gay marriage.(7) We also don't campaign for sex reassignment surgery and hormones for prisoners.(8) This is because we see these as examples of gender privilege, and any privileges obtained by people in the United $tates inherently come on the backs of the Third World. Whereas in the time Men Against Sexism was formed the gay rights movement was militant and engaging in street wars against police, they are now overall placated by the class privilege they receive as members of the petty-bourgeoisie.

We encourage everyone facing oppression to recognize its true roots – capitalism and imperialism – and use their privileges to undermine the United $tates' world domination. Without an internationalist perspective, we will inevitably end up on the wrong side of history.