Abolish the SHU, Create Leaders Throughout the Prisons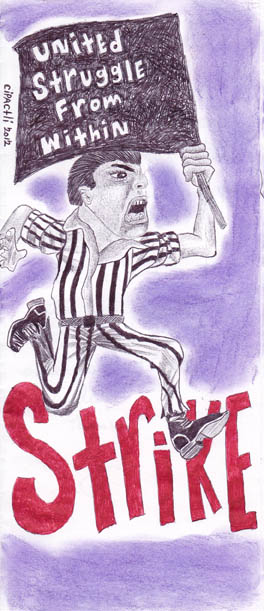 I never got to read the piece on "strategic retreat" by Loco1 due to heavy censorship here, but wish to respond to the discussion in ULK24 titled Advance the California Hunger Strike through Strategic Unity and Criticism. First, the struggle spear-headed by SHU prisoners is not exclusive to SHU prisoners. This struggle includes all prisoners, not just in California but more broadly throughout Amerikkka. The dehumanizing treatment of prisoners is experienced by all prisoners at some point just as sure as Brown and Black people out in society are both hunted and rounded up, stopped and frisked by the thousands daily and shot and killed unarmed by the imperialist's first line of defense on a regular basis. Prisoners in Amerika are abused, oppressed, repressed, exploited and murdered either outright or by other means, i.e. denying medical treatment, etc. Of course some prisons are more brutal to its prisoners than others but make no mistake about it - we are all brutalized! SHUs by their very nature are torture kamps period.
This environment would thus produce more resistance just as one will find more resistance to imperialism in a Third World country than in say Amerika or England. The oppressed nations are still oppressed regardless if they are in this country or that country even if it is at a different level. So too are all prisoners oppressed whether in SHU or mainline. And I do agree that in the 2011 strike efforts SHU prisoners have been the vanguard in propelling and boldly arousing the thousands of prisoners to the call of action, our efforts were international as prisoners in other countries such as Canada and Australia even joined the strike in solidarity with Pelican Bay prisoners and thus with all prisoners in Amerika. Activists in Canada dropped a banner on the jail proclaiming its prisoners were hunger striking with Pelican Bay and so the banner read 'from Pelican Bay to Collins Bay'. So yes SHU prisoners spearheaded this mass effort but it should not become common for prisoners to rely on the "Pelican Bay vanguard" as this is dangerous.
When a movement is focused on a leader or a certain group... if these leaders are imprisoned, neutralized or corrupted the movement crumbles. One of the strengths of the current 'Occupy Wall Street Movement' is that it is a united front with no 'leader' or cadre group leading the pack. The state hates this and unleashes its propaganda machine to smut the OWS movement up as 'not being sure what they want' or 'not having leaders'. The state wants public 'leaders' to neutralize and take down as they have done for the past hundred years whenever a group rises up in Amerika.
Of course there is a role for leaders as vanguard whether they be in prison or out in society, but it's a dangerous road for the movement when people begin to rely on the "Pelican Bay vanguard" and take on the attitude of "I'm not going to strike or protest this or that because Pelican Bay isn't doing it right now" or if an injustice comes up in a prison in say North Dakota etc, and the prisoners say "well I'll wait until Pelican Bay rises up again." Some may even go so far as beginning to think that say prisoners in Hawaii are striking and they are in Alaska and they may say "well it's not the Pelican Bay prisoners I'm not partaking." This happens even here in California where if an action is not including Pelican Bay prisoners its looked at half-heartedly and many lose interest in 'rising up.' This is a real problem, one that I hope to combat in its infancy as I see the damage this brings to future struggles and it really retards the political development of prisoners into participants rather than individual leaders themselves.
What we must keep in mind is prisons today are much different than what prisons were in the days of Attica or Santa Fe, etc. Today prisoners are more controlled; prison activists are quickly targeted, separated and isolated from the prison mass. More and more control units are designed to house the revolutionary prisoners. Even on a "mainline" of level four prisons in California you only go out to yard with the roughly 200 prisoners in your block, with the other 800 or so in their cells waiting their turn. Some places only half a block goes out so 100 or less are out at a time. The state has begun to implement these methods past Attica and past Santa Fe to tighten their control on the prison population and attempt to smother any future embers of resistance. So as the state attempts to divide and conquer the prison population, prisoners often find themselves alone or with only a handful of conscious prisoners engaged in activism. It is these conscious prisoners that should be as matter - in constant motion constantly doing your thing to push the momentum.
And so although SHU prisoners have been the vanguard thus far I disagree with the writer when s/he says "The SHU prisoners are the vanguard in the struggle and it is up to them if the movement moves forward or dies a humiliating death." I believe this type of thinking is an error and incorrect. SHU prisoners, nor any prisoners who form the united front, consist as a centralized party, nor was this strike movement built with any hierarchy. And although I largely agree that the prison vanguard can be found in SHU, to say whether the movement "moves forward or dies" is up to SHU prisoners kind of reduces the larger prison masses (general population) to bystanders or frees them from responsibility should the movement die "a humiliating death" as the writer put it. SHU prisoners are extremely limited in their ability to operate, we are deprived to the point of it being torture. In some cases no mail period is allowed to or from a prisoner. In other cases any time one leaves a cell in shackles a team of guards with camcorder walk recording ones every step!
What we need to do is emphasize the responsibility of those on the general populations (mainlines) to learn from the international effort that was unleashed and begin to boldly arouse the imprisoned masses to get used to demanding human decency where it does not exist, to become familiar with refusing to be dehumanized, refusing to be exploited and refusing to be abused out on the mainlines. Small efforts and strikes, even when domestic (confined to one's prison) whether victorious or not, work to condition the imprisoned masses to the beautiful concept of resistance. A rally around lockdowns, food or educational/vocational opportunities quickly forages a footprint on the psyche and revolutionary spirit of those who participate in a grievance of some sort and teaches the priceless lesson of practice. Theory goes only so far in any struggle, at some point the baby must stand and take its own steps and this is a truly liberating and transforming experience that works to build on future efforts concerning a united front.
Every gulag in every state of Amerika is capable of injecting the movement with a second wind. It is up to every prisoner to begin to think of themselves as having the potential to move the movement forward or letting it die a humiliating death regardless of what prison or what state you dwell in! What holds any movement back is the will of the people to overcome what seems in our way. Mao said "a single spark can start a prairie fire" which has proven true time and again.
The fact that this effort included all LOs already shows that LOs comprehend the need to come together in a common effort; that hurdle has been completed. It is important that the imprisoned masses understand the concept of protracted struggle: it is a long drawn out effort in which, while practice is performed, the people are constantly studying and sharpening our ideologies. In this way we are wearing out the oppressor while building up the people politically.
I disagree with the proposal of the writer that we should focus on the debriefing process as our primary focus. I think this will work to divide the people. The problem is not all prisoners in SHU are validated for "debriefing" information, as many people's validation did not even use information from debriefing. Besides that we need to come high and see what unfolds. I do believe debriefing should be one of the demands but not the sole focus. In dealing with prison strikes and grievances I have found it more effective to make a list of demands and after its all over you may get one or two granted. I believe the demand to close the SHU needs to be at the forefront and I'm surprised it was not included in the five demands of the strikes.
Whether the state will actually comply or not should never affect our choice in a strike, but the demand to close the SHU should be at the front of our rallying cry as it generates a broader support system, it is a uniting force like no other for prisoners. Every state has a control unit whether it's called a SHU, SMU, etc. Of course we will always have other demands depending on the prison or oppressive circumstances of each facility but the primary demand, the most important should always be "Close down the control units!" Control units equal torture, this has been agreed by even the United Nations. The U.$. Supreme Court recently ruled California prisons in general amount to cruel and unusual punishment so it is a fact, let us now raise public opinion to this fact and in the process we will win "winnable" battles on meals, debriefing etc, and along the way the people will be energized by these winnable battles.
These small victories help keeping our eye, as well as the public's, on the most important aspect of our movement and that is to close the torture chambers known as SHU, SMU, etc. Whether we are victorious in this main demand in one year or twenty years is not what we should gauge our 'victory' with. Rather we should recognize conscious lifting and prison mass that is brought deeper into the struggle in the process - this is a true victory for the people.
It is true that we need to develop a strategic vision and understanding to move the movement forward and build what has already been laid down. This strategy should stem from a court analysis not only of the SHU environment but of the entire Amerikan prison system as this is what kind of movement we should be shooting for. ULK reaches many prisoners who can and will take these nutrients and flourish not just with the theory put for them in ULK but build on this and adapt it to each persyn's specific environment.
In California I see abolishing the 3 strikes law as worthy of a demand. The right to medical care is another. Contact visits for all. Access to direct sunlight. Nutritious food and access to all vitamin supplements, protein powders and other means to stay healthy. The abolishment of the use of solitary confinement. Abolish the debriefing system. Abolish censorship. Get parole dates and stop this denial for subjective reasons. The use of control units in Amerika is frowned upon by many people in society, from religious, activist, even some bourgeois liberals and actors oppose control units. The 2.4 million prisoners and their friends who oppose control units, some may not know they exist but all in all this is where we gain our most traction and support, it is precisely where we should start. I believe it is prison activists best organizing tool given to us complements of imperialism, we should not allow this opportunity to wither away.
There are crucial points that should be addressed in future efforts whether these efforts manifest in Pelican Bay or in a prison in North Dakota. The five demands were good, but as I pointed out above there are certainly more pressing issues that need to surface. The thing is to constantly improve on any effort one is involved in; move forward, not simply reproduce what occurred in Pelican Bay's torture chambers, but produce a stronger and more spectacular effort the next round. The Cultural Revolution was launched to unleash the people and have them not simply follow Mao's lead. It was to have the people themselves lead society to struggle in all different spheres, to push the "vanguard" forward, move society with all the creative energy of the masses and transform society and the vanguard.
This is what the 2011 strike movement should do to prisoners across Amerika, it should unleash the people's will to resist, uncork the desire to cast off oppression in every dungeon and every prison cell across Amerika and to teach not to just do like we do or say what we say but allow your dignity as men and wimmin to rise above your oppression and create two, three Pelican Bay movements for your humanity and become a force that awakens prison activism wherever you are no matter how many stand with you. A single street vendor in Tunisia sparked revolution in different countries! Realize your abilities, they are powerful in a concrete tomb. So take my shackled hand and I'll take yours and let's pull our way to freedom!
---
MIM(Prisons) responds: As we've expressed elsewhere, we do not abdicate leadership in the prison movement. We have much unity with what cipactli writes here in regards to organizing strategies that are decentralized and that protect their leaders. However, we do recognize the need for political leadership that s/he hints at. We recognize that the scientific endeavor that is revolutionary struggle produces scientific knowledge. And certain individuals and groups will possess and understand this knowledge before others. The Occupy movement is a mass movement that attempts to prevent any small group from taking control of it and defining it's politics. Such an approach can be a great learning experience in a budding mass movement. But such a movement will be very limited in what it can achieve, and just as has happened with the Occupy movement, a leadership will quickly come forth despite the claims to the contrary. That is why the scientific approach is to recognize and utilize leadership, utilizing real accountability and real democracy.