Agreement to End Hostilities in CA: 3 Year Status Update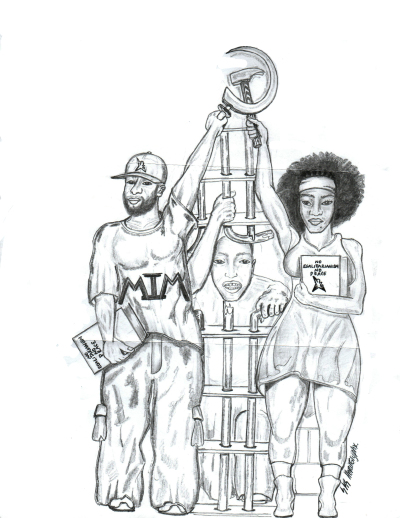 This spring we sent out a request to all California USW supporters to give us updates on the status of the Agreement to End Hostilities (AEH) at their prison, and to send us a follow up report following the September 9th Day of Solidarity. This status report has been overshadowed by the murder of Hugo "Yogi Bear" Pinell on August 12 at New Folsom Prison. Here is a report on the incident from one comrade:
"Today at around 1:00 p.m., with the help of police provocateur agents a riot ignited on B-Yard with numerous inmates involved and I regret deeply with anger and rage to inform you all that a true Black man by the name of Hugo Pinell was murdered by not only white inmates, but police as well. It was stirring up for weeks before the incident occurred that violence was to take place and Hugo was definitely the target! Due to disrespectful gestures of a white woman during visiting hours in the visitors room, which was supposedly settled verbally.

"No matter how old, Black lives do matter. The prison officials mockingly placed information directly to reporters/media about Hugo's past as far back as the 1970s, and how he dealt with pigs or whatnot. He's a human being who was (unjustly and spinelessly) murdered by agents and their spies. Only two warning shots were fired and while numerous stabbings were taking place no officers were hurt. Despite being attacked, Black inmates have been assassinated for assaultive gestures, not to mention actual violence.

"I know that Babylon and their stool pigeons been waiting to take down someone of Hugo's caliber, so it's not a secret. These cowards murdered this man. We must make our society aware of the fact that as incarcerated warriors of the struggle, we as a people are subjected to every form of torture, rape, mental anguish, murder/assassination at any given moment still to this day."
Another comrade at California State Prison - Sacramento (aka New Folsom) wrote more recently to explain his interpretation of what happened:

"The most profound and logical explanation is the most evaded and overlooked, and that is the whole situation is said to be orchestrated by Correctional Officers in retaliation for the animosity that they (COs) had towards the brother over historical incidents dating back to the days of Convict vs. Tyrant COs. The hostilities are fueled by institutional propaganda, some may claim that after all these years the white "Aryan Brotherhood" finally got revenge. However, that theory is ludicrous, due to the fact that they no longer really have loyal and active subjects. As hard as it is to foster a thought, that the guards are the bad guys amongst the bad guys (civilian thinking about prisoners) it is the actual, logical and only real answer."
The comrade goes on to describe a series of abuses being faced at New Folsom.

A couple weeks before Hugo's assassination, a third comrade at New Folsom told us,
"I see prisoners pass through here for needed medical attention who come from other yards. One of the "primary" signatories to the AEH, one of the primary leaders, has been released from the dungeon some time ago who has been here in the facility, and yet, despite his presence and authority, I have seen a semi-steady flow of camaradas pass through here after having been viciously stabbed. The latest one was both stabbed and sliced up with a box cutter."
This comrade called on politically conscious prisoners to acknowledge that the success of the AEH as it is being portrayed does not correlate with concrete reality, and that we must address this reality.

Despite this reality that there was a series of conflicts leading up to Hugo's murder, the outpouring of calls for both justice and continuing to build unity among all prisoners are coming in from across the state. This is a disciplined response, where the prisoners in California are thinking strategically about how to react to this tragedy. That in itself is no small feat, which should be recognized.

We received a call from a comrade of the New Afrikan Black Panther Party - Prison Chapter down south, who represented some older brothers there. We also heard back from a comrade we quoted in our last update on the AEH in ULK 42, from January 2015. His story of O.G.s building with youngsters in a bus ride from Pelican Bay caught many people's attention. He wrote on 13 August 2015,
"I had written to you in October 2014 about... how the Agreement to End Hostilities project was going so well, and now this... We have achieved so much with methods of non-violence amongst the prisoner population... The core reps must meet at the round table to find a solution."
A comrade writing from Calipatria had a similar analysis to those above, with a more or less positive spin on the status of the AEH,

"Having been around the system and noting that the same process of targeted assassination via drone strike or other means, people whom correctional staff feel that they can use to try and spark a breakdown in the Agreement to End Hostilities are used and in this case it is only obvious that prisoncrats had involvement in selecting a target of such renown that it was figured that riots would occur all across the state. The idea was kicked around and so far in most cases sobriety of consciousness have been maintained.

"Isolated incidents have occurred that could have blown up into mass conflicts, which it has been becoming obvious to some prisoners in recognition of plots by agent provocateurs who consistently strive to have us going at each other in manufactured proxy wars so that prisoncrats could justifiably perform acts that cannot otherwise be officially sanctioned.

"The significance of the murder of Hugo (Yogi) Pinell is not lost on prisoners of conscious whose main question tends to be: With all the history, how was the plot allowed to be accomplished when there should not have been a single prisoner unaware of his presence and of his significance to all prisoners? Men of consciousness can reflect on the teachings of Sun Tzu relative to knowing the tactics and practices of the enemy...

"Prisoncrats without a doubt recognize that the introduction of non-violent protests by other means have opened the eyes of prisoners who assumed that the only way to obtain results were by violent means. I suspect that "race" is not as viable an instrument of power among the prison population as a result of the AEH, throwing a wrench into the works of the prisoncrats. So we must be aware that they will not limit themselves to one tactic to try to create new conflicts along various divisions."
So while the reaction to Hugo's death could have been a lot worse, there is a lot of work ahead to learn from this, as we address the injustice that occurred and strengthen the prison movement moving forward.
Other than New Folsom, we got reports from several other prisons on the status of the AEH, and we hope comrades keep sending in their reports. From Corcoran, we received:

"I'm here in the COR SHU 1L building, which is considered the short corridor. We New Afrikan Revolutionary Nationalists (NARN) have placed our ads in the many news outlets (SF Bayview, Turning the Tide, Prison Focus, The Rock, PHSS Newsletter) informing all that the NARN Collective Think Tank in Corcoran SHU's mission statement is the agreement to end all hostilities, and as far as we know it's being honored everywhere that's received its message. It is our only hope at obtaining our political objectives in this struggle if we all come across the racial lines and bring about a mass united front as we did with the hunger strikes to show our solidarity hasn't changed. On the 4B yard (where I am) we hear that all the building's inmates are programming together, as in exercising on the yard in the cages and looking out for one another with basic necessities, as much as we can do in the SHU."
A newer comrade, from a different building in 4B at Corcoran had just got information about September 9 organizing and jumped into action. However, he laments,
"we are the ones who divide ourselves in this place. In this SHU we are integrated with general population (GP) inmates as well as those in protective custody (PC). By in-house politics, GP inmates are not to communicate or interact with those on PC status and needless to say the limitations of being locked down only limits our conversing with those few in our pods."
This just demonstrates that even getting the full picture of what's going on at one prison requires more reports from the ground. But it is safe to say that there are still divisions preventing basic communication, which is a barrier to the goals of the AEH. No one expected a declaration of peace to just be verbally accepted and automatically translate into action. Building peace is a process, and the first step is crossing barriers that have no useful basis. Then we can expose the more serious contradictions that require more effort and creativity to really address.
Pelican Bay represented this September 9th,
"Today was a good day. No one had any canteen or nothing to make food, but we had good conversation about Yogi's death and how it was a benefit to the state. The hunger strike was brought up and I talked about how our hunger strike was a continuation of the struggles of Attica.

It was hard to speak of peace when we are so close to the tragedy at Folsom, but folks here with me want peace, we have all voiced peace and how it helps us all in our own struggles. Doing the state's bidding by oppressing other prisoners is not coming from anyone housed around me. We know that the real contradiction lies in prisoners vs. the state. Hopefully other circles come to realize this or are weeded out because Attica gave us a concrete example of what us vs. them looks like, so did the San Quentin Six and the California hunger strikes."
Another comrade there reported on the status to the Agreement to End Hostilities,
"As we're all aware, in order for an end to hostilities to become a reality, all prisoners should promote it or encourage it to other prisoners who are just arriving to the system. In my location (Pelican Bay SHU), all have adhered to 'ending hostilities" even though it's been evident the pigs have tried to crack it by putting certain prisoners in compromising circumstances, such as opening the wrong cell when one comes back from yard. It's done in a manner that's obvious. I've witnessed this happen at least 3 times in a year, but with no incidents as all are adhering to the AEH!

"Although September 9 is a historical day in California prison history, we now have July 8 which we can reflect on to see our efforts transcend expectations.

"To sum up, in my area the AEH is adhered to and a lot of class conscious conversations are constantly being addressed. Everything pertaining to prisoner rights and the abolishment of solitary confinement is a hot topic where ideas are matched, and debates and polemics are welcomed with respect. Our lives are affected by all our actions. It just helps more when we're all on the same page. I cannot say that a grand meeting will be held on September 9 or anything else. We do have class consciousness, but not all are receptive to political/revolutionary discussions. Being that my unit is very small, I will probably be the only one participating in a solidarity fast on September 9. My revolutionary solidarity goes out to all other USW comrades."
Leading up to September 9 we received a joint statement from the United KAGE Brothers and the Prisoners Political Action Committee out of Pelican Bay, which was a pledge to end hostilities on the inside and out.
From California Correctional Institution at Tehachapi, one of the comrades who has spent more than 10 years in SHU reported in July,
"Yes, the Agreement to End Hostilities campaign has been popularized in my area. I'm aware of it based on observation and active participation in our class struggle to abolish solitary confinement, which has me directly engaged with the people involved. Therefore, I'm able to confirm, there hasn't been a single issue of violence on the group yards here at Tehachapi SHU, which have been in effect for over a year now.

"The Agreement to End Hostilities is being reinforced on the issues that we're organizing around and what it will take for our efforts to not only be sustained, but being successful. The understanding of this, is realized by prisoners on several fronts, such as, individuals from various formations exercising together and aiding one another on the political, social and economic contradictions that manifest.

"On a final note, we prisoners at CCI Tehachapi have been boycotting CDCR's 'How to make a slave' step-down program since May 11, 2015. Please be sure to publicize this fact!!"
In Kern Valley State Prison we received reports of active building across different groups in the spirit of the AEH. In particular the Nation of Gods and Earths and the Rastafari groups there have been leading progressive efforts. One God reported on a 30-day event including many lumpen organizations (LOs) called Project Build. He states,
"The People/masses/folks support the Agreement to End Hostilities based on the fact that in this particular facility there are 20 (currently) self-help groups as well as Bakersfield College... As for development of a sort of treaty, that has not been put into effect due to the individualists who will rat to the pigs for an extra phone call or to go out to a 'Regular Day Off' yard. Those who are aware of the need to end hostilities are toeing the line. Those that aren't are socially condemned by those who do not fully comprehend, and slowly re-educated by those who see them for the unconsciousness they give off. Communication is key."
This reinforces the sentiment that lumpen organizations (LOs) are on board for the AEH, and those who violate it are isolated individuals, or individuals with connections to the state. At the same time the LOs are not monolithic organizations and we must not be idealistic about declaring "Peace achieved!" We have much to celebrate as we mark 3 years of ending hostilities in California this October 12. But there is much work to be done to address the existing contradictions that are lurking beneath the surface. As comrades above acknowledge, it is not just agent provocateurs creating trouble, though they are very real, and easily influenced and bribed. To believe that it is just agent provocateurs is to idealistically ignore the contradictions among the people that must be addressed. There are antagonistic contradictions among the imprisoned as well, especially in a situation like California where some LOs have very entrenched economic and power interests. Addressing both types of contradictions must continue in order to see another 3 years of peace and achieve the goals of the prison movement in improving the lives of all prisoners.