Black August Resistance - history is a weapon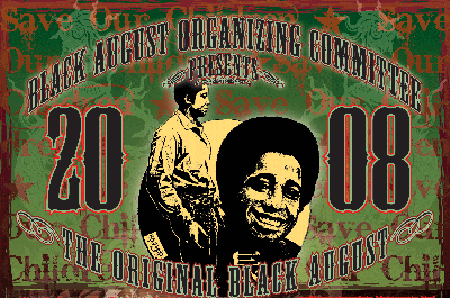 August is one of the hottest months in many ways. Many of the great New Afrikan slave rebellions, including Gabriel Prosser's and Nat Turner's were planned for August. It is the month of the birth of the great Pan-Africanist and Black Nationalist leader, Marcus Garvey, and also of our New African freedom fighter Dr. Mutulu Shakur. New Afrikans took to the street in rebellions in Watts CA in August 1965. On August 18, 1971 in Jackson Mississippi, the official residence of the Republic of New Afrika was raided by Mississippi police and FBI agents.
August 1989 marked the 10th anniversary of Black August commemorations. The promotion of a conscious, non-sectarian mass based New Afrikan resistance culture, both inside and outside the prison walls all across the U.S. Empire. Black August originally started among the brothers in the California Penal System to honor three fallen comrades and to promote a Black culture of resistance and revolutionary development.
The first brother, Jonathan Jackson, a 17 year old man child was gunned down August 17, 1970 outside a Marin County California courthouse in an armed attempt to liberate three imprisoned Black Liberation Fighters (James McClain, William Christmans and Ruchell Magee). Ruchell Magee is the sole survivor. George Jackson, Jonathan's older brother and comrade, a great Black revolutionary theoretician and leader was assassinated August 21, 1971 by guards during a Black prison rebellion at San Quentin. In an unsuccessful effort to cover up the state's pre-planned assassination of comrade George. The third brother, Khatari Gaulden, was victimized by the blatant assassination of capitalist corporate medical politics in prison August 1, 1978.
MIM(Prisons) adds: The original Black August Organizing Committee still commemorates this holiday each year. The group works to maintain the original focus of the commemoration on the ongoing war on oppressed nations in the united $tates. Over 40 people came together to form the BAOC in 1979 after a united front of New Afrikan prisoners formed in 1978 following Khatari's murder. This year's commemoration featured New Afrikan, Native and Asian cultural acts intermixed with the political presentations with a focus on promoting community.
MIM(Prisons) brought to the attention of the audience that the California Department of Corrections and Rehabilitation (CDCR) considers the celebration a "gang activity." That was how the Institutional Gang Investigation unit justified withholding mail from a comrade to a prisoner that mentioned Black August. They don't try hard to hide he fact that their repression and their so-called war on "gangs" is really about keeping the oppressed in their place. Members of Black August face persecution by the CDCR on the streets as well as in prison.
Meanwhile, a local weekly in Oakland ran a smear piece on Black August following the CDCR line. The article bad mouths Black Panthers George Jackson (falsely accusing him of being a convicted murderer) and Basheer Hameed (who just died this past week).