Book Review: "Geronimo: The True Story of America's Most Ferocious Warrior"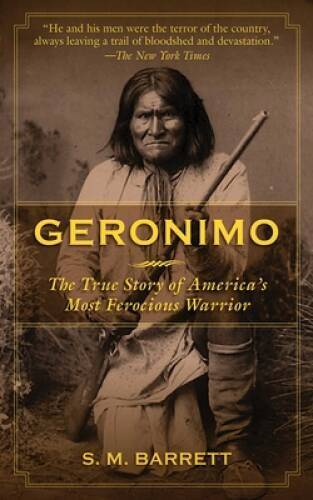 It's uncanny how books fall into your hands at times. Recently my circle has been discussing the subject of prisoners of war (POW's) in the United $nakes and, what do you know, a comrade slides me this book on a POW who died imprisoned, the Chiricahua Apache Chief Geronimo.
Going into the book I treaded lightly as biography type books are quite biased. Many of the tomes written on leaders of the oppressed within the empire tend to be heavily biased slander that amounts to imperialist propaganda. This book was written as an "Interview" by Barret while Geronimo was a POW at Fort Sill, Oklahoma. I went into the book bracing myself for a book that would attempt to tell Geronimo's story while promoting Amerikkkan ideals if even unconsciously. I was not wrong.
The subtitle of the book itself is an error: "The True Story of America's Most Ferocious Warrior." Geronimo was a First Nations warrior. America is the name of the white nation who stole the land it now occupies. The subtitle thus describes Geronimo as a member of this white settler nation which is ridiculous, as he fought against Amerikkka.
The first part of the book focuses on general Apache life with an emphasis on the mythology of the Apache creation story of origin. Steeped in the metaphysical ideas of a "God" and how a talking dragon would visit early ancestors. Sadly many of the world's societies have such creation myths that are passed down. It highlights the need for a materialist approach to all we do and gives a glimpse of how the world would think if we were without dialectical materialism.
Part two, "The Mexicans", answered a lot of questions I had. Here it describes how at one point Geronimo and his tribe traveled into "old Mexico" – as he calls it – and while the warrior went to trade in the town they returned to a massacre where it was reported that Mexican troops had killed everyone including Geronimo's aging mother, wife, and three children.
I had often heard of Geronimo's anti-Mexican sentiment, now I know why. Contradictions among the people continue today where oppressed nations fight for crumbs and leave devastation on either side. It's disappointing to hear, knowing Geronimo's passion for fighting Amerika it would have been beneficial for the oppressed to join forces and fight Amerika as this was in 1858, ten years after the U.$. war on Mexico and the birth of the Chican@ nation. Surely there was much resistance sparking and embers of resistance still burning.
I can't stop to wonder had a united front of oppressed nations come together and resisted the U.$. how it would have resulted, add Black folks in the mix and it would be even better.
The first half of the book seemed to exalt Geronimo's raids and murder of Mexican people. The first half has almost no mention of his war on the white nation, on which much of his reputation is built on.
Part three titled "The White Men" depicts various attacks and treachery when U.$. troops would call "peace" only to meet up and murder the Apache forces. At one point the Apache Chief Manigus-Colorado was called by the U.$. military for peace talks and assassinated. Geronimo seemed to be the only one who did not trust the U.$. troops or "white men" and thus never attended peace talks during that time period and lived through the treachery.
Chapter 16 titled "In Prison And On The War Path" was chilling to read. Here Geronimo contemplates war on Amerikkka and death. This portion of the book struck me more than any other of the passages. I feel his words and taste them internally. To me it's as raw as it gets for those of us who are prisoners of war.
He states:
"In the summer of 1883 a rumor was current that the officers were again planning to imprison our leaders. This rumor served to revive the memory of all our past wrongs, the massacre in the tent at Apache Pass the fate of Mangus-Colorado, and my own unjust imprisonment, which might easily have been death to me.
"We thought it more manly to die on the war path than to be killed in prison."
So much to unpack here. The mention of the leaders being imprisoned brought back memories of Pelican Bay SHU. The SHU was where leaders of the imprisoned oppressed nations in Califas were kidnapped and "imprisoned". Taking leaders is a common practice of the oppressor nation. For Geronimo it triggered the Apache when they heard that their leaders would be kidnapped again. That's a very traumatizing experience. I feel it. For those who have never been captured, tortured or kidnapped I can only say that the closest example I can give of Geronimo's words here is that of a child who was kidnapped by a stranger, taken from their family and returned as an adult and then one day this persyn was either snatched again or told that another person would be kidnapped. Imagine the trauma this persyn would feel: the memories of being taken. The trauma likely became unbearable to the point that resistance, even resulting in death, must have seemed welcoming.
It seemed that every few pages Geronimo or his tribe would sign another treaty with Amerikkka. A lack of political investigation resulted in decisions based on subjectivity. As materialists we know that the oppressor will not relinquish power willingly, hystory has taught us that. Had Geronimo been a dialectical materialist he would have come to that realization much sooner.
Reading how the U.$. Army General Miles told Geronimo he would build Geronimo a house and give him access to cattle and provisions if he would simply stay in his place on the reservation was really revealing. Geronimo was a prisoner of war and knew it. Today many Chican@s and other oppressed don't even know that we too are prisoners of war, for the U.$. war on Aztlan continues. We too are in a reservation called the United Snakes.
A low intensity war continues on the Chican@ nation. The U.$. government has always maintained an offensive on the colonies since the invasion was first launched, the offensive simply changes names, vehicle, and nationality, but its vision and operation remains fully intact. On April 20th, 1886 U.$. troops stationed in Arizona and New Mexico were issued this order by the U.$. War Department:
"The Chief object of the troops will be to capture or destroy any band of hostile Apache Indians found in this section of country and to this end the most vigorous and persistent efforts will be required of all officers and soldiers until the object is accomplished."
If one were to substitute the word "Chican@s" instead of "Apache Indians" this statement could have been written last night. Insert the dreaded "gang member" which the colonizers love to use to vilify oppressed nations youth survival groups and the statement may be even more authentic to today's mission. The pigs are tasked with accomplishing this mission in their war on the poor. Political groups or parties claiming to work in the interest of the oppressed here in the Snakes who do not move in ways that acknowledge this program of protracted soft war on the oppressed while conducting their work in the field in the so called interest of the colonized reduce their efforts to crass concerns of proletarian morality.
Today the state is resuming its offensive to "capture or destroy" hostile indigenous people (Chican@s, not First Nations in this context) and as the statement says they are obligated to do so "until the object is accomplished."Their vigorous and persistent" efforts today amount to the KKKourts, three strikes, "gang" enhancements, hyper-policing, and of course murder and assassination to none but a few.
It is not that Chican@ people are dimwitted and without comprehension to grasp we are being attacked and targeted. What muddies the water is to see Chican@ or Black pigs carry out this program of "capture or destroy" which works in the state's interest to disguise the ONGOING onslaught on our people, that have stopped since 1848 and before, as one long chain of oppression the state may employ Chican@ Toms and Black Toms as actors, but it is a state operation, that is: a program of white supremacy to maintain white power.
At the end of this book it's a shame to read about Geronimo converting to Christianity to which he describes associating with Christians will "improve my character". A warrior reduced to surrendering to the oppressor. Metaphysical thought like Christianity has not "improved" the character of the oppressed, rather, it has worked to subdue and pacify even one of the "ferocious" warriors like Geronimo. There's even a picture of Geronimo in his Sunday best with the caption "ready for church" at the end of this book.
This was an interesting book that teaches one of the injustices committed by Amerikkka against indigenous peoples; but there are also lessons of how a warrior can (through the brute heel of the oppressor) become broken and surrender, and in doing so lead much of ey's people into the abyss of plantation-minded Amerikan apologia. I needed to read this book at a time of extreme repression in my own life to re-energize and I think you need to read it as well. To die on the war-path for liberation . . .