Broad Participation in September 9 FAM Prison Strike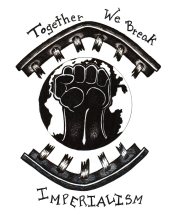 In 2016, actions on and around the 45th anniversary of the historic Attica prison uprising were the most widespread we've seen. For the last five years, September 9 has been a day when comrades in the United Front for Peace in Prisons (UFPP) come together to commemorate Attica by fasting, striking, studying and building peace and unity for the anti-imperialist movement. The UFPP was initiated by a number of prison-based lumpen organizations across the United $nakes in 2011, with dozens of organizations and cells signing on to the statement since then. This year's activity was so great because another protest was also underway on September 9th in prisons across the United $tates. This one, initiated by the Free Alabama Movement (FAM) and promoted by the Incarcerated Workers Organizing Committee (IWOC), a project of the Industrial Workers of the World, affected at least 57,000 prisoners in 31 prisons where lockdowns or strikes lasted at least 24 hours.(1)
All of this comes on the heels of a summer in which we reported on the hunger strikes in Wisconsin, Ohio and Louisiana calling for an end to the torturous practice of long-term solitary confinement. In addition, a North Carolina hunger strike gained some concessions around mail censorship. These impressive displays of unity and activism are a good sign for the prison movement.
Events this September 2016 have been historic in themselves. As we continue our reporting on the Day of Peace and Solidarity, here we will highlight some of the events not led by UFPP signatories. The work strike and peaceful protest at Kinross Correctional Facility in Michigan was the largest incident the Michigan Department of Corrections has seen since 1981.(2) We had received a report from Hiawatha Correctional Facility in Michigan, which was also locked down on 9 September, though there were no actions there:
"Ever since 9am we have been on a lockdown. The comrades in Level II [most of the prisoners] in Kinross have done a protest because of the living conditions, the food, and no fans and heat, and this actually started on September 9. Prisoners walked out of their job assignments, so the unsecured Level I prisoners who work in the kitchen served the Level II prisoners brown bag meals."(3)
The action at Kinross started as a peaceful march of 500 people protesting conditions. After the prisoners had returned to their housing, 100 pigs attacked them with shotguns firing pepper spray.(4) This led to substantial property damage and Michigan DOC are now moving about 250 activists to higher security prisons to repress their protests.(5)
Holman Correctional Facility in Alabama was the origin of the work strike against "slave labor," initiated by the Free Alabama Movement. MIM(Prisons) has been cut off (censored) from Holman for some years now, despite attempts to reach comrades there. On September 1st a pig at Holman was murdered by a prisoner in an act of rebellion. The unsafe conditions led to staff going on strike while the prisoners were still on strike in late September. Many guards have since quit, leaving the camp short-staffed to manage the population. We have often pointed out that if there is one thing that pigs and prisoners might have unity on it would be safety. While often times the staff takes up the state's position that pitting the prisoners against each other is a good management strategy, this does take a toll on the sadistic pigs who do such things and sometimes the violence is turned on them. The CO must ask emself, do i really want to die over a plate of food? This is exactly what happened at Holman, where it is reported that striking COs notified FAM ahead of time and expressed support for their peaceful demonstrations against human rights violations at the prison.(6) This is a rare occurrence in the United $tates and speaks to the disfunctional status of the Alabama prison system.
In South Carolina, prisoners at Turbeville Correctional Institution reportedly fought back, gaining control of the prison for some hours. Triggered by an uppity pig, it came the day after a prisoner was murdered by staff.(6)
In California it's reported that, "Over 100 prisoners have gone on hunger-strike starting September 9th, demanding the firing of a brutal guard, access to basic food, and an end to solitary confinement at two county jail facilities in Merced, CA."(6) We do not have any contacts at either Merced County Jail. In recent years California has decentralized its prison system due to overcrowding in the state prisons, sending many people to local county jails. Overall, this has reduced the connectedness of the California prison population and made accountability more difficult. As these facilities are often less prepared to house the growing populations of long-term prisoners, we might expect conflicts there to continue to increase.
We are currently fighting an apparent ban on all mail from MIM(Prisons) to prisoners held at Chuckwalla Valley State Prison. The CDCR has not yet acknowledged an official ban, but rumors there are that it is a result of September 9th organizing.
A comrade in Pelican Bay State Prison in California sent documentation of censorship of mail from the IWOC because it included "Plans to disrupt the order." This comrade, along with others, began a hunger strike on September 9th. They submitted a list of demands signed by 12 prisoners on B-yard including oversight of rules violations, a wage increase, and a number of demands to improve conditions of the oppressed nations outside of prisons.
We should also mention a series of actions on the outside, in many cities, organized by those supporting the prison-led strikes to both attract attention to the strikes and to pressure the administrations to listen to the reasonable demands of the prisoners.(6)
What Next?
In the last issue of ULK we discussed our lack of interaction with those in wimmin's prisons. It is worth pointing out that the one state-run prison in California that has reported participating in the work strike was the wimmin's prison at Chowchilla where a strike with full participation was carried out. Events over the last month point out that wimmin's facilities are not our only gap in coverage. We have long been aware of our lack of access in prisons that hold migrants because they are so segregated from the general population, often face more repressive conditions, and face a language barrier. On top of that there are whole segments of the men's prisons that we are not plugged into. Sometimes repression and censorship, like at Holman, can cut us off. And if mail is cut off to us, then people can fall off our mailing list quietly. This demonstrates the need for more volunteers to work with MIM(Prisons) to better focus our efforts regionally so censorship isn't allowed to persist due to lack of administrative capacity.
In California where county jails have suddenly become long-term prison facilities, and they are institutionally separated, USW comrades working on the inside to spread ULK and other materials can play an important role in reaching more populations.
While there are common threads that connect the whole criminal injustice system in this country, conditions vary from state-to-state and prison-to-prison. Because of how the government is structured, focusing on statewide organizing is important. That means identifying the principal contradiction within your state and developing campaigns that will mobilize the masses there. We expect states to have similar campaigns, but as we can see from the list of actions above, some populations are motivated by ending solitary confinement, others see a need to focus on breaking down divisions between prison organizations, others over mail censorship, and others over wages. We must assess what will move the masses, as well as what battles are strategic in gaining ground towards liberation.
We have great unity with those trying to demonstrate the continued national oppression of New Afrikans by Amerikkkans today, and demonstrating the historic linkages with slavery. However, when FAM says "The State and the [Alabama] DOC are profiting hundreds of millions of dollars off over the approximately 10,000 free labors who report to work each day inside of their prisons, to jobs in the kitchen, maintenance, runners, road squads, laundry, libraries and gyms, to stores and sandwich shops, yard crews, infirmaries and dorm cleaners etc." we have to disagree. How can the state profit off of prisoners preparing food for other prisoners when no money is exchanged for that food; when the food is paid for by the state itself?
It can be a good tactic for prisoners to engage in work strikes as that will impact the operations of the prisons: many do rely on prison workers to keep things running. And it certainly would increase the cost of incarceration if prisons could no longer use free (or super cheap) prisoner labor. But we shouldn't mislead people to think that prisons are profitable. They are a huge waste of government money! Money that the imperialists and the Amerikan people have agreed for decades now is well-spent. If we fool ourselves into thinking this is just about economics and not about national oppression and population control, we will end up on the wrong path.
We did not get much first-hand reporting on the actions inspired by FAM's call to end prison slavery. But it is inspiring to hear of all the organizing that has been happening lately. There's more going on than we can keep tabs on. This reinforces the need to expand the number of people working with USW and MIM(Prisons)! We need our volunteers to continue to step up. We need our released comrades to come out and support those left behind. We need comrades behind the walls to build independent institutions of the oppressed, and reach the broad masses so that all of these struggles can be better connected and we can continue to strategize to win!