Brown Berets - Prison Chapter 10 Point Program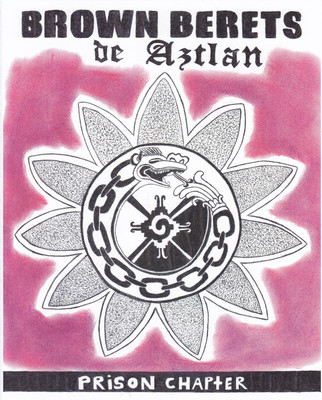 For the past few decades California has been increasingly using control units in the form of security housing units (SHUs) as a method of control. These deprivation chambers are a major part of the state's war on the Chicano nation. Where prisons are used to enforce a slow genocide on La Raza, to disrupt the family unit and implement an internment camp by "legal" means, within prisons also lies the SHU which is equivalent to the chopping block where rebellious slaves who resisted or escaped would get limbs amputated as 1) punishment for resisting the oppressor nation, 2) preventing the slave from making future attempts, and 3) to inflict a psychological blow terrorizing the larger population to what will happen to them should they choose the same path of resistance. So too are the SHUs used in this manner on revolutionary or rebellious prisoner who resist the state, for this opposition to the state we are met with SHU which restricts our ability to resist and punishes us for our refusal to obey our oppressor thus instilling a grave warning to the prison masses of what will happen to them should they take the path of resistance. This oppression has gone on for decades and has grown to horrific proportions in recent years. Here in Pelican Bay SHU over a thousand are tortured with solitary confinement alone. The living conditions here have gone past punishment to the most vile cruelty depriving us of the most basic human rights, it is a place where sunlight is denied and health care is often used to extort incriminating information from those being tortured in this house of horrors. It is a place where prisoners have faced the most horrendous abuses like being boiled in tubs of scalding water to being stripped down in underwear and locked in an iron cage outside in the freezing raining winter morning. These stories would be unbelievable had they not been documented in court transcripts for all to see.
Chicanos are overwhelmingly the majority of those sent to SHU, it is the identification of this war on Aztlán, this silent offensive that you won't read about in the bourgeois press or see on the corporate news outlets but which we see, live and have analyzed for all to understand.
These developments led to the formation of the Chicano Prisoners Revolutionary Committee (CPRC) in late 2011 here in Pelican Bay SHU. The CPRC was created initially for the efforts taking place surrounding the hunger strikes that swept U.$. prisons in 2011. It was within this effort to analyze and lend a revolutionary perspective to the developments surrounding human rights in prisons that CPRC gave birth to the Brown Berets - prison chapter (BB-PC) on June 1, 2012.
The BB-PC was inspired by the original Brown Berets that arose in the 1960s and led the Chicano movement in harnessing the people in the barrios with their many independent institutions from free health clinics, child care, free food programs, schools, newspapers etc. We draw from this legacy of serving the people and dig deeper in the theoretical realm.
We do not answer to any other chapter nor does any other existing chapter answer to us, we are an autonomous chapter which due to the extreme repression in Amerikkka's history operates underground within U.$. prisons. Currently we are the first and only prison chapter in Amerika but we expect many more chapters to develop in many other prisons and states as [email protected] develop politically. We do not publish the names of the BB-PC cadre; our chapter resides in Pelican Bay State Prison.
The BB-PC is the Chicano cadre in U.$. prisons that works to transform these pintas and our nation from our vantage point. We are taking the concepts of community organizing and applying them to the pinta, thus these concrete conditions we experience are very different than they are for a chapter out in society and although our efforts are mostly prison based and revolve around contradictions prisoners face on a daily basis our main thrust of course lies in the Aztlán liberation movement. Our ten point program guides us in that direction and allows us to remain in active service of Chicano independence.
We welcome all imprisoned Latinos to partake in the Chicano struggle as a liberated Aztlán will be a place where all Latinos are welcome to be free from oppression.
The following is the BB-PC Ten Point Program:

We are Maoists
We believe as Mao taught that class struggle continues even under socialism, as a new bourgeoisie develops as happened in the USSR after the death of Stalin in 1953 and after Mao's death in 1976. Mao advanced communism the furthest thus far in world history and it will be through a Maoist program that we liberate Aztlán.

We are an autonomous chapter
We are a self governing chapter that practices democratic centralism. We understand that because of state repression we are more efficient as an autonomous chapter and that as new chapters arise in other prisons across Amerika that they too will be autonomous in each individual prison.

We want to build public opinion in prisons
At this stage the only struggle in Amerika is in the realm of ideas, we seek to politicize the imprisoned Chicano nation through educating our gente on all aspects of la lucha.

We want Raza unity
As the largest Raza population in Amerikan prisons the Chicano nation understands its responsibility to maintain Pan-Latino unity and to educate all Raza on the current repression we face. In the prisons within Aztlán, Raza endure institutional oppression where Raza are overwhelmingly held in SHUs and control units far more than any other of the oppressed. This offensive is meant to neutralize us physically but particularly mentally. We will stand with imprisoned Latinos and resist the oppressor nation as we have done for 500 years and support the Boricua in their march toward independence free from neocolonialism.

We stand in solidarity with all oppressed and Third World prisoners.
Today's prisons are meant to dehumanize the people and break our will to resist. The internal semi-colonies that are captured and held in these concentration camps face much of the same repression from the state, we understand that to better our living conditions as prisoners it will depend on a united front of oppressed prisoners for legal battles and other effort to obtain human rights in prisons and we will cultivate this collaboration.

We are revolutionary nationalists
We understand that true internationalism is only possible when each nation is fully liberated. We identify oppression in Amerika revolving around nation, class and gender which enables imperialism to uphold power and we combat these forms of oppression in our long march to national liberation.

Close the control units
The SHUs and similar models are designed to unleash population regroupment on the imprisoned Chicano nation. It is well known that the most revolutionary elements of the Chicano prison population are plucked from general population prisons and sent to the SHU or other control units in an effort to isolate the revolutionary vanguard from the prison masses, this isolation is then used to torture Chicanos en masse through solitary confinement and other psychological methods for years and decades.

We understand that this is done primarily to prevent the captive Chicano revolutionaries from mobilizing our mass prison base. We see the control units in Amerika as modern day concentration camps as we are sent to those camps not for physical acts but for thought crimes, beliefs or supposed beliefs that oppose the state. We work to overturn the use of control units in every prison in Amerika.


Stop prisoner abuse.
We are against oppression in all it's forms within prisons. This includes prisoners preying on prisoners, abuse from the hands of guards, patriarchy or any abuse physically or psychologically. In Amerika prisons are tools of imperialism used to inflict terror on the internal semi-colonies out in society and stifle any resistance to their war on poor people, having experienced and identified the full onslaught of this offensive we take it head on to combat all forms of abuse from the state or otherwise and this includes combatting the state propaganda and tactics of pitting prisoner against prisoner by political education so that prisoners understand who the oppressor is.

Free all political prisoners.
We not only see political prisoners as those who were politically conscious out in society and came to prison for acts of the movement, we go past that in our analysis and also see SHU prisoners as overwhelmingly political prisoners who are systematically tortured for their ideas or alleged thoughts. We also see most prisoners in U.$. prisons as political prisoners because living in imperialist amerika many of the "Crimes" and criminal injustice system that we face is nothing more than national oppression that is exercised in order to uphold the capitalist relations of production and we work toward freeing the people.

We want a liberated socialist Aztlán.
Our aim is communism but we understand it will take many years for this to become reality. At this stage we are working for Aztlán independence which will only occur after the defeat of imperialism. We work toward a socialist Aztlán where the peoples' needs are met; things like land, bread, education, health care and many more needs will be met and peoples' power will be exercised in order to transform not just society but prisons as well, to a more vibrant and just environment where all will have an opportunity to grasp revolution and promote production. We will transform these prisons ideologically in order to prepare the ground for these developments as we serve the people.