Building Peace with the United Front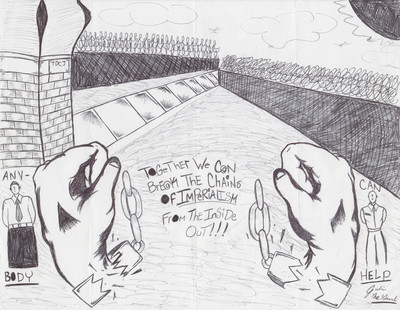 Building a united front within prisons is not easy to do. It is a struggle that ebbs and flows. Sometimes one can be in a facility or yard where this work is easy and other times it may seem impossible. Like everything else in life that benefits the people, it is challenging to say the least. But the United Front for Peace in Prisons is a goal that is within our ability to obtain so we must make it happen.
As prisoners of the state we are all imprisoned by the same ruling class, so in that sense we are all on the same oppressed side in the U.S. dungeons. The class oppressors who construct these torture facilities are the real enemies. Amerikkka is what has had us, our parents, grandparents and ancestors colonized for so many years. It is the source of all our oppression. No prisoner should be in the dark when it comes to the true identity of oppressed people around the globe. In the world there are two sides, the enemies and us; everything else is trivial and must be ironed out.
Prisoners are not the only ones who struggle with understanding this elementary factor. Mao advised us of these two sides by saying:

"Who are our enemies? Who are our friends? This is a question of the first importance for the revolution. The basic reason why all previous revolutionary struggles in China achieved so little was their failure to unite with real friends in order to attack real enemies. A revolutionary party is the guide of the masses, and no revolution ever succeeds when the revolutionary party leads them astray. To ensure that we will definitely achieve success in our revolution and will not lead the masses astray, we must pay attention to uniting with our real friends in order to attack our real enemies. To distinguish real friends from real enemies, we must make a general analysis of the economic status of the various classes in Chinese society and of their respective attitudes towards the revolution."(1)
Mao described the conditions surrounding the Chinese revolution, yet like most lessons in Maoism, we can learn and apply them to our situation here in U.S. prisons. Our "revolution" at this time is transforming our environment and oppressive conditions, and bettering our way of life in these dungeons. But in order to do this we need to know our enemies from our friends. In our case, prisoners are our friends and the state is our enemy. The United Front for Peace in Prisons manifests our understanding of our friends and enemies in the material world.
How do we spread peace in prisons?
MIM(Prisons) and United Struggle from Within created the United Front for Peace in Prisons as a basis for spreading peace. Although they provided the framework which later led to the peace accords that have spread within California prisons, they simply presented it to us prisoners with the understanding that it would depend on us to find a way to put this theory into practice. But peace cannot come from words alone. Growing peace in these hot houses will not arrive miraculously, it must be fertilized and fed, cultivated and harvested. That means revolutionary prisoners need to put in work for peace and get our hands dirty, stick them in the dirt and put our back into it.
Many times peace in prison is spread through people-to-people interactions. Creating relations with prisoners outside our nation and outside our circles or collectives helps spread peace. This builds bridges of communication with others. Of course peace should first be created amongst one's own circles, because it's hard to spread peace with other groups if you don't have peace amongst those closest to you.
Ensuring that peace takes root is largely dependent on educating the people. So many do not even know who their real enemy is and this is because political educators are in short supply within prisons. Passing someone a book is not the same as discussing what is in that book after the persyn has read it.
Peace means that people get used to the idea of us having the same captor and facing the same monster. People need to look at the big picture. When we look at the big picture and our young homies are taught to look at the big picture it alleviates many of the petty squabbles that are bound to arise in an intense prison environment.
Building peace really comes down to working together in ways which tackle our horrible conditions. As leaders, we can organize appeal events, spread information and publications on prison struggles, and help others who may need a helping hand whether it's a bar of soap, a stamped envelope or something to eat. Do what you can to help your fellow prisoner. Peace means thinking of other prisoners and extending humynity to one another.
What are the challenges of spreading peace?
We are deprived of peace by internal and external factors, and there are many things that get in our way. Sometimes those who are uneducated act or react in ways which are not conducive to propelling their own struggles forward. These behaviors often result from a colonial mentality which has been embedded in so many minds for so many generations.
So there is a combination of challenges which prevent peace. One main obstacle is of course that the state opposes peace, as a Georgia prisoner said in ULK 36:


"As of now, most of the leaders and the more influential participants are locked down in Ad-Seg and I don't find this a coincidence. The pigs hate the idea of us uniting in peace and not killing each other."(2)
This writer was describing a very real process of repression where those prisoners who are most influential and conscious and who have the ability and sway to enact peace are the very ones locked down in solitary confinement. This is a common tactic of the state. COINTELPRO used the same method, which we can study in books like FBI Files of Malcolm X, War Against the Panthers, and Agents of Repression, to name a few. Those who can electrify the movement or their people are targeted to be neutralized. Neutralizing something or someone means putting it out of commission, which can include death, prison or solitary.
The state creates these obstructions by watching the imprisoned captives, and when leaders arrive to a yard they kidnap them so that peace cannot be realized. They leave knuckleheads to create chaos because chaos between the captives means our captors can keep repressing us. Peace between the captives means the oppressor is in trouble.
Another challenge that we face is concealed in the crypto-Toms. These are the Uncle Toms of all nationalities who secretly work for the state, either in alerting the state when the masses are attempting to struggle against repression or in sabotaging peace efforts by stirring shit up and sparking crimes between prisoners. These inter-oppressed wars help strengthen the state, while setting back prisoner struggles by forcing us to spend years attempting to repair this chaos.
We should learn to identify these crypto-Toms who work for the pigs rather than for their nation. It's not just those who kick off anti-peace bullshit, but also those who partake in Tom language by spreading the ideas of anti-peace who are obstructionists.
Peace in California has been pushed by those who have been doing time for decades. It was not just a spontaneous event; this had been talked about for years. Building a united front for peace against a common enemy is the most logical action between any oppressed peoples anywhere in the world.
How should we proceed?
Peace between prisoners should not just be something that we read about or something prison intellectuals write about. Peace should be something that we live in our everyday lives. Individualism threatens peace the most because individualism keeps us blind to those who threaten peace ("it doesn't affect me, so i don't care"). We can only change our conditions for the better by struggling together.
The first step is in having the ability to think outside of ourselves and to realize what is best for us, our people, and our future homies that will be filling up these cells. Peace does not mean we have the same beliefs, it just means that we have the understanding that people with different beliefs do have shared interests and that the oppression that I face is faced by all U.$. prisoners in various forms by the same captor whose face changes from prison to prison, but whose actions for the most part do not.