Chemical Suicide in Michigan Prisons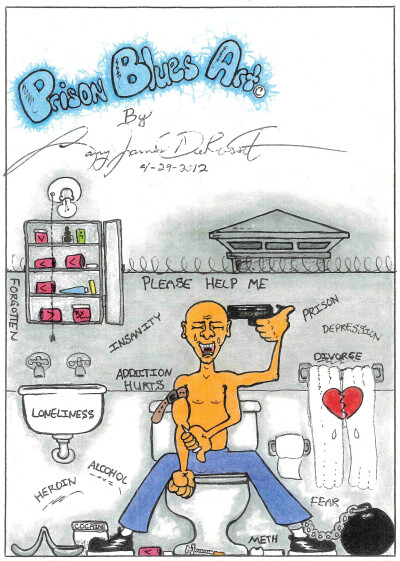 During a documentary interview with a citizen from Mexico regarding the flow of illegal drugs across the border into the united states, the Mexican said, rather matter-of-factly:
"We don't have a drug problem in Mexico. The united states have a drug problem so Mexico have a problem trafficking drugs into the united states. For the united states to be the greatest country in the world, it seems everybody has to be high in order to live there."
As social beings, the environments that we inhabit are essential for both our survival and human development. And social environments influence our behaviors and informs the mechanisms we use to survive the social stressors that push us towards drug usage and addiction as a means of coping. Otherwise, one may literally commit suicide.
The Michigan Department of Corrections (MDOC), as a micro-societal reflection of what's occurring in the macro-society, is wrestling with imprisoned men addicted to drugs on a scale rivaling the crack-era (epidemic). And in some respects, actually surpassing that horrible 1980s into the 2000s phenomenon. And the elements that catapults the present epidemic to rival the crack epidemic is the cocktail of mental illness and severe emotional instability, with a dosage of western social liberalism mixed in. The result is a generation, both younger and older, socialized into a neo-Nigga mentality born out of social backwardness or retardation, a strong sense of love abandonment, while simultaneously carrying the epigenetic traumas from this country's imposition of myriad forms of violence on us in perpetuity. Out of this is produced The Nigga Creed: "Fuck it! Deal with us!"
In the MDOC, brothers are high strung on K2 in a liquid form that is free-based (or vaped, as it is euphemized) from paper. The phenomenon is akin to crack in that tiny pieces of K2 laced papers sell for $3 to $5, meaning the high is cheap like crack. And because the K2 high doesn't last long, it is chased after just like crack addicts chased crack. Also like crack, brothers sell all of their possessions to acquire K2 (nicknamed Twochi; or duece). But it's worse than crack in that (1) guys don't know nor seem to care what they are smoking; and (2) duece makes them hallucinate or have episodes of passing out, tripping, paralysis. violent possessions and overdose.
During a phone conversation with a comrade imprisoned in the Florida prison system, he shared that K2 had ravaged the Florida system years previously. That K2 had gotten so bad, the groups on the yard had to come together and ban K2. Unfortunately, at the present juncture in Michigan prisons, this is not possible because the groups that have the yard (NOI, MSTA, Sunni, Melanics, other lumpen organizations) are betraying the people and what they say they stand on as it is these very groups dealing in and using K2 – quite literally without consequence.
K2 is not detectable so one cannot drop a dirty urine for it, unless, which is frequently the case, it is laced with Fentanyl or PCP. And sadly, in addition to K2. somehow, brothers have found themselves hooked on meth (ice).
The ramifications of this reality has been staggering. There is an absence of activist personality, the so-called pro-Black prison vanguard groups have become apolitical and anti-radicalism. At the facility where I'm housed, I am absolutely the only prisoner advancing political education through our study group, the Sankofa Commune, which has existed since COVID lockdowns.
Brothers in the MDOC are struggling and we find ourselves in terrible shape. The conditions born out local poverty and state institutionalization as a result of poverty, is traumatizing culminating in degrees of mental and emotional instability. Requests for mental health therapy sessions go unanswered and drugs are the only outlet, aside from violence, that mends, however temporarily, the pain experienced by the broken men. Four murders have occurred on this prison within a year. Chemical warfare and chemical suicide are hard at work. Live from the MDOC!
---
MIM(Prisons) responds: This is the latest article on the scourge of K2 that's been hitting the prison population hard, dating back at least 10 years.(1) That is very inspiring to hear the report from Florida of groups coming together to ban it. We'd love to hear more about this and try to promote this model elsewhere. For those who don't know, we released our Revolutionary 12 Step Program last year, so those who are interested in organizing alternatives where they are can get a copy of the pamphlet from our Free Political Books to Prisoners Program or on our website. Unless of course you're in Texas or Florida where it's considered a security threat.(2) Where the pigs don't even pretend to not be trafficking drugs.(3)
We would also advise comrades that in moments like these when the traditional leadership roles of the oppressed nations in prisons (such as the NOI) are partaking in anti-people behavior as described to use dialectical materialism to try and see how to solve this problem. What is our analysis of mass imprisonment? What is our analysis of groups such as the Nation of Islam? In a given situation, is the contradiction between these organizations and the anti-imperialist forces of USW antagonistic or non-antagonistic? Should they be antagonistic? If they are antagonistic and we decide that it shouldn't be, how can we turn it non-antagonistic? Given our political line, and our strategy of USW in mind, what should be done?
Notes:
1. A Texas Prisoner, November 2017, Epidemic of K2 Overdoses at Estelle, Throughout Texas, Under Lock & Key No. 59.
2. MIM(Prisons), June 2022, FL, TX Censor Revolutionary 12 Steps Program, Under Lock & Key No. 78.
3. A Texas Prisoner, March 2021, TDCJ: Your Staff are Bringing in the Drugs, and it Must Stop, Under Lock & Key No. 73.