Chican@ Power Marks 100th Anniversary of Plan de San Diego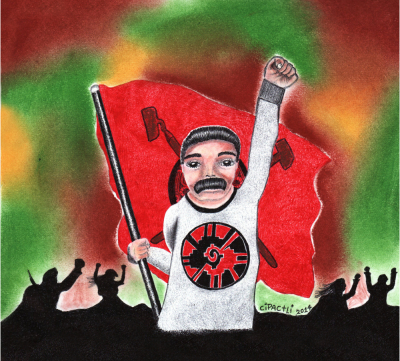 Revolution in Texas! Revolution in Utah! Revolution in Arizona! And Revolution in California!
It is with these hystoric words once shouted by Chican@ revolutionaries a hundred years ago that we proudly echo this sentiment today as we announce the completion of Chican@ Power and the Struggle for Aztlán, on this anniversary of the Plan de San Diego. A hundred years ago, so-called "bandits" and "heathens" in the conquered territory of the United $tates, known as Aztlán, declared their war of liberation from Amerikan imperialism. And just as the Plan de San Diego grew out of heightened national oppression both on a domestic and international level, so does Chican@ Power and the Struggle for Aztlán come out of the depths of Amerika's dungeons at a time in which the Chican@ nation, and indeed the world, risks being swallowed whole by various imperialist factions; principally Amerikan imperialism.
Those once thought to be our old guard have come closer and closer to unity with our oppressors than to our own people, yet the Chican@ lumpen pushes through, rises to the challenge and presents us with the most correct political analysis to the most pressing questions facing Aztlán today. Vendidos (sell outs) might say that revolutionary nationalism is an ancient and dead phenomenon no longer relevant in a "globalized world." But it is exactly because of this "globalization" (i.e. imperialism) that this work is more needed than at any other time since the last round of national liberation struggles inside of U.$. borders.
Chican@ Power and the Struggle for Aztlán has been in development for well over three years and is a collaborative effort between Chican@ revolutionaries from northern and southern Califas-Aztlán and MIM(Prisons). Our comrades on the outside facilitated, guided and made possible this manifesto. This work is an example of the political unity between both major regions of Califas-Aztlán that must come to bear by the imprisoned Chican@ lumpen on an Aztlán-wide basis before we are ready to put this ideological unity into practice.
Throughout the creative process of this book there were indeed many times in which we found it difficult to continue this collaboration. This was due not only to the same old tired divisions amongst [email protected] in California that have been keeping the imprisoned Raza from uniting as one, but due to ideological and political immaturity as well. However, through all of this, Chican@ revolutionaries from both major sections of Califas-Aztlán managed to resolve our differences through the tools and weapons refined for us by the great protagonists of oppressed peoples' movements everywhere: Marx, Engels, Lenin, Stalin and Mao. But above all, the reality that bound us throughout this work was not only our common oppression but the want and need to one day see our people free. And so, largely through the method of unity-struggle-unity and the dialectical materialist frame of thought did we finalize this important task. And as great as this work is, and as much of a watershed moment we are celebrating, we remain very much aware that this is just the opening shot to the quickly flourishing revolutionary nationalist movements within Amerika's prisons.
This book is in service to the imprisoned Chican@ lumpen in order that they may finally have a general framework from which to build ideological unity and from which to politically grow and wrest state power from Amerikan imperialism and the white settler nation.
Just as author Benjamin Heber Johnson makes the statement, "In fifty years the projected ninety-six million Latino residents of the United States would, if considered a nation, follow only Brazil and Mexico as the most populous country in Latino America" so will it probably take as long to see the fruits of our labor.(1)
The Chican@ nation is comprised of oppressed Raza and it forms a part of Latin@ America. [email protected] Unite!

---
MIM(Prisons) adds: Get your copy of Chican@ Power and the Struggle for Aztlán today! We are hosting a one-time study group with the authors, so ask for the book ASAP so you'll have time to participate.