Chris Dorner Demonstrates Contradictions Between Amerika and Oppressed Nations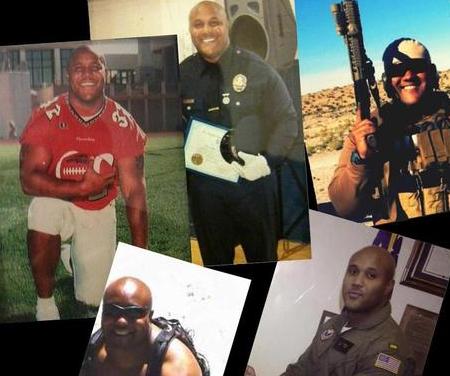 Recently an ex-LAPD officer, Chris Dorner, was in the news for killing cops and their family members, and then eventually himself in the resulting manhunt. This is a classic case of the chickens coming home to roost. When this story broke, many of us prisoners were not surprised about this activity. The state has for generations unleashed pig brutality on the internal semi-colonies (brown, black and red peoples), it is a way of life. What is surprising is for this to be unleashed on the state by one of its own.
Dorner was fired by the Los Angeles Police Department (LAPD) in 2009 in retaliation for reporting police brutality including incidents of unwarranted abuse on innocent Latino and Black people in Los Angeles. This speaking up against pig brutality was crossing the line, and threatened the pig culture that permeates the states institutions. Poor people are looked at as the enemy by the state. It's not only one's skin color, although skin and thus nation continues to be a driving force for oppression. But state terrorism does not happen in Bel Air or other wealthy or "middle class" communities. These terrorist acts are carried out in poor communities.
When the manhunt was launched for Dorner, people were told that if they had a truck they should "stay home."(1) This is sending the message that the state is seeking to attack any truck on the road, and this is not a big exaggeration. One only need ask Emma Hernadez, the 71-year-old Chicana who was shot with her daughter while they were driving a truck delivering newspapers.(2) I didn't know what was more surprising: the fact that the pigs turned a truck into swiss cheese with wimmin in it with no provocation, or the fact that the corporate news media was slow to mention it. The Spanish language outlet Univision mentioned it while other English stations took days to cover it. When they did they grudgingly mentioned "a shooting" and a day later "two wimmin were shot." The media once more failed to criticize the state terror that we experience. This shooting was treated as critically as a fender bender.
What transpired with Dorner points to a contradiction within the United $tates where some of the oppressed are allowed to eat from master's table and given crumbs like jobs, rank in its military, and positions in the political body that ultimately serve the oppressor nation. These crumbs come at the expense of oppressing other oppressed people. This dilemma hits people with different results. Some in the military come to this realization while in the Third World and react by either committing suicide, attacking the state like Dorner did, or simply continuing to oppress other people. The media, which is the state's mouthpiece, says how "dangerous" Dorner is, but who is he a danger to? With his training he could have easily attacked people on the street but he stated he is bringing a war on the LAPD in an online manifesto, so the only danger he would pose is to the state. Putting the state on the defensive benefits those oppressed by Amerikkka.
The death of police officers who have been killed in the line of duty, like the U.$. military, has been on the rise in recent years. In 2009 there were 122 pigs killed in the line of duty, in 2010 there were 154, and 163 for 2011.(3) Like the enlisted military, Amerikan police are compelled to oppress Third World peoples, often people who look just like them. This has resulted in not only resistance from those being oppressed but also in mental trauma for the oppressor in what has been referred to as "post traumatic stress disorder." This trauma, regardless of what it's called, is brought on by one coming to the realization that killing innocents for Amerikan empire is a horrible thing; so horrible that it often results in violence either unleashed on the state, on oneself or one's family, or on the public.
Pig violence inflicts terror on the barrios and ghettos in the United $tates in its most crude forms, which then works to traumatize the people, particularly our youth. We are so immune to violence that we often consume the oppression inflicted on us and mirror this oppression on others just as many of those abused as children go on to abuse others. It is a process that mimics behavior one was taught.
We are beginning to understand that violence affects us more than we know. More than merely teaching us violent behavior, we are now learning that violence affects us biologically as well. A study recently found that children exposed to violence are prone to disease about 7 to 10 years earlier. According to this study "that early childhood adversity imprints itself in our chromosomes."(4)
Growing up in neighborhoods where an activity like walking the dog in the evening is met with being thrown against the wall by a pig, or a child riding her/his bike after school is met with being questioned, photographed and having a field card filled out which locks you into a gang database, affects our youth in ways we are only now learning about. National oppression is not simply occupying our land or killing us on the streets. There are many more diabolical ways in which this genocide is inflicted besides bullets.
The stress that our youth are now facing by the pig terror comes in many forms. One journalist for example said he interviewed a 22-year-old from Queens, NY who has already been "stopped and frisked" 70 times.(5) Think of how this must affect our youth when living one's childhood revolves around being approached, harassed and hunted by gun-toting pigs who you know have a license to kill you at any time. But the streets are not the only place where our youth are hunted by the pigs. In "operation crew cut" the NYPD doubled officers in an attempt to combat "gangs" via social media. This can be seen as an attempt to bait our youth online to discuss illegal acts or to pry info out of youth which may implicate others, trolling the internet in search of more brown and Black skins that they cannot get from the streets.
But wanton murder by the pigs is still alive and well; the lead raincloud continues to hang over our heads in streets across the United $tates. In 2011 54 people were killed by the LAPD.(6) This is the same police department that Dorner rose up on. This national oppression is supported by the highest levels of the Amerikkkan government. When the NYPD officer who killed Sean Bell back in 2008 was acquitted, Obama, who was a candidate for president at the time, issued a statement to the public to "respect the verdict." This is not a matter of a couple of pigs acting up here and there; it's national oppression.
The social reality of the oppressed is much different than what is perceived from those who are not oppressed in the United $tates. Our interaction with the pigs is violent and traumatic. It is common for homes to be raided by "mistake" and often these raids result in an occupant being murdered or injured physically, but almost always occupants are injured psychologically. The author Michelle Alexander gets at this a little when she writes: "In countless situations in which police could easily have arrested someone or conducted a search without a military-style raid, police blast into people's homes, typically in the middle of the night, throwing grenades, shouting, and pointing guns and rifles at anyone inside, often including young children."(8)
I would add to this that pig raids are much more than this for children. Anyone who has ever experienced a pig raid, especially through the eyes of a child, can understand what I mean. Personally I remember as a child when the pigs raided my home. Seeing our home stormed guns a-blazing, and having a gun pointed at me, watching my family be cuffed and beaten by these predators. It's not a matter of the pigs going in a house doing their "job." It is a much more brutal reality for most people facing national oppression.
The oppressed nations people here in the United $tates have come to see our social conditions as normal, but this is only because we have been oppressed since birth. We grew up with our land occupied, and we have never seen anything else but living under an imperialist society. Mao once said: "In class society everyone lives as a member of a particular class, and every kind of thinking, without exception, is stamped with the brand of a class."(9)
This cuts right to the bone of the matter and dispels the revisionist outlook of picking and choosing oppression to suit their agenda. What Mao is saying is everything is stamped with a class brand. Some will say art does not or should not be political but art will, like all other phenomena, have a class character to it and thus will serve one class or the other. This concept also applies to national oppression: if a nation is oppressed in any given society, all ideas — and thus actions — are stamped with the brand of national oppression. Pig terror is a form of national oppression we face in the United $tates and actions taken by Dorner are a result of the contradictions that occur when those from the oppressed nations grapple internally with what the state is having them do to other oppressed people.
On February 13, Dorner's last stand took place, where he was surrounded in a mountain cabin in Big Bear, California. He shot it out, taking down another pig before he was finally killed. This was an unprecedented event of an ex-cop declaring war on the state. But matter is in constant motion and contradictions arise constantly. The fact that people are products of matter tells us that there will continue to be contradictory struggles like this in the future. Historical materialism tells us that the oppressed will continue to resist in many ways. Even those who are lured or bought off by imperialism will many times break with the oppressor and instead serve the ruling class a taste of its own medicine.
This article referenced in: