Comprador Military Generals Break Out in Conflict in Sudan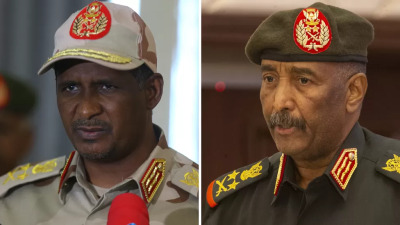 On 15 April 2023, a clash between two military forces broke out in the capital city of Khartoum in Sudan.(1) Two military generals, Mohamed Hamdan Dagalo and Abdel Fattah al-Burhan, head each of the sides involved. Out of the two military factions, the more "regular" armed troops of Sudanese Armed Forces (SAF) are led by Burhan, with the militia oriented Rapid Support Forces (RSF) led by Dagalo.(2)
The Political-Economic Prelude to the 2023 Conflict
On 30 June 1989, Omar al-Bashir came to power in Sudan in a coup d'etat. For three decades Bashir ruled Sudan under a military dictatorship where Dagalo gained prominence as a General of the Sudanese Armed Forces (SAF). Under Bashir, the Rapid Support Forces grew out of the Janjaweed militias mostly compromising of the southern Sudanese peasantry. In the early 2000s, the RSF helped the SAF crush the rebellion in the western region of Darfur.(3)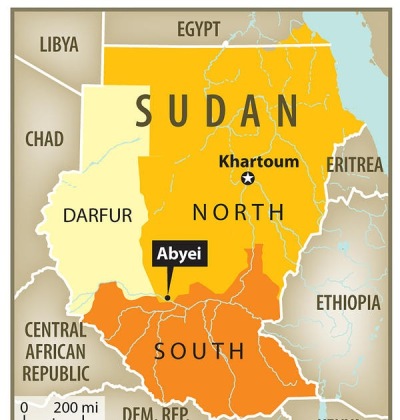 Under the military dictatorship of Bashir, Dagalo received gold mines for his actions in the RSF. Burhan also had close ties politically with Bashir.(4) However, with the turbulent political climate that the military dictatorship of Bashir created among the civilian population, the SAF and the RSF have ousted Bashir and the military dictatorship alongside civilian protests. This coup-de-etat, birthed a short-lived civilian government that went by the name of the Transitional Sovereignty Council (TSC) led by Prime Minister Abdalla Hamdok with elections to have originally taken place in 2023. Despite Hamdok's appeals to the people's movement at the time, he has also had backing from the U.$. imperialists aimed to make sure the new governing force in Sudan remained friendly to the United $tates. Previously, al-Bashir had defied the Clinton regime in the U.$. by harboring Al-Qaeda's Osama Bin-Laden during the military dictator's reign.
In October 2021, al-Burhan along with Dagalo led a coup d'etat against Hamdok which ended the two year long civilian rule born out of the people-power revolution.
Current Situation
Most of the current fighting is being done in Khartoum, the capital of Sudan. On the second day of the conflict, the Central Committee of Sudan Doctors have reported that 56 people were killed and nearly 600 were injured. The World Health Organization (WHO) said in a statement on 16 April 2023:
"There are also reports of shortages of specialized medical personnel, including anesthesiologists. Water and power cuts are affecting the functionality of health facilities, and shortages of fuel for hospital generators are also being reported."(5)
The Russian imperialists have taken a stake in this conflict with the Wagner Group's support for Dagalo's RSF giving the militia surface-to-air missiles and military training to the RSF.(6) On the eve of Russia's war with Ukraine, the Sudanese military's lapdogs of Russian imperialism granted Russia access to Sudan's gold in exchange for military and political support.(7)
The Chinese and the U.$. imperialists (alongside many other countries such as Egypt) have taken a more reserved stance on this conflict with more focus towards evacuating their countries' personnel. Hundreds of Amerikan and other western imperialist countries have taken part in evacuation plans.(8)
On 27 April 2023, the civilian death toll has surpassed 500 with more than 5,000 injured and still counting according to The New York Times.(9) The bourgeoisie portray Africa as a chaos-torn continent with myriads of countries filled with constant violence, but we must remember that political-economic forces and class struggle drive the violence. The beef between Dagalo and al-Burhan is between a disagreement in assimilating Dagalo's RSF to al-Burhan's Sudanese military proper. While bourgeois rhetoric portrays this as humanity's woes of famine, plague, and war that are embedded within our nature, the more scientific way to look at this picture is that the comprador-bourgeoisie (both Dagalo and al-Burhan) always struggle among themselves to be the principal lapdog for foreign imperialist forces (in this case primarily Russian). This is typical of neo-colonialism where multiple imperialist forces oftentimes have stake in a single semi-feudal neo-colony. Mao understood this for his country during semi-feudal China when the Japanese invaded, the western powers won't let go of China without a fight. This led to the birth of a strategy by the people of having two or more imperialist forces fight amongst each other while the people maintain independence. While the current fighting is between anti-people forces, the workers and peasants of Sudan and Africa overall have the historical duty of ending these wars of the imperialists and compradors with revolutionary war of the proletariat.
Notes 1. The New York Times, "Chaos in Sudan: Who Is Battling for Power, and Why It Hasn't Stopped" April 27, 2023.
2. Ibid.
3. Elian Peltier and Abdi Latif Dahir, "Who are the Rapid Support Forces, the paramilitaries fighting Sudan's Army?" New York Times April 17, 2023
4. Ibid.
5. CNN, "Fighting between Sudan military rivals enters a second day, with dozens dead" April 17, 2023.
6. Ibid. (The Wagner Group is a Russian paramilitary organization that first appeared in Ukraine as part of Russia's seizure of territory there.)
7. CNN, "Russia is plundering gold in Sudan to boost Putin's war effort in Ukraine" July 29, 2022
8. Jennifer Hansler, "US has evacuated American diplomatic personnel from Sudan" CNN April 24, 2023
9. Ibid.