Criticism & Self-Criticism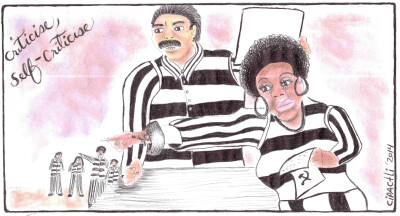 "Do the difficult things while they are easy and do the great things while they are small. A journey of a thousand miles must begin with a single step." -Lao Tzu
The practice of criticism and self-criticism is an essential component of a revolutionary organization. It is more intensely so inside a party based upon democratic centralism and the application of Marxism-Leninism-Maoism. Indeed, the very life of the party depends upon it. Life is a struggle and the ideological-political life of the party depends upon active, integral, ideological-political struggle. It won't do to let things slide for the sake of friendship or to "keep the peace". This is how little differences grow into big ones and disagreements turn into splits.
As Mao cautioned:
"I hope that you will practice Marxism and not revisionism; that you will unite and not split; that you will be sincere and open and not resort to plotting and conspiracy. The correctness or otherwise of the ideological and political line decides everything. When the Party's line is correct, then everything will come its way. If it has no followers, then it can have followers; if it has no guns, then it can have guns; if it has no political power, then it can have political power. If its line is not correct, even what it has it may lose. The line is a net rope. When it is pulled, the whole net opens out." -Talks With Responsible Comrades At Various Places During Provincial Tour, 1971
We must bear in mind that there are:
"Two types of social contradictions - those between ourselves and the enemy and those among the people themselves [that] confront us. The two are totally different in their nature." (On The Correct Handling of Contradictions Among The People, February 27, 1957)
It won't do to confuse one for the other.
"To criticize the people's short-comings is necessary . . . but in doing so we must truly take the stand of the people and speak out of whole-hearted eagerness to protect and educate them. To treat komrades like enemies is to go over to the stand of the enemy." (Talks at the Yenan Forum on Literature and Art, May 1942)
Criticism and self-criticism can be "toxic" if it is not done properly. Our aim must be constructive and not to shame any komrades or ourselves. Some people chronically "beat themselves up" over their shortcomings, thinking that will correct their unwanted behavior. often times, they grew up in an abusive parenting situation and thus think this is normal, but it is not. This type of self-criticism only undermines self-esteem. Criticism can be a form of bullying, of mental and psychological abuse. What we want to nurture is constructive criticism that is an expression of Panther Love and true komradeship. We all have issues of bourgeois ideology and it could not be otherwise. We grew up in the sewer of capitalist-imperialism, how could we not need scrubbing?
We not only grew up in it but we still live in it. How could we be sparkling clean? We need to help each other to scrub the parts we cannot reach, to see the filth we cannot see. Sometimes it is hard to see where we are in error or we've become "nose blind" to our own smell. Our egos can get in the way. If we have an exaggerated estimation of ourselves, where is the incentive to grow and to become better revolutionaries? Likewise, if we underestimate ourselves, we may need positive feedback from our komrades to build our self-confidence and appreciate our worth to the struggle.
Every komrade should be part of a revolutionary collective, a basic unit of the party. This is imperative to have the benefits of collective wisdom. Our collective is our family, our closest komrades. You don't want your closest komrades to "look up to you" but to see you as an equal. You want them to understand your strengths and weaknesses and to be there to check you when you need checking, and give you a push when you need pushing, and to catch you when you fall. Every komrade is a work in progress and we must be constantly building each other up and struggling to make each other the best we can be.
We are not "carbon copies" of one another, our struggles are complimentary. Collectively we are stronger than our individual strength. Teamwork makes us each more powerful and competent. It minimizes our individual shortcomings and makes us wiser and more capable. A team of horses or oxen can pull more weight for longer than each can individually. The party is stronger than many times its number of individuals acting on their own judgment and initiative. The base of this strength is the basic unit of the Party and its democratic centralism. At each level there are committees up to the central committees and at each level we must practice criticism and self-criticism and work together to achieve collective wisdom and cheeks and balances.
---
MIM(Prisons) adds: While we do not have a party at this time, these same principles should still be applied at the local cell level. This is why we have said a cell should have at least 3 members to function in a healthy way.
This article referenced in: