Diligent Grievance Petitions Expose Oppression in North Carolina that Led to Hunger Strike
I have been a reader of your publication going on a couple years now, and I find it the most uplifting and informative I've seen yet! Also, the comrades in this movement have been most helpful in demonstrating to us how to file a petition against the grievance process here in North Carolina prisons. I am currently housed at Marion Correctional Institution's segregation unit in Marion, North Carolina where they keep any prisoner who dares to challenge and question their conduct or actions. However, I have witnessed over the years how our grievance process has become so watered down to the point when you ask for the DC-410 form you're laughed at by correctional officers and told to spell their names right (ha ha ha). It has become no more than a venting process for us! There is no consideration that this is a constitutionally protected right.
However, I recently have sent copies of my petition to the Justice Department in Atlanta, Georgia and the Inspector General's office in Virginia, as well as two copies to North Carolina Department of Public Safety (NC DPS) Secretary Jennie Lancaster via certified mail. I haven't even gotten acknowledgements that they received any of them. So you see, we're being stifled, even at the highest levels. Therefore, we won't get anything done on this issue, short of court action. The people who are supposed to protect our rights won't even do so. So we regroup, and continue this fight for justice, so as to stop this "rubber stamping" game with our rights.
---
MIM(Prisons) responds: It seems other prisoners in North Carolina have already come to similar conclusions, as comrades recently passed the two week mark on a hunger strike demanding improvements in conditions, including an end to long-term isolation.
On Monday July 16th, prisoners began hunger strikes at Bertie CI in Windsor, Scotland CI in Laurinburg, and Central Prison in Raleigh. Targeting a wide range of conditions related but not exclusive to solitary confinement, the prisoners have vowed not to eat until their demands are met.(1)
Check this link below for the full list of demands, because apparently the list released by the NC DPS had sections redacted for "security issues."(2) Which might explain why the mainstream media is not reporting the more serious demands, such as "An immediate end to the physical and mental abuse inflicted by officers", "The end of cell restriction. Sometimes prisoners are locked in their cell for weeks or more than a month, unable to come out for showers and recreation" and "An immediate stop to officers' tampering or throwing away prisoners' mail."(1)
We've seen the increased activity in North Carolina over the last couple years, and so has the DPS, who have stepped up a campaign to keep Under Lock & Key and other mail from MIM(Prisons), out of the hands of their prisoners. Below is one image that triggered censorship in the last issue of ULK.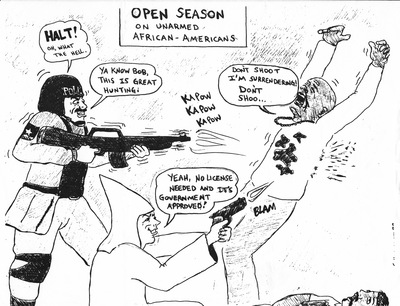 Just as this comrade has been pushing every administrative avenue to get prisoners' rights respected, MIM(Prisons) has been doing the same to fight this rampant censorship and ignoring of grievances. As this comrade says, we continue to regroup and do everything we can to stop these injustices. We encourage the comrades in North Carolina to keep speaking up, as your rights are not guaranteed; you must stand up and demand them.