Fascism: Are We There Yet?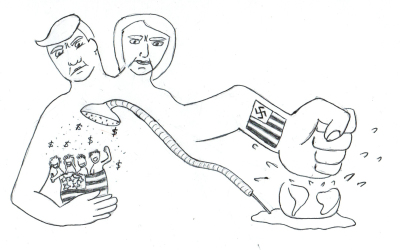 We don't support or uphold the current U.$. political process as a viable means for the liberation of U.$. internal oppressed nations and semi-colonies. Bourgeois politics work for the imperialists and the bourgeois class. However, assessing the current election cycle provides a glimpse into the social dynamics of U.$. imperialist society. It allows us to gauge the level of parasitism and privilege that is generally characteristic of First Worlders. In short, we can better clarify who are our friends and enemies as well as determine what actions we need to take in order to push the national liberation struggles forward.
This presidential election season we saw very deliberate rhetoric that contains elements of fascism. Huge numbers of Euro-Amerikans have shown unshakable support for Donald Trump's idea of how to "make amerika great again." Trump has made it explicitly clear that ey despises Mexicans. Ey advocates for extralegal violence against people of color, particularly those individuals who had the audacity to exercise their "right" to protest Trump's racist, hateful campaign. And Trump's view and treatment of wimmin, while not surprising, reaches a new low in gender oppression. To put it succinctly, Trump represents more than working class jobs for Euro-Amerikans, who feel that Amerika is changing for the worse. Ey is offering them a vision of payback and retribution for all the perceived slights and humiliation that Euro-Amerikans have endured in respect to their place in U.$. imperialist society. Needless to say, a Trump presidency would have serious consequences for the climate and space for organizing for liberation within the United $tates.
Opposing Trump was Hilary Klinton, who may check all the boxes for "minority" support, but will continue along the same path as Obama. Likely, ey will be even more hawkish and ready to engage militarily to defend empire.
---
MIM(Prisons) responds: The recent U.$. presidential campaign had a lot of people reeling over whether Clinton or Trump is more of a fascist. So we decided to have our special election issue devoted to the question of fascism as MIM(Prisons) sees it. We don't completely agree with the author's analysis above, which we hope to explain further in this article and throughout this issue of ULK.
In order to analyze fascism, a study of historical materialism and dialectics is very helpful.(1) Capitalism is characterized by the contradiction between the bourgeoisie and the proletariat. Imperialism is an escalated form of capitalism, and Lenin analyzed imperialism as the highest stage of capitalism. So imperialism has the same fundamental contradiction as capitalism (bourgeoisie vs. proletariat), but it is on an international scale and the world is divided into oppressor nations and oppressed nations; it is also divided into exploiter countries and exploited countries (which are not parallel divisions).
When the proletarian forces (the secondary aspect of this contradiction) grow in strength and overcome the bourgeois forces, then the economic system will change from capitalism to socialism. We saw examples of this movement towards socialism in the early-to-mid 20th century across Africa, Latin America, and most of Eurasia, with solid socialist states established in the Soviet Union and China. In response to the spread of socialism, the imperialists committed coup d'etats and backed the installation of fascist leaders in several countries.
We can see that the proletariat defeating the bourgeois oppressors is not a simple process. As the antagonisms between the proletariat and bourgeoisie (and all the inherent sub-classes of these two groups) increase, humyn society reaches a fork in the road. This is called the unity of contradiction. Humynity will be at a crossroads between socialism and fascism. At this point, the secondary aspect (the proletariat) of the fundamental contradiction of capitalism may overcome the dominant aspect (the bourgeoisie), but if fascism grows in strength and popularity, this is a clue that the socialist and proletarian forces are losing. If the communists are doing a good job in their work, then we should see more economic systems turning toward socialism. If they are maintaining those successes well, with cultural revolutions as we saw in China under Mao Zedong in 1966-1976, then we can expect those successes to evolve toward communism worldwide.
Fascism is a form of imperialism, and so this means fascism is a form of capitalism. Fascism is the final attempt for the bourgeoisie to remain the dominant aspect in the contradiction between the bourgeoisie and the proletariat. As the proletarian forces become stronger, the imperialists go to even more extreme measures to protect their beloved economic system. To say we're in a fascist scenario now, or we're moving toward fascism, is to overstate the strength of the proletarian forces in the present day. Fascism is enhanced imperialism, so it's natural that we would see some elements of our current imperialist society appearing more like fascism than others, even if we haven't moved into fascism as an overall system.
The imperialists want to protect their economic interests, but actually any imperialist who's good at eir job is a bourgeois internationalist and would put off moves toward fascism until absolutely necessary. It's a more difficult system for the imperialists to maintain. The mass base that historically pushes for fascism the most, to protect their own material interests, is the labor aristocracy. Living in the United $tates, surrounded by labor aristocrats, our primary task as communists in the First World is to combat labor aristocracy denial. The more that people believe themselves to be oppressed by "corporate capitalism," when actually they are benefiting immensely just from living within these borders, the harder it will be for us to fend off fascism.
One of the myths of fascism is that average Amerikans would suffer under it. That's not actually the case – average Amerikkans would benefit from fascism just as they benefit from imperialism. It might be a little less convenient to consume than we do today, and some liberal privileges may be curbed for the "greater good," but the wealth acquired by the labor aristocrats would still be an extractive process; extracted from the Third World where the United $tates already exercises a much higher level of imperialist brutality more closely resembling fascism than what is experienced in this country.
So how does Trump v. Clinton fit into this dialectical analysis?
Capitalism is characterized by a class contradiction (bourgeoisie vs. proletariat), yet the principal contradiction is nation. So a lot of this question of how the U.$. presidential race fits into the question of fascist development in the United $tates rests on how the national contradictions interact with class contradictions.
Except for a very small minority, on the whole people in the First World are aligned with the bourgeoisie. And this includes oppressed-nation internal semi-colonies. Even organizing among the oppressed-nation lumpen, one of the most oppressed groups in U.$. society, we still see a lot of loyalty to empire.
While this election itself was not much different than other elections, Trump's rhetoric increases antagonisms along national and gender lines, which encourages the openness of these sentiments in general society. Male and white chauvinisms already belong to capitalism and imperialism, so an increase in these sentiments aren't necessarily a move toward increased fascism. In this case, Trump's sexism is just a fluctuation within the realm of imperialism.
Clinton's election rhetoric (not to be confused with eir practice) was not as antagonistic on national or gender lines. Eir political practice is of course different than eir rhetoric (as with any politician for as far back as this responder has studied). Clinton and Sanders are more avid supporters of the labor aristocracy's interests than Trump. Clinton and Sanders favor a $15/hour minimum wage, union organizing, etc., where Trump wants to gut worker protections in favor of the capitalists.
Trump's rhetoric is not bourgeois internationalist. Ey promotes an "isolationist" position, meaning ey wants the United $tates to isolate itself from the rest of the world. (In practice it is unlikely that the Republican party would actually carry out isolationism at this point in time as imperialist profits come from internationalist plunder.) Trump doesn't support the TPP or NAFTA, whereas Clinton is more of a bourgeois internationalist who does support NAFTA and did support the TPP until it became inopportune for eir campaign. Clinton has more of a geopolitical interest in eir presidency. Trump panders to Amerikkkans' national interests. Ey doesn't pander to the imperialists. Clinton panders to both the U.$. labor aristocracy and imperialists' economic interests.
National contradiction and fascism
How do the national contradictions within the United $tates interact with the international class contradiction (proletariat vs. bourgeoisie)? In other words, we know the Amerikkkan labor aristocracy is pro-fascist in its core, but how would the oppressed nation internal semi-colonies fare?
If Trump's leadership increases antagonisms between the oppressor nation (Amerikkka) and the oppressed internal semi-colonies, then that would be reversing a lot of the assimilation that has been so important since the 1970s in quelling legitimate uprising of the people in this country. This may be why the republiklans were apprehensive of supporting Trump. They remember (if not persynally then at least historically) how important this assimilation has been to maintain their nation's political power. They don't want Trump to disrupt that stability.
If Trump's rhetoric is dividing the labor aristocracy (along national lines), undermining the integration that helped Amerikkka keep power coming out of the 1960s, this is likely actually bad for the bourgeoisie and bad for capitalism. It reduces the amount of support that the imperialists might enjoy in hard times, because Trump alienates the oppressed-nation bourgeois-affiliated classes.
With more racism, there would be more national oppression, and the oppressed-nation bourgeois classes would likely become targets of the fascist elements. This would align the oppressed nation internal semi-colonies more with Third World struggles. The bourgeoisie doesn't want to make more enemies unless it has to, especially domestically. So this question of "what about the oppressed nation labor aristocracy?" is parallel to the question of integration and assimilation that we deal with every day in our work already. We see lots of integration but we also see lots of national oppression. It's hard to predict how the oppressed nations would fare under U.$. fascism, but at least some classes, and likely some entire nations, will be subject to fascist oppression.
In reality today we see the strongest expression of fascism in Third World countries where the United $tates supports or actively installs dictators to put down popular uprisings. A good example of this would be the Pinochet dictatorship in Chile, which was brought to power by a U.$.-backed coup in 1973 after the popularly elected government led by Salvador Allende began implementing too many anti-imperialist policies. Pinochet's government banned all leftist organizations and arrested, murdered, tortured and disappeared tens of thousands of Chilean people who expressed or acted on disagreement with this imperialist-backed fascist dictatorship. There are similar examples in other countries around the world where activists, especially communist organizations, gain significant footholds and Amerikan imperialism then steps in to help fascist governments come to power to suppress this popular uprising that threatens imperialist profits.
People who rally around anti-fascism but not anti-imperialism will do little to liberate oppressed people in the United $tates or around the world. Capitalism is the economic system that makes exploitation and oppression possible, and we need to oppose all forms of capitalism, whether in its highest stage or on steroids.
This article referenced in: