From Cop to Anti-Imperialist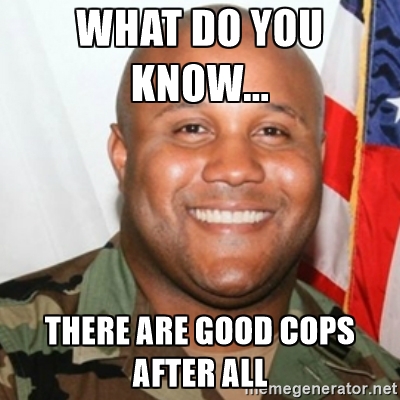 I recently received my first issue of Under Lock & Key (52). I must say that your cause is a noble one. From 2009 to 2013 I was a police officer with the Birmingham Police Department here in Alabama. I got into the law enforcement profession with the sole intent of making the world a better place by serving the people, upholding the constitution, and taking dangerous criminals off the street. It didn't take me long to realize, however, that the most dangerous criminals were my very own fellow officers. Everywhere I looked within my department was corruption, tyranny and oppression.
The details of all the events that led up to my incarceration as a political prisoner are too numerous to list in this letter, but I assure you, they are atrocious. The basic gist of it is that after repeated attempts to corrupt me and indoctrinate me as an oppressor, and my subsequent refusal and threats to report my knowledge of corruption within my department to federal law enforcement authorities, officials from my department erroneously charged me with setting fire to multiple abandoned and condemned houses that were being used as dens for drugs and prostitution. This is all a vicious lie concocted by the government.
Having faith in the old saying "the truth shall set you free" and the belief that we are innocent until proven guilty in this country and will receive a fair and honest trial, I chose to fight my case in our so-called criminal justice system or, as I quickly discovered, the criminal Injustice system.
I was informed very arrogantly by the investigators (Birmingham police officials) that they had "hand picked" the judge who was over my case and if I didn't accept a plea deal then this particular judge was going to "crush" me. The judge himself even told me that if I accepted the plea deal he would show me mercy, but if I rejected the plea deal and took my case to trial then "there would be no mercy."
Refusing to be bullied and intimidated into confessing to crimes that I did not commit and begging for mercy when I had done nothing that required it, I proceeded to trial. After an unfair and totally biased and one-sided monkey trial in a Kangaroo court (it took me a while to realize I wasn't at the zoo), I am now firmly of the opinion that D.A. stands for "Disinformation Agent" and that our judges have even less honor than a thief in the night. I was not allowed to present video evidence that proved my innocence and showed intimidation and coercion by police officials. Unfortunately, I was wrongfully convicted and sentenced to 100 years in prison.
I am not submitting my story as an invitation to any pity party, but merely to attest to the corrupt and broken system that I'm ashamed to say I once worked for. A system that sends a man to prison for 100 years for non-violent property crimes where no death or injury occurred; crimes that he didn't even commit.
Now that I am condemned to rot in prison for the rest of my life while my two young sons remain orphaned since I was their only parent, I guess that I'm just supposed to accept my fate. Well, my eyes are wide open now which is why I believe in and uphold the 6 points of MIM(Prisons) and the 5 principles of the United Front for Peace in Prisons.
---
MIM(Prisons) responds: This writer gives us a good example of why we say that we must judge people by their actions and not just their history. People are capable of learning and changing. Someone who was formerly working for the oppressors can realize their mistake and join the cause of the oppressed. Most often this happens when someone loses their position of privilege, but sometimes it can happen just through education.
During the Chinese Cultural Revolution some people were imprisoned for anti-people activities and provided with education about why it is wrong to oppress other people. And we have examples of people who came out of these prisons devoted to serving the people, thoroughly ashamed of their former harmful actions and committed to change. This education is easier when we have state power and the government is working in the interests of the oppressed, but even now we can score victories, especially behind bars, with those who came to prison with erroneous ideas and participated in actions that harmed the people. For this reason we must judge people not by what they say, or by labels they have been given, but by their actions. Those who demonstrate to be consistently working on the side of the oppressed have a place in the revolutionary united front.