Georgia conflict: battle for imperialist control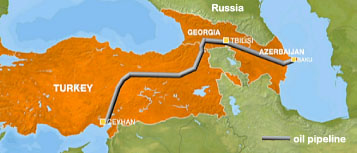 September 4 - U.S. Vice President Cheney visited Georgia this week, meeting with Georgian President Mikheil Saakashvili and criticizing the Russian invasion. This visit coincided with the Bush administration announcing $1 billion in aid to Georgia. This is the latest in an escalating battle between two imperialist powers, the United $tates and Russia, and their puppets in Georgia, South Ossetia and Abkhazia. This fight over control of European land will not benefit the people of the region, regardless of who wins. Only true autonomy for the nations living there, and removal of imperialist military and oil interests, will ultimately serve the interests of the people.
It is important to Amerika to keep the government of Saakashvili in power in Georgia as it is very supportive of Amerikan imperialist interests, primarily related to oil and strategic military positioning. In 2003 groups that helped to remove Saakashvili's predecessor, Eduard Shevardnadze, received funding from the U.$. government(3), yet another in a long line of Amerikan-backed coups and rigged elections to put Amerikan puppets into power around the world.
Even before the Russian invasion, in 2008 the U.$. sent $64 million in aid to Georgia, a third of which was for the Georgian military.(1) In return, Georgia contributed troops to the U.$.-led invasion of Iraq. So essentially the U.$. was arming troops to serve as puppets for Amerikan imperialism while also setting up a stronger military to defend its claim on Georgia. The U.$. is evaluating increasing military aid to Georgia in light of their inability to defend against a Russian invasion.
The International Monetary Fund (IMF) - another economic wing of imperialism - is also preparing to provide Georgia with a $750 million line of credit. As can be seen with IMF loans to countries around the world, this is a great way to keep small countries totally dependent on imperialist money and at the mercy of imperialist policy demands.
Georgian President Saakashvili is a U.$.-educated lawyer who knows how to play to Amerikan imperialist interests. After the August military battles, his government organized anti-Russia protests across Tbilisi, the capital of Georgia, with huge banners denouncing Russia in English - a language that most in Georgia don't understand.(2)
Why are the imperialists so interested in Georgia?
Georgia is a geographically strategic country, with its link to the Black Sea. Georgia is a transit route for oil as a part of a major pipeline carrying oil from the Caspian Sea to Europe. This pipeline carries 1.2 million barrels of crude each day traveling through Azerbaijan and Turkey on the way to the Mediterranean Sea where the oil is shipped to the west. The pipeline was financed by the U.$ (costing $3.9 billion) and is owned and operated by a group of energy companies led by BP (formerly British Petroleum). This pipeline does not go through South Ossetia or Abkhazie.
Georgia is also an important strategic ally for the United $tates as a pro-U.$. force in a volatile region and bordering Russia. Amerika has permanently stationed "military advisors" in Georgia. At the same time Russia has been building up its military presence in the region and opposing U.$. moves to get Georgia into NATO. Russia would gain similar benefits from control of Georgia: partial control of an oil pipeline and a politically strategic military base, cutting off one of Amerika's allies that borders Russia.
History of the conflict
Even before the August invasions there was significant tension between South Ossetia, Abkhazia and Georgia. South Ossetia and Abkhazia are small regions bordering Russia. Separatists in these two provinces have been demanding independence since 1990 when Georgia became independent and claimed both areas as part of Georgia. Most people living in these regions are not Georgian. Since 1992 both areas have been operating semi-autonomously with Russian military support.
In 2006 Russia built a military base in South Ossetia, and in April of 2008 Russia established legal ties between itself and these two regions, also building up a military presence in Abkhazia. With a history of military conflict between Georgia and South Ossetian separatists, there have also been many attempts at internationally brokered peace agreements.
Currently in effect is a 1992 Sochi peace agreement which, according to the US Department of State, "…established a cease-fire between the Georgian and South Ossetian forces and defined both a zone of conflict around the South Ossetian capital of Tskhinvali and a security corridor along the border of South Ossetian territories. The Agreement also created the Joint Control Commission (JCC), and a peacekeeping body, the Joint Peacekeeping Forces group (JPKF). The JPKF is under Russian command and is comprised of peacekeepers from Georgia, Russia, and Russia's North Ossetian autonomous republic (as the separatist South Ossetian government remained unrecognized)…"(4) This agreement clearly authorizes Russian presence in the region.
In fact, the U.$. ambassador to Moscow initially endorsed Russia's military move into Georgia as a legitimate response after Russian troops came under attack.(5)
There is little debate that Georgia attacked South Ossetia in early August in a major offensive against the provincial capital of Tskhinvali, though Georgia is claiming they did so only after their soldiers were attacked (by South Ossetian separatists or possibly by Russian military - the story has changed a few times). Given the history of Amerikan imperialism and its tight control over its puppets, we are certain this attack was known about in advance and encouraged by the Amerikan government, either overtly or subtly.
Russia's ability to aggressively invade Georgia with such significant firepower makes it clear that they had been preparing for this fight, though certainly the Georgian attack on South Ossetia was a convenient excuse. Either way, the South Ossetian people are pawns in a war between Russian and Amerikan imperialist forces, each backing leaders who will act as their puppets.
For the Ossetians, the question is what is the principal contradiction standing in their way towards self-determination. As a part of the Russian Federation, it would seem that imperialist Russia would be playing the greatest role as oppressor there. However, in the context of a u$ proxy invasion using Georgian troops, the interests of the Ossetians are best served by upholding the pre-invasion status quo of relative peace with Russian supervision and opposing further attacks. So, despite the fact that South Ossetia does not promise to benefit as a client of Russian imperialism, those of us in the First World imperialist countries can best serve the Ossetian people by opposing u$/eu involvement and anti-Russian sentiments that justify such involvement with the myth of "Western democracy vs. Russian autocracy."
Under imperialism war is inevitable
Since the state capitalists took power in the Soviet Union after the death of Stalin, that country, and later Russia, has pursued a clearly capitalist economic system. The competition between Russia and the U.$. has nothing to do with "democracy" or "freedom" or communist aspirations in Russia. It is merely the military and political positioning of two big imperialist countries fighting over the spoils of Third World exploitation. The United $tates has a head start and many international allies in the battle, but Russia wants its part of the spoils too.
Imperialism is a system that generates profits for First World countries through exploitation of the Third World. Competition between imperialists over resources and labor in the Third World is a natural result, just like capitalism itself is predicated on competition between corporations. Imperialists may align with each other for various short or long term strategic partnerships (or because smaller imperialist countries can not survive without protection and support of a larger imperialist country). In over half a century, the imperialists have managed to avoid overt military conflicts with each other, but this has only intensified the violence of global wars felt in the Third World.
Whereas, Maoists uphold that the principal contradiction in the world today remains that between the oppressed nations and imperialism, we see progress in resolving those contradictions through self-determination of the oppressed. Russia could have played a progressive role in providing international banking services to Hamas in Palestine or extending diplomatic relations with the Lakotah Nation in North America. There is no reason to reject the possibility of similar roles for u$ imperialism. By definition, any alliances between imperialists and oppressed nations will be temporary.
During WWII communists saw a qualitative difference between the fascist states and the other imperialist states that led to the conclusion that a United Front with the bourgeois democracies was a necessary strategic move. In 2008, we see anti-amerikanism as an important progressive force uniting the proletariat and its potential allies. But we do not see ourselves in a stage where overall strategic alliance with a certain imperialist camp will benefit the international proletariat.
In the case of this conflict in Georgia, the only right side is the side of the Georgian, South Ossetian and Abkhazian people. And for the First World, that means opposing u$ or european backed invasions in the region. We have no independent confirmations of revolutionary organizing among the people, though we have no doubt that in Stalin's birthplace there is a strong memory of revolutionary history.

Notes:
1. Washington Post, September 4, 2008
2. Washington Post, September 2, 2008
3. Time Magazine, September 3, 2008
4. Counter Punch, www.counterpunch.org, August 30, 2008
5. The Globe and Mail, August 8, 2008