Herman Wallace Was Free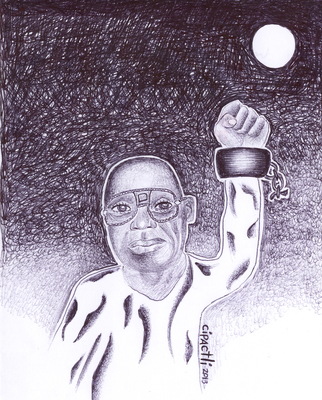 We mourn the death of Herman Wallace, one of the Angola Panthers. Herman died on Friday after a judge threw out his case, as a result Herman was able to die outside of prison. The fact that Herman was held the longest in solitary confinement — approximately 40+ years, speaks of the history of torture in U.S. prisons.
For many of us Herman is much more than simply a prisoner who was held in the hole for decades. He co-founded the first prison chapter of the Panthers, and spent his time in prison serving the people. He dedicated his life behind the prison walls to educating people, ending the hostilities surrounding prisoner-on-prisoner crime and fighting guard brutality. For his determination to liberate his people he was framed for a crime in an attempt to neutralize him by sealing him in a cage for decades.
Herman refused to surrender and he was an example to other oppressed prisoners to resist even in the dungeon. This example was too much for the state and he was denied compassionate release by the oppressors. His liver cancer is also suspect, we know the state has many dirty tricks in its arsenal. But Herman, like others who rise up in prison, understood that he might in the end pay with his life for this resistance.
It has been reported in the press that Herman's last words were to the effect of "I am free" before he died. But Herman was already free, he was free while still in prison because he had liberated his mind decades ago, and this was his real crime that the state was making him pay for. Had Herman been a drug addict prisoner who preyed on other prisoners for a cellphone from the pigs or for a sack of dope he would never have spent over four decades in solitary confinement. Freedom comes from one's actions and this is something that the petty bourgeoisie does not grasp and so they will never be free.
Those of us here in the SHU understand that at any time we can be free from torture by simply making up information on someone or debriefing. But like Herman many cannot fathom doing this to another human being and instead choose to build our nation and RESIST! And for this we are also met with torture. But like Herman we are also free, more free than many people on the outside whose minds are in many ways more chained than SHU prisoners. May the example of resistance displayed by Herman live on in U.S. prisoners!
Aztlán Libre!

Related Articles: