History [and Myth] of a Comrade Should Inspire Us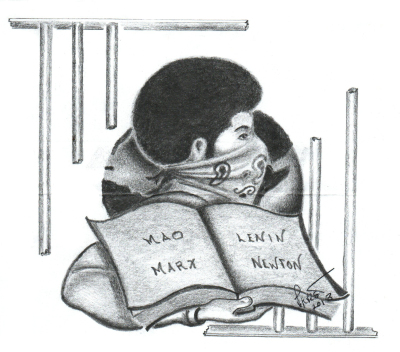 This year marks the 51-year anniversary for the fallen comrade, BGF founder/leader, Black Panther General/Field Marshall and Dragon of Ho Chi Minh. This year also marks the 52 year anniversary of his alter ego, the man-child, snatched away too soon, Jonathon Jackson, whose brave revolutionary effort at only the age of 17 to free his older brother George Jackson from a legal lynching, can only be viewed with awe. Their stories of determination inspire the question of why the revolution has been snared, and to seek a newer and more improved method for the revolution that we new soldiers, guerrillas, and political scientists plan to usher into the near future.
This month of August (Black August) is dedicated to the fallen soldiers who bravely gave their lives to improve the quality of living of not only the Afrikan Amerikans who belong to the original man, but also to educate ourselves about the correct ways of living that the history of antiquity has provided us with. It is a time to internalize those lessons in a way that would help us to bridge the racial gaps and get us to do away with our class masters and black, brown, red (a variation of brown), yellow and white could live in a world that is free from the trifles that have destroyed humanity.
George Jackson was a very strong, intelligent, courageous, and dedicated brother whom the history books should teach us more about. For many, George's career as a shining revolutionary leader ended about as quickly as it began. However, those exist outside of the mainstream corporativism politics know well that George lived and existed as a legend long before the Soledad Brother case that would make him famous.
George Jackson entered the California penitentiary system in 1960 with an indeterminate sentence of one year to life, for the conviction of a service station robbery that resulted in the theft of $70.00. Though the evidence was in his favor, his court appointed attorney convinced Jackson that if he would only plead guilty to a lesser offense that he would receive some light county time. However, through a change of hands, his deal that was promised would result of his conviction and an indeterminate sentence that then in California would prove often times volatile because it was up to a parole board if you ever went home. A system that was heavily racist and extremely dangerous, proved to be fertile grounds of an indeterminate sentence of one to life, becoming life or in George's case the death penalty.
The author of 2 classic pieces of Black literature that could be used as a treatise of sorts, George laid out the harsh realities of California's prison system. The atmosphere was so openly racist that whites were even working hand in hand to kill Black and Mexican prisoners, even though ironically enough, just like in Texas some Mexicans would make alliances with racist organizations and join in killing Blacks. Through these activities George felt the need to organize what he called "the chief of staff" and that chief of staff that organized to combat the killing of Black prisoners would later on become what is now known as the Black Guerrilla Family, a revolutionary group that George attempted to align to the revolutionary movements not only in Amerika, but also in Cuba and other Third World nations. In a nutshell George agreed with International Communist Solidarity.
An avid reader, George transformed himself from an adolescent, rebellious street gangster, to a revolutionary leader and prison activist whose knowledge about history, economics, and politics, would make college professors marvel at his intellect. But this is also part of the larger reason why he was never paroled. You see, the sentence that George had, at the most allowed for a convict to do 2 years and then be paroled, but it was this political insight at a time were Black male expression was denied. Not only Black male expression, but at a time when George found communism, Amerika was trying its best to crush this red scare. So his knowledge of capitalist Amerika was that great that prison officials went to the extremes of trying to kill him. Their line to whites was "kill Jackson it will do you some good." However as gifted as he was mentally and intellectually, he was also gifted as a self-trained guerrilla assassin. George practiced a very special bastardized style of martial arts and kung-fu called iron palm and he worked out 6 to 7 hours a day doing 1000 finger tips a day.
Typing laboriously on a prison typewriter, Jackson wrote position papers that dealt with prison life, economics, and the corrosion of Amerika's corporate capitalist culture and circulated these papers throughout prison walls. For his activities, he was first rewarded with segregation, often times with a welded lock. Once that proved to not be enough, he was set up to be killed. But since he was a fierce warrior, oftentimes even fighting for other prisoners who were the victim of racial assaults, he would fight single-handedly 5 or 6 prisoners and come out on top. At this point the white prisoners and officers hated but feared him.
George was loved and respected by the Black prisoner population and became their teacher and leader. Even the most racist whites respected George because to them he was a man who was totally straight. All while others would murder mouth and sell wolf tickets, George was as good as his word. If he made a statement of some kind, it would always be followed by action. George formed a political education class and through that he gave his comrades the revolutionary platform that would transform their Black criminality into a Black revolutionary mentality. He also taught martial arts at a time where martial arts was outlawed in prison.
His commitment was so great that during a prison protest that led to some white inmates trying to actually lynch a Black demonstrator under the order of racist cops, when George saw all of these white guys about to push this brother off of a 30 ft. tier, he began punching, kicking, and knocking those guys off the tier. However, for this, he, not the white inmates, was locked up. It was only later on that prison officials would admit that he stood up for a brother about to be hung.
In 1969, the California parole board who had been stringing George along for years, but who had no intentions of ever releasing him, told him that he was going to be transferred from San Quentin to Soledad and that if he maintained clean conduct for 6 months he would be granted parole. Soledad was a racist penitentiary that stoked the flames between prisoners, and that ignited racial animosity to build to murder. George, as a "class based" revolutionary always strove to get the convict class to see that they could easily overcome their oppressors if they would only unite, because by playing at racism the law would essentially win since it would only be 2 maniac groups at war.
On 13 January 1970 after months of lockdown due to racial killings, a new rec yard was opened. A system where Blacks, whites, and Mexicans are to remain segregated from each other, a so-called "mistake" took place and 7 Blacks and 8 white were led to the rec yard where predictably a fight broke out. The officer's job is to give a warning shot. However, officer O.G. Miller with a military background, southern upbringing, and racist attitude shot and killed 3 Black prisoners in cold blood. One of the dead was George's close friend and mentor W.L. Nolen. Three days after these killings the Monterey County Courthouse, over prison radios, announced that these killings were justifiable homicide. In less that 30 minutes later anger would turn into redemption as 25-year-old officer Mills was beaten to death and thrown over a 30 ft. tier with a note in his pocket that said "one down 2 to go."
In February, George Jackson, John Clutchette, and Fleeta Drumgo would be formally charged for the officers death even though they had no evidence outside of their prison files that labeled them as Black revolutionaries. According to prison officials, George was blamed because he was the only person who could have done it. Hardly enough in the area of evidence, it finally gave the state the legal pretext to do what they had been trying to do quasi-legally for years. If George was convicted it meant death since he already had life.
When George received visits from his family they would bring his younger brother Jonathan and the two of them would get off to one side of the visiting room where George would do his job as an educator and at the age of 16 Jonathon had a remarkable insight into guerrilla warfare, communism, and uniterian conduct locally and globally. His love for his brother made him grow-up. He saw that they never intended to let his brother go. At a time when most teens are thinking about self-gratification, Jonathon could only think of George. He said "people tell me that I'm too involved with the movement and my brother's case, but I have one question to ask people who think like this, 'What would you do if it was your brother?'".
George and Angela Davis became somewhat of a power couple and George appointed Jonathan to be her bodyguard. After being fired from UCLA as a professor, just because she identified with communism, George feared that some right-wing nut might feel like a hero by killing her. It was around this time that the state asserts that Angela Davis provided the weapons that Jonathan Jackson would use on 7 August 1970 when he took a bag full of guns to a courthouse in Marin County and passed the out to 3 prisoners on trial. Calm and cold he stated "alright gentlemen I'm taking over now" and "you can take our pictures, we are the revolutionaries." At the young age of 17 Jonathan had sense enough that the only way he could affirm justice was through a bold act that would take his life.
A year and 2 weeks later on 21 August 1971 prison authorities would concoct the most outrageous story ever invented to justify the assassination of one of our most gifted leaders, George Jackson. The state "asserts" that after a visit with his attorney Stephen Bingham that George had a metallic item in his hair that proved to be a gun that he used to gain control of the Adjustment Center after he said these chilling words "The dragon has come." The absurdity is that when they reenacted this in a court, they affirmed that George's cell was 50 yards away from the visiting room at San Quentin, a highly sophisticated, technological prison. And when they reenacted how it would've taken place they said "the gun wobbled dangerously", meaning that it couldn't have happened that way. At best if George did end up with a weapon he must have wrestled it away from his assassins.
But the kicker is "they say" George had explosives that he intended to blow a 20 ft wall away and escape. "They say" that George ran towards a wall and was shot in his ankle that was immediately shattered, yet somehow he managed to get up and run again and a second shot was fired that entered his back and exited his head. However, what "they say" again proved to be a lie as autopsy proved that the shots that were fired couldn't have come from a high position as they assert, but rather from the ground.
Now why such an outrageous story for this situation? I mean to me, even though I feel very sorry for Georgia Bea Jackson as she lost 2 sons within a year, I still can't help but admit that if he went out as the state asserts, it even more adds to his legend. Killing 5 people in the span of 30 seconds (which is impossible) before being killed is remarkable. But upon investigation, if George would've went to trial and beat his case, he very well may have been released from prison. So instead of us believing in government created conspiracies, we need to question the facts. In love and revolution, may George and Jonathon both rest within the essence, while they continue to live through people like me and countless others.
Peace to those who don't fear freedom
This article referenced in: