Honduras to Yemen: Puppet Regimes Falter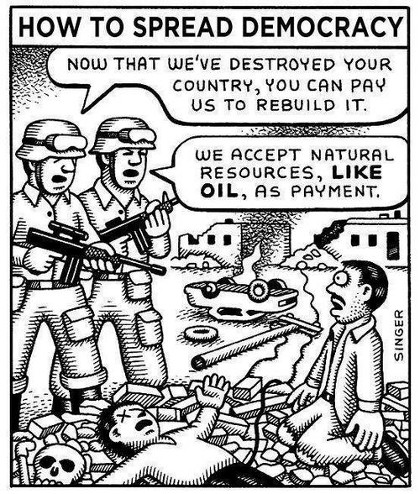 The vast majority of the governments in the world lack popular support because they serve the oppressive interests of U.$./European/Japanese imperialism. Popular elections in Palestine (for Hamas) and Honduras (for Zelaya) have been rejected by the United $tates, who put their chosen leaders in power. Meanwhile, Afghanistan and Iraq are the most hypocritical examples of U.$. "democracy building." A decade of military occupation, with all the murders, secret prisons and torture that entails, and even the imperialists can't claim any victory. Iraq has split into multiple states, all of which are engaged in an ongoing hot war. And a recent U.$. government audit of the $1 billion dollars spent in Afghanistan over 10 years concludes that they have been largely unsuccessful in establishing "the rule of law," not to mention "democracy."(1)
Of course, that's not to say that certain imperialist interests have not been served in these projects. A destabilized Third World nation is certainly better than a unified one, because the inherent interests of the Third World are opposed to those of the imperialist nations. Any successful organization of Third World nations to serve their own interests is a blow against imperialism. And the ongoing wars grease the gears of the military industrial complex.
Looking at the Middle East, West Africa or Central America, we cannot say that the oppressed nations are winning. But the objective conditions for successful resistance are certainly there and developing. Our strategic confidence in the victory of the proletarian nations over the imperialist nations comes from these objective conditions, principally that the proletariat nations far outnumber the imperialist ones.
Honduras: Mass Protests and Collective Farming
10 July 2015 — tens of thousands of Hondurans marched in the capital of Tegucigalpa with torches held high to call for the resignation of President Juan Orlando Hernandez.(2) These protests have been going strong for seven weeks, and they are the continuation of a six-year struggle against the forces behind a coup d'etat backed by the United $tates in 2009.
In this same period a movement to seize land by collectives of campesinos has been ongoing. These collectives are highly organized and participate politically in the national assemblies behind the mass protests. In the countryside, these collectives have provided improved housing, education and pay for their members. They are class conscious, and addressing gender contradictions as well. The documentary Resistencia (2015) shows the regular harassment and assassinations these collectives face.(3) One community had all their houses bulldozed while attending a rally in Tegucigalpa, yet they pull together and rebuild, as one campesino says, because they have nowhere else to go. While some collectives seem to have armed guards, generally they depend on non-violent resistence at this time.
The United $tates recently deployed 280 Marines to Central America, with most going to Honduras as part of their ongoing militarization of the country in face of this continued mass resistance.(2) Meanwhile, many of the top military personnel who are allied with the large landowners in Honduras have been trained in the terrorist training camp known as the School of the Americas in Fort Benning, Georgia.(3) For decades, graduates of this school have carried out the most atrocious and brutal military campaigns in Central America on behalf of U.$. interests. Today, Honduras is considered the murder capital of the world.
Imperialists Slaughter Yemenis in Desperation
The United $tates has been waging low-intensity warfare in Yemen since shortly after 11 September 2001. In that time they have carried out over 100 drone strikes in the country.(4) In mid-May of 2015, U.$. troops and ambassadors were pulled out of the country following a popular insurgency that threw out the U.$. puppet regime of Abdedrabbo Mansour Hadi in late March. Hadi has since remained outside of Yemen with no sign that he will be able to return.
Since the removal of Hadi, an intensified bombing campaign in Yemen has been described as a "Saudi-led" effort, yet U.$. Deputy Secretary of State Antony Blinken is behind the coordination center in Riyadh, Saudi Arabia and the United $tates expedited weapons deliveries to their ally who they've already provided with a strong, modernized military.
On 6 July 2015 over 30 civilians were killed when invaders shot a missile into a small market in the village of Al Joob. Other recent strikes in the region killed 30 in Hajjah, and 45 just north of Aden.(5) "In addition to some 3,000 Yemenis killed since March, the war has also left 14,000 wounded and displaced more than a million people, according to the [United Nations]."(6) Close to 13 million are lacking food due to the war and the blocking of shipments into Yemen by the imperialist-led coalition. Meanwhile preventable diseases like dengue, malaria and typhoid are spreading.(6)
Like the people of Honduras, these horrific conditions leave the people of Yemen with no choice but to keep fighting. In April, "19 Yemeni political parties and associations rejected the UN Resolution 2216 [an attempt to appease the resistance], stating that it encourages terrorist expansion, intervenes in Yemen's sovereign affairs, violates the right of self-defense by the Yemeni people and emphasized the associations' support of the Yemeni Army."(7) In June, Najran tribes, in a Saudi border region, declared war against the Saudi regime because of the Saudis killing innocent people. This occurred after the House of Saud attempted to bribe tribal leaders to support their war efforts in Yemen.(8)
Yemen's relationship to Saudi Arabia is similar to those of Mexico and Central America to the United $tates. Yemen was once a nominally socialist state after a Marxist-inspired national liberation army took control after British colonialism ended in the region. So like Central America, Yemen is no stranger to socialism and Marxism. Yet, while militarily conditions are more advanced throughout the Middle East, we do not see the class-conscious subjective political forces that exist in places like Honduras.
Yemen risks falling into inter-proletarian conflict as has been ongoing in Syria and Iraq. Yet, reports from the ground indicate a strong recognition that the ultimate blame for their plight falls on the United $tates (this is true in Honduras as well). Chaos does bring opportunity for the objective forces of proletarian class interest to rise to prominence. While conditions are dire in Yemen, Syria and Iraq, they lend themselves to building dual power and ultimately delinking from imperialism, which is what the oppressed nations must do to improve their conditions. While there are multiple competing powers in Syria and Iraq right now, no sustainable dual power can develop that is not built on the class unity of the exploited classes as exists in Honduras. At the same time, dual power must be defended, and the imperialists will always respond to efforts at delinking with military intervention. It is this military power that is lacking in Honduras to make their collectivization efforts sustainable.
These are just some of the hotly contested areas of the world today. The battle is between the imperialists and the exploited majority. While the imperialists are the dominant force today, the exploited majority are the rising aspect of this contradiction. As they rise in more regions of the world, they undercut capitalist profits and imperialist militaries become overextended. That is how the exploited majority will become victors and gain control over their own destiny.
This article referenced in: