Imperialism is the Real Problem in Venezuela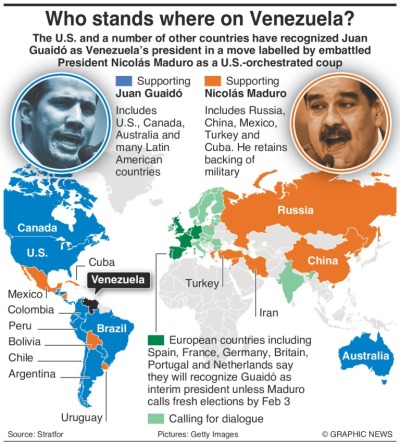 As Venezuela commemorates Hugo Chavez's socialist revolution of 20 years ago, bourgeois reactionary elements from within, with imperialism support, work to sabotage Venezuela's self-determination. Another case of u.s. imperialist aggression, and on a continent most dominated by it: South America.
While the self-declared president of Venezuela, Juan Guaidó, has been receiving support from the united tates, actual elected President, Nicolas Maduro, has been the target of u.s. imperialism for some time now. Are we truly to believe that Venezuela's recent issues are entirely the fault of the Maduro regime? It should not be overlooked that the problems in Venezuela, declared in the news as a humanitarian crisis, seem to have occurred around the same time economic/trade sanctions were imposed.
The United States and its South American followers, through the Organization of American States(OAS), an organization formed at the behest of the united states over 50 years ago in order to consolidate geo-political influence and quash revolutionary movements and too-far-left regimes that were spreading throughout Latin America at that time) have largely created Venezuela's most pressing issues with their refusals to do fair business in the form of trade and diplomatic cooperation which has left Venezuelans lacking many necessities.
The United States and OAS have been making it very difficult for the Maduro administration to help the people to properly live, let alone develop. So outside looking in, to the unaware, it may seem as if Maduro is "the bad guy" and this Guaidó character is "the good guy" and that u.s. support for him looks righteous, even humanely necessary, to oust this "corrupt socialist dictator" and "rescue the Venezuelan people." But understand that the Venezuelan situation is a product of u.s. imperialism. The same u.s. imperialism that caused the people of Cuba to suffer for over 50 years by the trade embargo and dictation that the OAS cronies turn their backs on Cuba as well or suffer the same fate. This all because Cuba fought to break the chains of neo-colonial dependency.
Helping to frame the narrative of Maduro being a "brutal dictator who refuses to treat the Venezuelan people humanely" is the reactionary propaganda machine: u.s. news media. Daily they broadcast images of shipments of supplies going into, and remaining at the border of, Colombia, where u.s. politicians and reporters give interviews in front of the supplies they call "aid" that "Maduro refuses to allow to enter into Venezuela." Maduro said that he will not accept this "aid" because it is "tainted;" he understands that this "aid" is not aid, it is imperialist bribery of the Venezuelan people.
Now footage of deadly clashes with police at the border, along with reports of Venezuelan police and soldiers defecting, are being shown on a loop, further destroying Maduro's legitimacy and portraying the united states as "the good guys just trying to help while Maduro continues to brutalize the people." If you ruin peoples lives and then offer some handouts, that doesn't make you a hero.
This type of economic imperialism being so effective is a consequence of the interdependency of economies (especially those of the undeveloped/developing nations battling with neo-colonialism) due to the globalization of capitalism and consolidation of a world market. Now an empire like the U.S. can destabilize an entire nation's internal economy, causing mass chaos, without invading and plundering it. Mere trade imbalances (unequal exchange) and economic sanctions can have the imperialist-desired effect of social upheaval, causing the targeted nation to look at the leadership as the cause, and welcome foreign intervention to come and save them from a situation created by imperialist aggression.
We can't know for certain what the reasons for this aggression are, but we can make informed speculation based off of historical analysis. Could it be that Maduro has instituted too many socialist-like policies, like nationalizing much of Venezuela's oil production? Or because Venezuela does too much business with Russia, China, and Cuba? Does the united states want to own oil firms there and is upset that Maduro won't allow that? Past u.s imperialist endeavors point to the latter as the primary motivation for its efforts toward regime change in Venezuela.
These efforts to destabilize and destroy a regime's credibility and ultimately to overthrow it is nothing new, especially in this hemisphere. Panama, Guatemala, Nicaragua, Dominican Republic, Chile, just to name a few of the more known and overt examples of u.s. imperialism in the Americas. If these actions prove to be successful then a puppet government of the united states, via Juan Guaidó, will most certainly be the outcome. But if these current actions don't produce the desired effect of regime change, then, as per usual, a military invasion seems to be next.
It doesn't help Venezuela's cause that no one seems willing to come out against this aggression and show solidarity with the president elected by the people. It is these times when we most lament the fall of the Socialist Bloc and its global influence and support for oppressed peoples. Cuba, only 90 miles from the united states, was only able to withstand imperialist aggression and resist capitulation to demands because it had socialist solidarity coming from China and the Soviet Union. But who will support Venezuela??
It shouldn't come down to a military invasion (as it did in Iraq and Vietnam) to raise people's consciousness and get them to mobilize to demand an end to imperialist aggression. It should be called out and reacted against now. We must articulate to the people the real forces at play here, because they won't learn it from the news. Support has to be mustered to oppose these types of actions from the united states. The unconsciousness of people in the world, and the united states in particular, that allows these things to go unchecked, is support for imperialism itself. As Fidel Castro put it: "to cease solidarity with the revolutionary movement does not mean to deny a pretext but actually to show solidarity with yankee imperialism and its policy of domination and enslavement of the world."
Venezuela's cause may not be a revolutionary one, but it is a victim of imperialism from an empire incessantly working to consolidate its influence and turn every nation that it can benefit from into a neo-colony, which requires us to raise this truth as a common cause worthy of the most support. Defend Venezuela's self-determination!
Facts: Oil revenue is about 90% of Venezuela's revenue. The United States is the #1 buyer of Venezuelan oil at over 400,000 barrels, per day.
---
MIM(Prisons) responds: Our recent article on Venezuela very much agrees with this writer's analysis. While Venezuela was never a socialist country in the Marxist sense, Maduro implemented many reforms in the interests of the people, and is staunchly fighting neo-colonialism. This government represents the national bourgeoisie and continues to operate within the capitalist system. It is an ally of the oppressed in this fight against imperialism. The imperialists are the real murderers and destroyers of planet Earth that we must stand against. And we stand with the Venezuelan people and their elected government against the U.$. coup efforts.