Lawsuit on Inadequate Rec and Food Pending, Seeking Assistance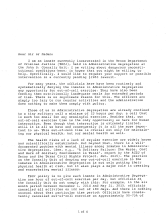 The conditions continue to be much better here at Connally Unit in Kenedy, Texas since I filed that lawsuit on the recreation/lockdowns/food. But of course that could be reversed at any moment so I continue to push it and continue to use it as a tool to organize/mobilize the prisoners to take group action.
We are working on a mass grievance campaign at the moment, to follow up on some of the issues that are in the lawsuit but the administration hasn't adequately addressed. It's really pretty minor stuff, as the main thing was them cancelling rec every day, and they have stopped doing that. But I feel like you're either moving forward or you're going to move backwards, you know? And the real value in a group action like a mass grievance campaign is what it does to raise the consciousness of the group.
There is definitely a lot more interest since people here have seen that we CAN fight back. But the general consciousness level was so low here and the prisoners were so beat down and demoralized that it will take a LOT of work to develop any widespread activist mentality.
I'm going to enclose a copy of a form letter I typed up and sent out to about ten civil rights organizations already. It's pretty self-explanatory. Just trying to get some more support on this lawsuit. And I know your funding is very limited plus you aren't lawyers there, so you're not going to be able to help directly. But I'm sending it on the off chance that someone there might know a lawyer with sympathies towards the cause who might be willing to do something.
Like I explain in the letter, we don't necessarily need actual representation. This is a pretty straightforward case and they are going to want to settle at some point. Obviously they are — that's why they immediately started running rec again once I filed it. They know the records are going to show they were just flat out lying about these so-called staff shortages. But with a lawyer putting additional pressure I think we will get better terms on any settlement and a settlement will happen quicker.
I want to get these improvements locked in with a legally binding written agreement asap so that I can move on to other projects. So if you do happen to know a lawyer or have any other ideas for what you might do with this letter, please keep our struggle here in mind, okay? Thanks.

---
MIM(Prisons) adds: The pdf linked to this article is a copy of the author's letter ey sent to ten civil rights organizations. The letter outlines the conditions in Connally Unit regarding an egregious lack of recreation time and lack of adequate food. The author is asking for a lawyer to intervene in order to push the lawsuit to a quick settlement. If you are able to assist this struggle, please write to MIM(Prisons) and we will put you in touch with the leader of the suit.