Divisions and Struggle in California Prisons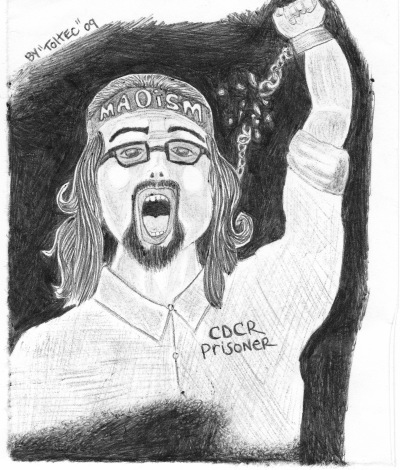 Prisons in California have become one of the most active and organized areas of resistance behind bars in the United $tates. With the second largest prison population in the country, and some of the biggest long-term isolation units, this is perhaps not surprising. Out of this repression and resistance has come some strong organizing efforts over the past few years. And this has also raised contradictions that need to be resolved to advance the struggle. We use this issue of ULK to highlight the contradictions and challenge our comrades in California to think broadly about resolutions.
While SHU/Ad-Seg prisoners are about 6% of the California prison population, they were 35% of our readers according to our reader survey conducted a couple years ago. Special Needs Yards (SNY) are reported to be around 30% of the total population, but were about 40% of our reader responders. So while SHU/Ad-Seg are very over-represented, SNY also seems to be slightly over-represented among our readers. There is a big division between SHU/GP and SNY prisoners with distrust and anger on both sides. But comrades from both sides continue to do solid organizing work. One of the significant developments in Cali is the Agreement to End Hostilities (AEH), a United Front that has made important strides forward but is also plagued by these divisions.
It is unlikely anything we do or say will worsen the division between SHU/GP and SNY. Rather than fan the flames, we are airing these grievances as a step towards understanding and eventual reconciliation. We also want to challenge both sides. The revolutionary, anti-imperialist, pro-people forces are tiny in all sectors. Some argue that SNY is in a better position to unite, while others say only GP has potential. So we want to encourage a little friendly competition between the two sides to see who can do more. Practice has already demonstrated the leadership from SHU's ability to mobilize the masses for a progressive cause. But progressive forces on that side must continue to move forward in order to consolidate those gains, or risk them being lost. At the same time SNY comrades claim they gained the freedom to unite and organize with whoever they want, and so they need to use that position to unite others who dropped out. To both sides we say: if you're only seeking a comfortable way to do your time you're not helping advance the struggle and the revolution has no place for you.
We received a number of responses to the article in ULK 50, "Chican@ Power Book Tainted by AEH." One comrade in SNY wrote: "In my point of view it [the Agreement to End Hostilities] contradicts every aspect that they preach. Now everybody who died, who caught a life sentence for the struggle they believed in was all for nothing. Take a second and think about that. There are people who are in prison serving a life sentence for killing an individual who opposed his views and beliefs. Now they expect him to be the best of friends with these same people? How does that make sense?
"Now you guys reading this might say 'He is only saying that because he's SNY.' Well, for 4 years I was active and I have seen both sides of the fence. Not everybody over here is a snitch. There is more unity here than there is on the mainline. You see raza from North and South united where it doesn't matter what part of the state you're from."
Saying that the AEH is hypocritical based on the past goes against the United Front for Peace in Prisons (UFPP) principle of Growth. We must allow for growth and evolution of individuals and organizations if we want to see unity among the oppressed, because the old way didn't work. There are major contradictions between lumpen organizations (LOs) still, and between different housing units in California. But we see these as contradictions among the people. Which is why we stand behind the AEH, and think those old wounds can heal. It's been four years, and there's still a long way to go. But people are putting in the work, and in some locations we've seen real progress.
We understand the lack of trust that some have for those calling for the AEH in California. But we say to those people, the ones who truly want to end oppression as this comrade does, isn't the AEH a step towards what you want? Even if you don't trust certain individuals, the more we do to promote the spirit of the AEH, as well as the principles of the UFPP, the closer we get to replacing the old order with a new order based on unity of the oppressed.
This response comes from the comrade at Folsom (not SNY) who reported in ULK 50 on the progress of the AEH there, with Raza from north and south playing handball together on the same teams: "It's a challenge educating people here, attempting to share and explain the current situation and contradiction of ideology, morals, politricks and capital. These factions seem to be following a textbook on capitalism. Yes, we have the AEH, which is a beautiful thing and can be used as a stepping stone for a more productive practice of commune. At the moment people are more concerned on exploiting the twisted habits of others and making their pockets fatter for self-interest. The 'chiefs' preach to confuse, saying that the ideology, morals and capital is framed around serve the people, united we are stronger and all that glitter. But i've not yet seen one cent invested in the people, books, education or basic needs. Too bizzy taxing the fellas for pickles out their store bags.
"Get your back straight my people, the AEH is being tainted by self-interest and is not being maximized to its full potential in a more revolutionary way. Serve the People.
"The great are only great because we are on our knees. If you don't have sycophantic attitudes towards the 'leader' and express your support they don't look great. Put some pressure, maybe then these individuals that abandoned the cause for self-interest can snap out of their pig ideology and step their game up and shape their minds and struggle towards national liberation. Resemble more a revolutionary internationalist and not the imperialist pigs that fucked us all in the first place, Tony Montana wanna-be mofo.
"I will continue to read, educate, practice and liberate regardless of the situation and this September 9 will be no different."
A comrade in Corcoran (not SNY) is skeptical of the AEH, but echoes the refrain from many in SHU/GP that there can never be unity with SNY:

"The AEH is a godsend to all the souljas who have been held captive in the concrete tombs for 10, 15, 20+ years. The AEH is the tool CDCR is going to try and use to 1) gain more funds to build more prisons, and 2) justify the need for indeterminate SHU sentences. The current shape/mindset of prison and prisoners is not what it was back in the days that the souljas remember it being. This is going to create problems. These newly released souljas are going to be dealing with 18, 19, 20 year olds sentenced to 50, 60, 100 years.

"The AEH is going to create old-school versus new-school. That about sums it up. There's more to it. Like say the both schools are getting along there's also a snake on the police side ready to cause dissension amongst the community. Bottom line, CDCR cannot afford for the AEH to work, so they will see that it doesn't and when it doesn't they'll try to capitalize off its failure.

"They are now selling e-tablets, but only for SNY yards. There's mp3 players only for SNYs. The list goes on. Even with the trades there on SNY yards, the GP level prisoners aren't being afforded an opportunity to utilize programs that would rehabilitate them and better their lives and chances of staying out of prison. The message is clear: if you level four prisoners want to better your life you got to go SNY.

"Oh, there won't ever be a united front between GPs and SNY. You're better off trying to get a united front between convicts and pigz. See how crazy that sounds?! While there are solid souljas on the SNY yard, who became tired of the twisted prison politics. They're far outnumbered by pieces of shit, ie. child molesters, rapists, snitches, cowards, people running from drug debts, etc."

This last point is an important one that requires comment. Yes, prisoners are more likely to unite with pigz than they are with SNY because they are currently led by the criminally-minded. And it's hard to do serious money-making behind bars without working with some criminal pigz. This is a challenge and a contradiction we face trying to organize the First World lumpen. Not only are they criminal-minded, they can often make a fair amount from that crime, even some in prison are happy and prefer that over uniting New Afrika and Aztlán to fight imperialism. This is echoed by the Folsom comrade above.
All of these struggles in the California prisons remind us of how far we have to go, as humynity, to achieve a society where all people can live together in peace, in a society where no group of people has power over any other group. That long-term goal is communism. But to get there we will need to radically change our culture and the education people get from schools and society. Divisions are built into imperialism, people are pitted against each other based on class, nation, and gender generally and more specifically feuds are fostered by the imperialists to pit the oppressed against each other. This culture won't disappear overnight.
We learn from the revolutionary history of China that cultural revolutions will be needed after the oppressed take power, to re-educate everyone and build a truly revolutionary culture and society. It's a long road, and our comrades behind bars in California shouldn't be discouraged by divisions that have been created over many years of capitalist cultural indoctrination. Keep the big picture in mind and build for the revolutionary united front that serves the oppressed of the world.