On Independence and Promoting the UFPP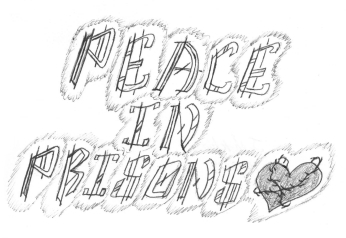 In ULK 68 we were asked to submit articles for the next five issues devoted to each of the five principles of the United Front for Peace in Prisons (UFPP). One question asked "How can we build institutions of the oppressed behind bars?"
One sure way to achieve this is by direct exposure. As prisoners, we are all suffering under the same roof. Although there seems to be some issue concerning whites as not being considered as lumpen, this is surely just yet another example of the imperialists' subliminal divide-and-conquer tactic, set aside color, we are a race of inmates. But I digress, direct exposure: One of the easiest ways to build unity, and this does tie in to the statement above, is to universally teach.
And one way to do this is to sign up your fellow oppressed to receive information and education. Regardless if they read the material or not, by signing your brothers and sisters up to receive this publication, you are planting a seed. And the choice to water that seed lies in the receiver of the gift.
And by doing this, not only are you building the subscription list, you are also opening the door for people who may not have known of the possibilities of unity that UFPP can bring about. Although there are sure to be some that will not adhere to the education, there will be many that will. Being as we are all suffering, even the most hard-headed or ignorant still wants and needs solidarity, and can find this in Under Lock & Key.
The next question was "Why shouldn't we just use the programs run by the U.$. government/police/prisons?" I may be interpreting this question wrong, but to me, in an effort of re-education, it is most beneficial to actually utilize programs run by the oppressors against them. We are at a distinct disadvantage here as prisoners, we lack funding, organization, means of communication, and sadly, education availability at large. This imperialist system of oppression has been deeply ingrained into society and has even bled into the foundations of our own prisons.
But by educating ourselves on the Rules & Regulations, and the Civil Rights and Constitutional Laws, we can effectively use their own words for our benefit. I personally have been raising lawsuits against the DOC in my prison for not following its own policies. My most recent success was in changing how the DOC's policy for "Step-Down Management Program" (SDMP) was operated.
SDMP for a long while was basically an extended disciplinary segregation sentence, served after completion of your actual discipline sentence. In Minnesota, the law had been that no prisoner could be subjected to more than 90 days of loss of good time for a single disciplinary offense, and the court ruled this to also mean that a single disciplinary offense could not result in a sentence of more than 90 days of disciplinary segregation.
The Minnesota DOC retaliated by the implementation of a program that they claimed "is not punishment," keeping prisoners in disciplinary segregation-like environments years after their actual discipline sentence was completed.
As a right of the U.$. Constitution, no person shall be deprived of life, liberty, or property, without due process of the law. And this program sought to deprive prisoners of property and liberty, with no due process. This was illegal. Thankfully, prison officials made placement on the program ungrievable, so there was no need to exhaust grievance remedies at all, and we could file suit directly according to Prison Litigation Reform Act standards.
Now, if you are on this SDMP, you actually get Ad-Seg privileges. The next step is fighting for no SDMP at all.
The last question was "What should be our priority for new independent programs?"
First and foremost: Education. It has been long proven that by forced ignorance of the majority, the minority can safely rule. By educating ourselves, we can defend ourselves.
Second: Promotion. By spreading the message of Unity to all available ears, we will find those who will listen. The pigs seek to silence us, so the more of us who hear the truth of peace and solidarity, the more our message will spread.
Third: Solidarity. We need to acknowledge that there is no other race in reality other than the human race. To accept and use other imperialistic-created class names or distinctions serves only to take away from our true mission. By this I do not mean to disparage your ancestry, or your own personal heritage or ethnicity. I mean only to convey the truth our universal brotherhood of humanity, by washing away castes, sets, class, etc. We are all in this together, all for one, and one for all.
---
MIM(Prisons) responds: This comrade calls for unity of all behind bars. And we echo that call in the United Front for Peace in Prisons and all of our organizing work. We want to encourage this comrade to go deeper in eir analysis around distinctions of class and nation. We vehemently agree that race is a made-up concept that only serves the interests of imperialists to keep us divided from each other. At the same time, in looking at material reality through the lens of Marxism-Leninism-Maoism, we see oppressed and oppressor nations, and we see exploiter and exploited classes. Talking about these distinctions isn't a problem for our work. It's when people take on these distinctions as part of their identity and in an chauvinistic manner that it's a problem.
So for example we wouldn't call for unity with the imperialist bourgeoisie because we know they have no basis for uniting with us. Similarly, while we call on all prisoners to unite against the criminal injustice system, we recognize that there is a very real historical basis for the vastly disproportionate number of First Nation, New Afrikan and Chican@ prisoners. And this national oppression provides a material basis for national unity to fight against the oppressor nation which has benefited from imperialism and national oppression. We can't just wish away these distinctions because they exist with years of reinforcement through economic, educational, and cultural oppression. So we must consciously address this reality. Only with this honest assessment of conditions can we build unity across nations and classes behind bars.