One-Year Anniversary of Peace Treaty in El Salvador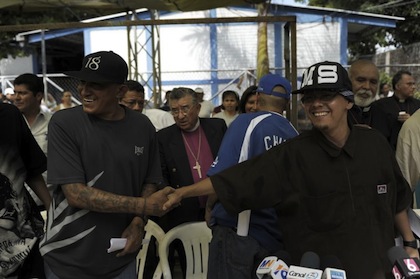 7 March 2013 — Today marks the 1-year anniversary of a truce between two rival lumpen organizations (LOs) in El Salvador, Barrio 18 and Mara Salvatrucha-13. The truce has its origins inside Salvadoran prisons, where secret meetings were mediated by members of the Church, and facilitated by the Salvadoran government. The result was a shuffling around of LO members to different prisons, and a reduction of the homicide rate in El Salvador from 14 per day to 5.(1)
Background
Without getting too deep into the origins of Barrio 18 and Mara Salvacrucha-13 (MS-13), it is significant to note that they both originated in Los Angeles, California (Barrio 18 in the 1950s-60s, MS-13 in the 1980s). Barrio 18 was originally made up of Mexican nationals but adapted its recruiting base as Latinos of other backgrounds migrated to southern California. MS-13 emerged from refugees of the civil war in El Salvador who had congregated in Los Angeles. In the 1990s, policy changes in the U.$. government led to the deportation of thousands of LO members back to their home countries, where their respective LOs were not yet established. In El Salvador, both groups took off.
The political climate in the 1990s in El Salvador was marked by an end to the civil war in 1992. Not surprisingly, the local conditions contributed to the ease of recruitment for these LOs. One of the Barrio 18 members who participated in the peace talks, Carlos Mojica, told the Christian Science Monitor "the streets were left filled with weapons, orphaned children, conditions of extreme poverty, disintegrated households."(2) These are ripe conditions for the proliferation of street organizations. When youth have no support and adults have no jobs, they must turn to other means for survival.
Change of Heart
Some cite an incident in June 2011 as a peak in the violence of these two organizations, which was a reality check for many. Barrio 18 has been blamed by the Salvadoran government and many citizens for a bus burning which killed at least 14 people in Mejicanos, San Salvador. This bus burning received media attention worldwide, and was accompanied by a bus shooting the same evening which killed 3 people. All the targets of this violence were reported to be unaffiliated citizens and travelers.
Others cite time and persynal experience as what changed their minds about violence. In the United $tates, many, if not most, LO members age out into the labor aristocracy or petty-bourgeoisie. But this isn't an option in El Salvador which is not an exploiter country with a bought-off labor aristocracy. Members who would otherwise be aging out of the LO if they were U.$. citizens, instead see an imperative need to change the conditions for themselves and younger generations.(2) MS-13 member Dany Mendez told BBC News "I have lost too many friends and relatives in the violence. We don't want another war because we are thinking about our children."(3)
Of course many activists in the United $tates, including MIM(Prisons) and signatories of the United Front for Peace in Prisons, see a need to end lumpen-on-lumpen violence in this country. But it's clear that conditions here are much better than in El Salvador in that a significant portion of people can leave their days of wylin' out in their past and move on to join the oppressor classes. The material conditions which lead to movement of the lumpen class in the United $tates is explored in our forthcoming book. How much these differences in material conditions affects the movement in this country toward peace between lumpen organizations will be determined by those of us working for this peace.
Moving Forward
The peace agreement between MS-13 and Barrio 18 has not been touted as an end to the violence forever, but instead is framed as "a break in the violence so the various stakeholders can work out long-term solutions."(4) Since the beginning, the peacemakers have been calling on the Salvadoran government to generate jobs and work with former and current LO members on developing skills that will help them make a living without relying on violence.
Last month, a program was initiated by U.$. Agency for International Development (USAID), in partnership with Salvadoran businesses and non-governmental organizations, in a purported effort to prevent youth from joining LOs in the first place. They claim this program has nothing to do with the truce, and have no intention of helping people who have already chosen or been forced to join a lumpen organization.(5) Considering the long history of U.$. neocolonialism in Central America, it is not surprising that U$AID is putting their 2 cents in. Time will tell the long-term effects of this $42 million investment, but we can safely assume it will amount to manipulation of the Salvadoran people by the United $tates government.(6)
After one solid year, the truce has withstood everyone's doubts and has not been broken. If the government is not going to step up to help prevent the violence, then the LOs will have to organize to do it themselves. One of the principles of the United Front for Peace in Prisons is Independence, which is just as important in El Salvador where the United $tates has dominated politics and the economy. We see today where U.$. intervention has gotten them thus far. MS-13 and Barrio 18 members know what their communities need better than U.$. investors do, and they should be supported in their efforts to change. It is our strong suspicion that those looking to change the conditions in which they live in any substantive way will eventually find that an end to capitalism itself is the order of the day.
One such organization which is supporting the peace treaty in El Salvador is Homies Unidos, which has chapters in Los Angeles and El Salvador. Alex Sanchez is the director of Homies Unidos in LA, and in recent history has been targeted by the FBI for harassment and detainment.(7) The bogus charges were finally dropped last month after restricting his ability to work for years. We tried to get in touch with Homies Unidos to gather more information on the real effects of the peace treaty on the ground, and what more is needed to maintain and advance the peace, but unfortunately we have not heard back.

Related Articles: