Protestors Occupy BIA Following Another New Holiday Declaration from Biden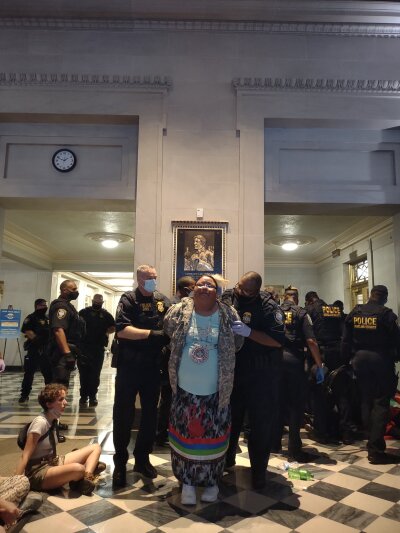 14 October 2021 – Fifty five people were arrested for occupying the Bureau of Indian Affairs(BIA) with demands that the Bureau be abolished, that blood quantum be abolished and that the United $tates stop extracting fossil fuels from native land. Siqiñiq Maupin explained the purpose of the action on Democracy Now:
"The BIA was created to erase Indigenous people. It has always been against us. And today, or yesterday, and every day, we demand that it be abolished. We do not need a blood quantum to say how Indigenous we are or to qualify that. We know our Indigenous ways to protect this land, this Earth, this water. And we understand that the Earth is unbalanced. And we do not have time for negotiations, for compromises. We need to take this serious and take action now."(1)
Indian Country Today reported:
Tobacco ties hung on locked doors. No one could get inside or outside. Everyone outside of the building looked through the windows of the doors to see what was happening inside and could hear demonstrators yelling.
Some security personnel were injured and one officer was taken to a hospital, according to an Interior spokesperson.(2)
In Washington D.C. the week of Indigenous People's Day has been marked by indigenous-led civil disobedience actions, calling on President Biden to declare a climate emergency and stop approving fossil fuel projects. It began on Monday with the slogan "expect us" being written on the statue of Andrew Jackson in the U.$. capital. Over 530 climate activists have been arrested so far.(1)
This is occurring after President Biden issued the first presidential proclamation of Indigenous Peoples' Day on October 8th, along with an announcement to preserve lands important to native people.
In 2017, President Trump re-opened up a number of recently created national monuments for resource extraction, cutting the size of the Bears Ears National Monument by 85%. Biden reversed Trump's move, reestablishing the Bears Ears and Grand Staircase-Escalante monuments in southern Utah, more than 3.2 million acres – an area nearly the size of Connecticut.(3)
While President Trump declared genocidal Andrew Jackson to be his favorite president, President Biden was the first president to recognize Indigenous Peoples' Day. This symbolizes the conflict within the Amerikan ruling class, and the white nation as well, in how to deal with the oppressed internal semi-colonies today. Biden's multi-culturalism is friendlier, and even makes real concessions like preserving land important to native people. But as Biden himself said, it was the easiest thing he's done as president. And it was just as easy for Trump to undo those designations during his tenure, leaving native people at the whims of the white man again.
As communists we strive for the resolution of this national contradiction via the project of liberation for all oppressed nations and their land once and for all, not waiting and hoping for one slightly friendlier sector of the oppressor to win out. The ongoing struggle for First Nation land liberation is tied to the struggle of all oppressed people for liberation. It is not surprising that the nation that ultimately waged a settler war for hundreds of years to seize this land is now the primary force keeping oppressed people down around the world. We have seen the limits of euro-Amerikan peace offerings.
notes:
1.Democracy Now, 15 October 2021, "People vs. Fossil Fuels": Over 530 Arrested in Historic Indigenous-Led Climate Protests in D.C.
2. Jourdan Bennett-Begaye, 14 October 2021, Indigenous demonstrators make statement at Interior, Indian Country Today.
3. The Associated Press, 7 October 2021, Joe Biden restores sacred Bears Ears