Retaliation for Writing On Drug Smuggling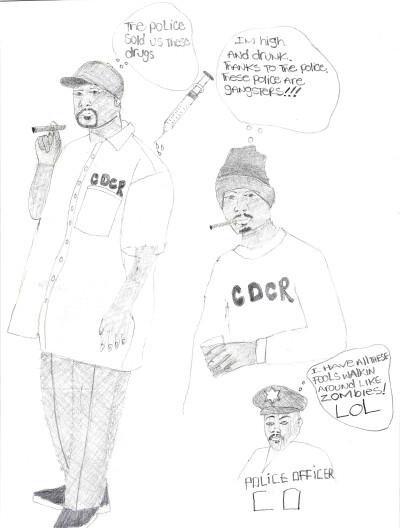 Greetings & Respects Comrades,
I been wanting to write this letter for about a year now. Society needs to be aware of what's really going on behind the walls of prison. On March of 2020 I wrote an article that was printed on the pages of your newsletter. It was called 'TDCJ: Your staff are bringing in the drugs, and it must stop'(see ULK 73). Since the print of the article, I've become a target of harassment and retaliation. Administration and C/O's here at Coffield Unit are a part of a Good Ol' boy system that use these types of methods, to make the prisoner pay when the truth is being exposed.
A shakedown team was put together by Warden Garcia. When the team comes across a prisoner, who refuses to be extorted for information (something that can place the prisoner's life in danger), they will harass/retaliate, even falsify government records, in order to place the prisoner in the worst part of the prison as a form of punishment for not cooperating. It happened to me, and I will go into detail later in the letter.
There wouldn't be drugs or cellphones in prison, if corrupt C/O's didn't bring them. Can prisoners just walk out of prison, score drugs, take a detour by Wal-Mart, pick up a couple of cellphones, then return to prison? How is it that this type of contraband finds itself inside prisons? Governor Greg Abbott needs to answer these questions. Since the last article, nothing has changed. A constant flow of K2 (a drug laced with roach spray), Meth, Cocaine, Heroin, pills and cellphones, flow through the prison. In 29 years of my confinement, I've seen my share of things but nothing like whats going on today, in the prison system.
Eighty percent (80%) of young people in prison are terribly addicted to drugs, that C/O's bring in. The only difference between correctional officers and prisoners is the uniform. They themselves are criminals. This type of thing needs to be brought up next time some politician out there screams "We need more prisons". 'Go to Texas prison with a bad drug habit, leave worse when you get out'. That should be the politicians slogan.
TDCJ proudly states "We are an agency of rehabilitation and positive change", the best lie being sold to the public. The only thing TDCJ higher-ups care about, is that government funding. At the moment Coffield has a sky high suicide rate due to all the drugs. This place is completely out of compliance and under-staffed. Prisoners are left in dayrooms (that have no toilets) for hours and have to use the restroom on shifts because there's no one to let them in the cell to use the restroom.
Hours pass with no security checks, a clear breach of security. A few days ago there was an audit on the unit, C/Os from other units were called in, so they could pass the inspection. As soon as the inspectors left, the C/Os from other units left behind them. There's no outside recreation, the water is getting prisoners sick, but plenty of K2 to keep the prisoners "Dumbed down", so there won't be complaints.
Society needs to realize that prisoners will return to neighborhoods out there. How can prisoners, whom are sent to prison to rehabilitate themselves, accomplish that goal, when the good law-abiding correctional officers, bring poison, to make them worse? These same prisoners will be released, will reoffend, commit worse crimes, due to a drug problem that got worse in prison. How many crooked C/Os have been indicted, for the victims of suicide and drug overdoses, that have died in Coffield, due to the drugs these C/Os bring in? This system and its C/Os are the problem, something people in high places, refuse to admit to the public.
For years our families got blamed for the drug flow coming into prison. When COVID-19 arrived, visitations got shut down and the truth was exposed, as to who really brought the dope in. Over a year, no visitations yet the dope was delivered on time. The truth is K2 is sprayed on just about anything, or brought in liquid forms. Meth, heroin, cocaine and pills can easily be hidden on C/Os that bring it for a nice hefty price. A $20 cellphone now goes for $2000 OR $2500 each.
So let's put this together: the proposed solution is a pig team that goes after prisoners who PURCHASE contraband from C/Os. This helps the Warden shift the blame and cover who the real crooks are, and everything's blamed on the prisoners. This way the truth is not exposed and questions never need to be answered.
For my writing about this type of corruption, I am now under fire by the warden and administration. Enclosed are copies of complaints filed with the Ombudsman's office due to harassment/retaliation against me. The Ombudsman's office claims to be an independent entity, that investigates family complaints against TDCJ officials - (NOT TRUE). In reality, they work hand-in-hand with TDCJ officials.
"Due to a lack of evidence, your allegations could not be substantiated." (Lack of evidence? There are cameras all over the unit, that record video) If Ms. Melodee Blalock would have performed a proper investigation of the date and time the incidents occurred, she could have retrieved video that would have placed C/O Brewer at my cubicle/cell destroying my property. She just wouldn't go against the Good Ol' boy system.
Violations of misconduct by staff, when confirmed (Notice the words "When confirmed") are addressed in accordance with established administrative procedures. Such decisions are considered confidential (Notice the word 'Confidential') and not released to the general public. TDCJ and Ombudsman both work as the outside cops. When a C/O has violated policy or harassed a prisoner, a wall of silence instantly goes up and things are quietly swept under the rug.
The reply my sister received means: Even if C/O Brewer is guilty, it will be covered up by the good ol' boy system that's designed to never admit wrong. I was housed at the dorm area from 2017 till 2021 with no altercations of this sort. After I wrote the first article, full retaliation was enforced. When it got really bad, my sister filed the complaint. 46 days after filing, the same C/O Brewer, who the complaint was filed against, showed up at my cubicle with his supervisor SGT Hom, to place me in handcuffs.
I was escorted to a segregation cage, which had no restroom or running water. I was stripped searched and left in those conditions, under extreme heat without relief (water, fan, restroom break), on a hot July day. I was there from 9 am till 4:30 pm. I was denied water and was forced to urinate in bottles that an SSI had to sneak to me.
Just one example of the injustice prisoners have to endure at the hands of the oppressors. Which politician, with a nice desk, watches over the oppressors, who enjoy violating prisoners rights and get off on abusing their power? I will continue to expose a corrupt system that's in real need of prison reform. And to accomplish that goal, the prison reform needs to start with its own C/Os.
I see parole March of 2022, after 2 three year set-offs. If something happens to me, comrades the answer as to why, is in your hands. Thanks to each of you. May God walk with each of you.
Respectfully Always,
"End the Prison System"
"Give Power to the people"

Related Articles: