September 9: Prisoner-on-Prisoner Hostilities Cease 4 the Day in California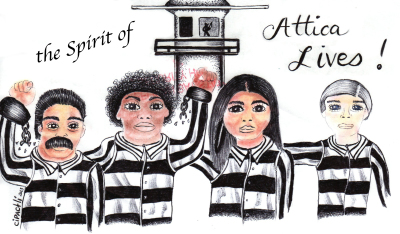 September 9, 2016 was the fifth annual Day of Peace and Solidarity, a United Struggle from Within solidarity demonstration in prisons across the United $tates. On this anniversary of the Attica uprising people came together to draw attention to abuse of prisoners across the country while building peace and unity. This demonstration was initiated in 2012 by an organization participating in United Struggle for Peace in Prisons and has been taken up as an annual UFPP event, with people committing to participate in prisons across the country. Actions include education, exercise, fasting, work stoppages, and more. Here we have some initial reports from this day from comrades at High Desert State Prison in California, and we look forward to printing more in the next issue of ULK. Send us your reports!
Education: Building the Movement

from E6X.20
August 2016

First I would like to thank the comrades willing to study and struggle with Abolitionists From Within (AFW) here on C-yard, for having the heart to step out and shake hands with the different ethnic groups and put an end to the hostilities with peace on their tongue during Black August. Our study group has been growing throughout the cells here at High Desert C-yard, despite many setbacks of harassment from the pigs here and there. As I continue to share literature with the comrades and this year's study group, I introduce them to MIM(Prisons) and United Struggle from Within (USW). I remind every comrade that everyone's struggles are different (state of mind). If you know what the problem is our job as comrades is to help come up with solutions to combat the problem for our comrades. But in order to do anything to advance the struggle we must be organized in order to help one another, we must set tribalism to the side! And set aside all of our differences as well as our past beef and come together collectively in an effort to accomplish our goals: Peace, Unity and Growth among the oppressed masses.

AFW is back on the move for the second year here at High Desert State Prison (HDSP), bringing together a cohesive front in reflecting, fasting and uniting to honor those nameless and faceless men of Black August and Attica (1971) by coming together in solidarity. This year we put the issues of today on the table:
Who is your neighbor? Always remember racism is an idea that is the product of imperialism. And AFW, USW and MIM(Prisons) are all in agreement with anti-imperialism!
What will help us improve our material condition? First we must start off with our neighbor, each one teach one no matter the color.
Understand the prison system. The system operates through criminal justice institutions, but functions more like a caste system than a system of crime control.
Comrades, wake up! Understand the racial caste system; they don't require racial hostility or overt bigotry to thrive, they need only racial indifference. Wake up young Afrikan! Mass incarceration in the U.S. is a comprehensive and well-disguised system of racialized social system. Comrades, help me help us organize and advance our struggle forward for peace throughout C-yard.
Solidarity

from E6X.20
September 2016

Abolitionists From Within is back on the move on this September 9 Day of Peace and Solidarity with all Freedom Fighters and to commemorate and never forget about the Attica uprising. To my comrades around the country who took a stand today, I stand in solidarity with you. And remember the fallen comrades and the spirits that live on.

This is the AFW's second year demonstration at High Desert (HDSP). Last year I was on D-yard as I know my comrades are on the move. Stop the madness, don't forget who the real enemy is. Here on C-yard the cells are growing. I would like to thank all the comrades for participating, and the study group comrades who are fasting with us today in my unit, and my Chicano comrades who had the courage to share with me the Under Lock & Key I pass out. We reread articles, talk about it in great detail, clarify with my comrades and spread enlightenment about the history of the Attica uprising and the history of the September 9 Day of Peace and Solidarity, and remembrance of the fallen comrades. As each comrade in our unit continues to struggle and agree on the best solutions in attacking our issues that are inflicting us today, I encourage each cell to do the same in their unit.

Here on C-yard was nothing but peace today in solidarity with the movement and with the Attica freedom fighters. Thanks to MIM(Prisons), USW, United Front for Peace in Prisons, Agreement to End Hostilities and all my comrades who took a stand today.

We can only change our conditions for the better by struggling together.
Unity

from J-DOG II LX
September 2016

September 9 will never be an ordinary day for me again. When I was approached with this novel idea of showing solidarity for this 24-hour period I jumped at the idea. Why? Because day in and day out I deal with prison politics, but it's not the politics that bring us better prison treatment, it's politics that keep us at odds with each other over petty b@#%s#@! Brothers like George Jackson gave the ultimate sacrifice so that we could have a lot of the privileges we have now. I'm sure the brotha would be very disappointed at how s#!% is now. We've seriously forgotten who the real enemy is, and until we start showing more unity among ourselves this machine that holds us as modern-day slaves will continue to win.

Whether we want to believe it or not we are all brothers in the struggle. From Soledad to Attica, High Desert to Sing-Sing, and all in between. We are all dealing with the same systematic incarceration. So this September 9 I wanted to be an example of what Unity could bring. I refrained from any yard politic and refused to entertain any backbitting on another brother. I did not sell or use any drug, nor did I give any to my brothers. Healthy mind, healthy body. Although I don't like doing burpees I joined my brothas in a 45-minute test of endurance. For that 45 minutes we were as one. One unit pushing each other to keep going, can't stop, won't stop, our cadence rang loud: Unity! I took the time to stop and ask my brother "how are we today," "can I help you with anything?" These things probably went unnoticed to the yard masses, but I didn't do it for recognition. I did it because strength, kindness, and comradery is infectious. If I infected one brother I've accomplished what I believed could be done.

Now that I've been enlightened to what brothas have been doing for years on September 9, I must continue to push, pull, stride, for unity. I too have lost sight of the power of unity and it feels good to care about something or someone other than yourself. So thank you to my little brother in this struggle for infecting me with this knowledge, and to all my brothers in this struggle from Cali to NY and all in between. From the words of the late great Tupac "Keep ya head up." If we make it through the night, tomorrow's a brighter day.
Sacrifice

from DM dot LOC
September 2016

In from the cold, it feels great to be embraced by enlightened kinsmen from the AFW. Solidarity Day (September 9) is fast upon us. Some type of sacrifice is needed. Myself I pledge to fast and refrain from cursing and illogical rhetoric. I hope all comrades who participate can stay steadfast and maintain their discipline.