Shut Down TX RHU, a Tool of Political Repression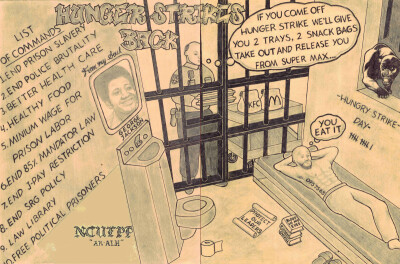 In the recent history surrounding Texas prison reform there has been an erasure surrounding the plight of those held captive in solitary confinement as it's practiced by the Texas Department of Criminal Justice's(TDCJ) Restrictive Housing Units(RHU). There are numerous groups and persyns who proclaim that they advocate for the interests of the Texas prisoner class, but their class interests prevents them from aligning themselves with the objective struggles of this prison system's cast-a-ways in RHU.
Many of these groups whom i've had the choice opportunity to dialogue with via correspondence, or have spoken to captive representatives of these groups, have fallen into the keeper's trap of the 'violent' offender as the new boogey man. This line of thought ultimately concedes that those of us trapped in these isolation tombs deserve such conditions, that we're beyond redemption. Sometimes, such persyns spew the rhetoric that We in solitary are actually well-off, and living a privileged existence. They say, 'your food is brought to you, your laundry, and everything else' They assert that all We have to do all day and night is basically chill, and We should be appreciative. Some officers express a form of jealously, that We don't pay bills, yet have a handful of privileges, and seemingly unlimited downtime.
What people like this do not understand is that solitary confinement as it is practiced via TDCJ's RHU, is an artificial environment. By artificial this means that it is an unnatural habitat. It is unnatural to relinquish all civil and domestic responsibility from humankind. We must also pose the question as to whether or not such circumstances are productive for the individual or the society? Of course not! Who benefits from the cultivation of a sub-class of people who're forcefully and entirely dependent upon everyone else in the society, and do not provide any sort of productive function in return? When humans cultivated civilization the world over and social responsibility was entrusted to those of the peer group, these responsibilities were not merely for the betterment of the social cohesiveness, but also for the better and more balanced function of the individual as well. In short, humyns need to be engaged in meaningful and proactive activities in order to function at their highest levels of consciousness.
The conditions of TDCJ's solitary confinement debilitate rather than rehabilitate thousands of people each day. i've spent 8 1/2 of the last ten years in solitary confinement. At no point in this time frame have i ever had the opportunity to take part in any form of organized instruction. i entered these isolation tombs as a politically ignorant cast away. i've evolved, and redeemed myself via my own independent efforts, without the interference or assistance of my keepers. Despite the state's stated mission to have the best interests of the general public at heart, their true motives and intentions for their warehousing of so many prisoners is clear. This class of people who at any time find themselves confined in RHU are intended to be kept in an unending state of dependence and politico-economic alienation. This is even, and especially, after release. It is with this notion that i assert that it is this class of prisoners whom embody 'paper-citizens' in amerika, as coined in the 'New Afrikan Declaration of Independence'.
New Afrikan revolutionary nationalist political prisoner Mutope Duguma articulated one profound statement, 'Ask yourselves why is it that so many New Afrikans who have a strong political line just happen to be locked up in solitary confinement units. We know they are not terrorists, We know they are not gang members & We know that they are not criminals.'
The organization and movement proactively mobilizing Texas' captive population is known as Tx TEAMONE. We're an organization founded for and by the captives themselves, not by opportunistic outside (or inside) elements, but by proletarian conscious prisoners. One of Our main tactics in Our Mission of elevating the socio-political commitment and awareness of Texas' lumpen class, is the prisoner-led mobilizing for the abolition of solitary confinement as it's practiced by TDCJ's RHU.
A Case Study on Why RHU must Go!
Beginning with the general and moving to the particular, a conscious observer can readily notice that around the empire, from state to state, politically active prisoners are being held in the most barbaric, and unthinkably repressive conditions imaginable. Almost invariably these captives are sitting in solitary confinement cells. The few that aren't are being shipped from state to state, sea to shining sea in a federal effort to ostracize these captives from their political base(s).
Solitary confinement advances the same purpose within each prison facility. A politically active captive's political base begins with their peers whom are also in captivity. The productive revolutionary behind the walls is the one who's successful in organizing their peers behind a revolutionary program. (think; Attica; Angola BPP etc) Therefore, the tactical use of solitary confinement to quell revolutionary organizing has been a re-occurring reality in prisons around the world in the imperialists' task of keeping the masses of people blind, deaf, and dumb to the socio-political truths of Our collective predicament as oppressed nation people in the era of imperialism.
Whether We look to Califas, where revolutionary New Afrikans were kept warehoused in SHU's, or in Indiana were Bro. Kwame Shakur is being tortured in a SHU, or the domestic exile of Shaka Shakur, or the thousands of unnamed, lower-profiled politically active prisoners, New Afrikan or otherwise, it is clear that long-term and indefinite solitary confinement is being utilized to strategically remove political dissent off the face of the amerikkkan empire.
In tekkk$a$, there is a long hystory of not only warehousing political dissenters, but assassinating them. In June of 2000, innocent death row captive, Shaka Sankofa s/n Garry Graham, was murdered by the state of tekkk$a$. Not only had evidence came out that Shaka was innocent but he, unlike most of death row prisoners or prisoners in general, had become politicized while in captivity. Garry Graham revolutionized his self into Shaka Shakur, a New Afrikan revolutionary. Consequently, tekkk$a$ saw him as better off dead than alive as a freedom fighter. Six years later Shaka's comrade Derrick Frazier, aka Hasan Shakur, another innocent Black captive whom while on tekk$a$' death row revolutionized his self into a New Afrikan 'revolutionary socialist to the 10th power'. He too was subsequently executed on Black August 31st 2006, while serving as both the founder of the Human Rights Coalition-TX chapter, and Minister of Human Rights of the then-named New Afrikan Black Panther Party. Lastly, yet not for lack of more victims, there is the case of Sandra Bland, a New Afrikan womyn and activist who was mysteriously found dead in a tekkk$a$ county jail.
i think it is logical to pose the question that, if the deceased freedom fighters had not been politically active New Afrikans, would they've still met the same fate? For We know and it has been substantiated by the recent International Jurist's verdict, that there has been/is a systemic genocide against New Afrikan, and indigenous people in north amerika. We also know that those who possess a revolutionary orientation are the people's only hope of defeating this genocide, and of course this reality renders such political prisoners as prone to enemy attack and sabotage.
tekkk$a$ has warehoused and isolated political prisoners in what is now called RHU for decades. Revolutionary Chican@ political prisoner Xinachtli has been in such a predicament for over 20 years. Xinachtli was signaled out for assassination by sheriffs in Brewster County tekkk$a$, for his legal advocacy for a Chican@ death row prisoner who in turn wasn't killed by the state. Xinachtli defended his self by disarming the pig sent to murder him and for exercising his humyn right to self-defense this comrade has languished in prison for over two decades, most of which in solitary confinement.
Recently officials of tekkk$a$' prisons have identified Texas TEAMONE cadre as 'enemy combatants' and singled key members out for indefinite solitary confinement (for those who weren't already serving indefinite terms), unprovoked cell raids, in which the only confiscated materials are ones' outside contact information. Cadre have been victims of harassment by illegally confiscating typewriters of journalist comrades, illegally disappearing mail, and upping the level of publication censorship – specifically that which is politically orientated.
In a recent twist, this writer was recently sentenced to 'life without parole' in solitary confinement. After some officials had elected to release Triumphant from solitary, those in the know regarding ey's political orientation and activity demanded this comrade be retained in such conditions. Even going as far as scratching out the handwriting which stated that Triumphant shall be released. When asked for the reasoning for said continued confinement, officials listed 'LWOP'. Of course this sentence, placed on Triumphant's shoulders unjustly, will not remove itself from reality in six months when the next arbitrary hearing is to take place. Therefore, the state has announced that it intends to confine, isolate, and destroy, yet one more New Afrikan political prisoner in order to perpetuate amerikkka's genocidal campaign against the oppressed nations of the globe.
In case it still is not clear to you. All freedom fighting peoples, those outside and inside, have in their best interest to work with TX TEAMONE as We struggle to politicize tekkk$a$' captive population, while doing just that We are even more determined and justified in Our quest to abolish long-term and indefinite solitary confinement in TX prisons and prisons around the globe.
FREE ALL CAPTIVE REVOLUTIONARIES
DARE TO INVENT THE FUTURE !!!