Tactical Lessons from Historical Lucasville Struggles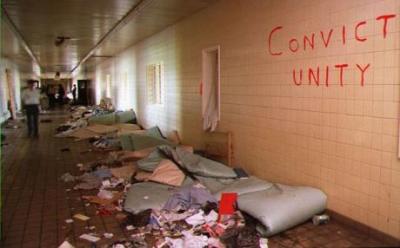 Lucasville: The Untold Story of a Prison Uprising
Second Edition
Staughton Lynd
2011, PM Press

Condemned
Keith LaMar (Bomani Hondo Shakur)
2014, www.keithlamar.org
In April 1993 there was an 11-day occupation of Southern Ohio Correctional Facility, starting on Easter Sunday when the maximum security prisoners overpowered correctional officers (COs) while returning from recreation. During the occupation, eight COs were held as hostages; one was killed and the rest were released. Nine prisoners were also killed through the course of this uprising, all by other prisoners. The 407 prisoners surrendered when the administration committed to a 21-point agreement. After the uprising, five prisoners were sentenced to death for the murders, and they are the only people held on Ohio's death row.
Lucasville: The Untold Story of a Prison Uprising and Condemned are good books to read together, and give two thorough accounts of the events of the SOCF uprising, and even more thorough detail of what happened afterward. Lucasville is written by Staughton Lynd, a lawyer who plays a significant role in Condemned, which was written by Keith LaMar (Bomani), one of the people condemned to death for the events during the uprising. The content in these books overlaps a lot, but not too much as to be redundant. What content is repeated through the two books just underlines lessons learned, and clarifies the authors' political orientations, some of which MIM(Prisons) does not agree with. Rather than write a point-by-point criticism of these books which most of our readers will never have the opportunity to read anyway, below we summarize some of the lessons on prison organizing we gleaned from studying them.
Condemned recounts Bomani's first-hand experience before, during, and after the uprising, especially focusing on the struggle of the five prisoners who were scapegoated for the uprising (known as the Lucasville 5). Condemned is a good case study on many common aspects of prison organizing. Lynd's book describes all the work it took, and all the obstacles the state put in place, to support the Lucasville 5's struggle from the outside.
The first theme addressed in Condemned is the author's ideological transformation. MIM(Prisons)'s primary task at this point in the struggle is building public opinion and institutions of the oppressed for socialist revolution, so affecting others' political consciousness is something we work on a lot. On the first day of the uprising, Bomani was hoping the state would come in to end the chaos. But "standing there as dead bodies were dumped onto the yard (while those in authority stood back and did nothing), and then experience the shock of witnessing Dennis' death [another prisoner who was murdered in the same cell as the author], awakened something in me." Bomani's persynal experiences, plus politicization on the pod and thru books, are what led em to pick up the struggle against injustice.
At an event where Bomani was publicizing eir case and experience, a MIM(Prisons) comrade was able to ask em what go-to books ey recommend for new comrades who are just getting turned on to the struggle. Bomani suggested Black Boy by Richard Wright, and also refers to Wright in Condemned. MIM(Prisons) would second this recommendation. Black Boy is an excellent study of New Afrikan life under Jim Crow in the South, with many aspects of that struggle still continuing in this country today.
In eir own book, Bomani also recounts acts of prisoner unity against the administration shortly following the uprising, and how politicization of fellow prisoners played out in real life. The prisoners made a pact to trash the range each day, and not clean it up. The guards cleaned the range themselves for a few days, but then brought in a prisoner to clean it up. Simultaneously, the "old heads" on the pod were leading speeches nightly about the need for unity and the relationship between the prisoners and the administration, politicizing everyone within earshot.
"Every night there was a variation of this same speech, and I listened to it over and over again until something took root in me. I became openly critical of the mistreatment we had all undergone and, for a few months at least, was serious in my determination to persuade others not to join the administration in the efforts to further divide and conquer us."(Condemned, p. 33)
A tactic that was mentioned in passing in Condemned was how the prisoner who was cleaning the range for the pigs was dealt with. Ey was struggled with for a period of time, and asked to not clean the range, but ey came back day after day. Eventually this prisoner was stabbed by the protesters for continuously undermining the action. Bomani doesn't mention how this act impacted the unity demo, whether it helped or not. We aim to minimize physical violence as much as possible, although sometimes it may be necessary. It is up to those who are on the ground to make the call in their particular conditions, and this tactic should not at all be taken lightly. If much physical force is necessary to maintain a peace demo, then we should ask ourselves if the masses we're organizing are ready for that type of demo. Political education is always our focus at this stage in the struggle.
Both books address how a protest with solid participants can fail or succeed depending on the protest's outside support. Several hunger strikes were launched, and ended, without progress made on the demands. It wasn't until connections were made with outside advocates and media that prison officials took any steps toward fixing them. Especially in an instance where a lawyer met with the regional director of the Ohio Department of Rehabilitation, which led to some property restrictions being lifted.
Recalling a victory from a 12-day hunger strike which had a lot of outside support,
"When the administration refused to follow their own rules, we complained (verbally and informally) and then asked a district judge to intervene on our behalf, all to no avail. It never occurred to us that we were wasting our time by appealing to the very people who had placed us in this predicament we were in.

"Indeed, the whole process of redressing our grievances was nothing more than an exercise in futility designed to drain off our vital energy and make us feel as though we had done all that we could do.

"It was only when we began to write and reach out to 'the people' that things began to change. First, there was Staughton's book and accompanying play; then we began holding 'talks' around the state on various college campuses, as well as writing articles in various periodicals. In this way, we were able to generate some much-needed support."(Condemned, p. 179)
To combat the psychological warfare of the prison staff, Bomani strongly recommends daily meditation and yoga as a method to protect oneself. "By learning how to watch my thoughts [meditate using simple breathing exercises], I was able to rise above the vicious cycle of cause and effect, and thereby avoid the tricks and traps of my environment."(Condemned, p. 133)
MIM(Prisons) receives regular requests for information on sovereign citizenship. While we've written against this tactic at length elsewhere, Lucasville underlines it with an anecdote about three prisoners who cut off their fingers and mailed them to the United Nations to show how serious they were in in their claim of sovereign citizenship. The request was still denied.
A final lesson from these books, especially recounted in Lucasville, is that in any attempt at solidarity and justice for the oppressed, prison officials and other oppressors will do everything they can to undermine it. Everything. We should never expect that our enemies will act in good faith toward respecting us and our needs. We should always expect pushback and always expect that they will attempt to derail us at every step of the way. Studying past struggles for clues on how we can protect our movement will only make our job easier. The state is taking notes on our shortcomings and we need to do the same of both our shortcomings and our strengths.

Related Articles: