PALESTINE: Revolutionary Nationalist Prisoner Reaches Agreement In 140 day Hunger Strike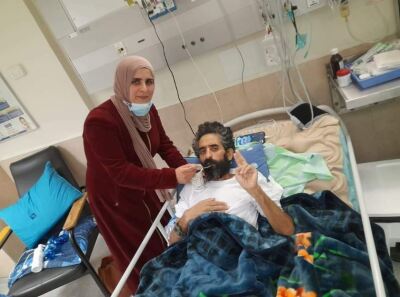 On 28 December 2021, Hisham Abu Hawash of the Islamic Jihad Movement in Palestine has gained victory against I$rael's counter-revolutionary policy of "administrative detention." Hawash's lawyer, Jawad Boulos, has stated that I$rael pledged for Hawsah's release on 26 February 2022 and therefore the hunger strike will end.(1)
Hawsah is a 40-year-old father of 5 and a member of the Islamic Jihad Movement in Palestine. He is among several Palestinian revolutionaries waging a hunger strike in protest of I$rael's unjust policy of administrative detention. He has faced 8 years of time imprisoned with 4 of those years under administrative detention.(2)
The Islamic Jihad Movement in Palestine (PIJ) rightfully threatened counter-attacks if Hawsah ever died in custody.(3)
Palestinians across the occupied land have gone in protests supporting the strikers. One protest in the West Bank city of Ramallah, on 6 January 2022, included signs which read: "Those starving behind bars feed the universe with dignity" – a slogan we extend to hunger strikers not only in Palestine but across the world.(4)
The Reactionary Policy of Administrative Detention
Administrative detention is a form of arrest or imprisonment done without trial – usually for issues of "terrorism" or rebellion. Many imperialist countries use the tactic of administrative detention.(5) In the United $tates for example, around 182,869 migrants from the Third World were held in detention centers through this method in 2020.(6) Despite the more advanced and developed contradictions between Israel and Palestine, compared to oppressed nations in North America and the United $tates, I$rael held a mere 1,595 Palestinians in administrative detentions. Amerika has truly earned the title "Big Satan" in contrast to I$rael's "Little Satan" status on this front.(7) The administrative detention policy of the I$raelis work through the arrest and detention of Palestinian revolutionaries and activists. The idealists arguing for I$rael will say that administrative detention has been applied to I$raelis as well – notably, against ultra-chauvinist zionist terrorists and unruly settlers. Throughout the years, only 9 I$raelis were held in administrative detention; Palestinians and Arabs number in the thousands.(8) Any sober minded person and materialist will be able to recognize that the exception proves the rule in this case like so many often times.
DOWN WITH ADMINISTRATIVE DETENTION!
THOSE STARVING BEHIND BARS FEED THE WORLD'S DIGNITY
Notes: 1. Joseph Krauss, "Palestinian prisoner ends hunger strike in deal with Israel" Associated Press, January 4th 2022
2. Ibid.
3. Ibid.
4. Ibid.
5. "Israel's Policy of Administrative Detention," European Parliament
6. "United States Immigration Detention Profile," Global Detention Project
7. "Prisoners society: Israel issued 1,595 administrative detention orders against Palestinians in 2021," Press TV
8. "Stop Administrative Detention," Prisoner Support Human Rights Association