The Common Colonial History That Led Us Here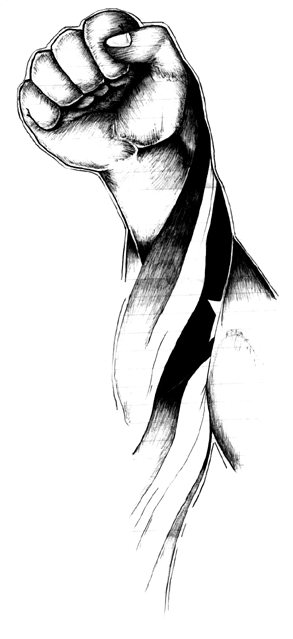 For Afrikan people in the United $tates, captivity began in Afrika when we were captured and confined in slave forts like the Gold Coast's Elmina and Goree Island's "House of Slaves". From those colonial forts we left Afrika in chains and shackles through the "Door of No Return" and we were transported to the Americas in the bowels of slave ships. Afrikans were dropped off in various places around around the world, and what is now referred to as North America, in chains and colonized here to work as slaves on the plantations of the settler-colonies of European imperialists.
As slaves we were chattel owned as private property, becoming the first commodity that gave rise to a global colonial-capitalist system. Slavery was absolute captivity with complete deprivation of life. The only means by which Afrikans could seek freedom was by revolt or escape, which is something we've struggled to do since our first initial capture from our homeland.
Colonizers' plantations were forced labor camps where Afrikans slaved in the fields and were housed in hovels and fed slop. We were forced to work day in and day out, suffering severe beatings and some of the greatest acts of cruelty to force our submission. If we escaped, we were hunted and tracked by slave catchers with guns and bloodhounds. Once caught, we were brought back to the plantation from which we fled. Escaping slavery was a crime that was punishable by flogging and lashing, branding, mutilation and death. After 13 of the settler-colonies within North America consolidated into the "United States," slavery was expanded to new territories as the colonizers continued stealing more Indigenous land, or killing them, like the case in the Caribbean island of Puerto Rico. It continued to reap the filthy lucre of the dirty business of the flesh-peddling slave-trade and the human trafficking of slavery until slavery was finally abolished after the Civil War – an intra-conflict between two rival settler-colonialist groups – the Union versus the Confederacy. With the abolition of slavery, Afrikans ceased to be formally held as slaves, but we remained colonial subjects all the same as colonialism continued to rule and regulate every aspect of our lives through the brutal exploitation of our labor through sharecropping, peonage and court-leasing.
As we have seen, U.$. administrators – Republican and Democrat alike – asserted their right to interfere directly in the domestic affairs of countries in Central America and the Caribbean for the sake of "national interest". One island nation, however, remained under permanent Amerikan control. Puerto Rico became part of the United States as a result of the Spanish Amerikan War. In July 1898, in retaliation for the sinkage of the U.S. vessel Maine in Cuba, Amerikan troops disembarked in Puerto Rico, instigating the country's first act of European-style colonial expansion. The island thus became the pawn in a war between Cuban patriots and Spanish garrisons. It had not expected military occupation, quite the contrary, Spain had already agreed to grant Puerto Rico autonomy and to devise some sort of "house rule" for the island. The U.S. invasion changed all of this. Suddenly, Puerto Rico became a crucial factor in U.S. global strategy – not only because of its potential for investment and commerce, but also because of its geopolitical role in consolidating U.S. naval power.
But there remains a basic question: Why did the U.S. take Puerto Rico as a colony while helping Cuba achieve independence?? The difference may well reside in the histories of the two islands. There was a large standing armed insurrectionary movement against Spain in Cuba. Puerto Rico, however, was on the way to a negotiated settlement and could present less resistance to outside forces. Puerto Rico thus became caught in a complex struggle between major powers and Cuba's insurgents.
During the colonial period, the island had served as a supporting military garrison and commercial center for Spain, roles that intensified as the slave trade reached its peak in the 1700's. Sugar production became the predominant agricultural enterprise. There were also small farmers, jibaros, rugged individuals who cultivated staple crops and helped maintain a diversified economy. Because of this, the slave population always remained a minority. After 1898 residents of the island had no clear status of our land. In 1917 they were granted citizenship in the U.S. due to W.W.I. In 1947, nearly half a century after the invasion, Puerto Rico was permitted to attempt self-government. In 1952 the island was granted "commonwealth" status within the United States. Puerto Rico at this moment is the oldest colony in the world.
The 13th Amendment to the U.S. constitution, often believed to have formally abolished slavery, simply limited slavery, making it a punishment for crime, and that punishment was imprisonment.
Therefore, slavery became a penal servitude and prisoners became "slaves of the colonial state". Prisons became slave labor camps and being sentenced to prison was to be forced to do "hard labor". It was a sentence of forced labor in addition to a term of imprisonment. This was where the term "hard labor" came from. As a direct result of black codes developed specifically for our people, Afrikans were arrested for petty violations of those codes (other ethnic groups of minority also: Latinos) and sent to prison where we not only toiled in slave labor camps and worked in chain gangs, but were also contracted out to private companies to work for railroads, mines and mills.
We became the new slaves in a new convict lease system that was created by colonial capitalism so that it could acquire a steady supply of cheap labor to exploit for the greatest profit without paying for that labor because we were slaves of the state. After enduring the captivity of forced chattel slavery, Afrikans began to endure the captivity of imprisonment under colonialism. We went from being slaves on plantations to convicts in prison.
Colonialist law was established and created to protect the colonial system and primarily criminalize and punish Afrikans and other colonized peoples – Latinos.
During the Black Revolution of the 1960's, the police arrested and jailed Afrikans such as Fannie Lou Hamer for "civil disobedience". They arrested Huey P. Newton and Geronimo Pratt on trumped-up charges. At that time the voices of Puerto Ricans to be recognized as a nation joined hands with the Black revolution in the struggle against the U.S. empire. Oscar Lopez, Alejandro Torres, Antonio Camacho, and many more were railroaded to prison. The FBI asassinated leaders like Malcom X, Dr Martin Luther King Jr., Fred Hampton through COINTELPRO. In 2005, Filiberto Ojeda Rios, leader of EPB "Eercito Popular Boricua" better known as the Macheteros, was assassinated in Puerto Rico by FBI agents. Those who were captured and thrown in prison became political prisoners and prisoners of war.
At the height of the Black Revolution, the CIA flooded Afrikan colonies (to the United States Puerto Rico is considered another Afrikan Colony) with heroin from the golden triangle in southeast Asia where it had long worked to finance its covert operations against China at the same time the U.S. was waging a war of imperialist aggression in Vietnam. With this process of narcotization our communities fell completely under control and influence of drugs: the illegal drug business and drug traffickers began a deadly epidemic of addiction. The war on drugs was escalated by Ronald Reagan with the beginning of the crack epidemic, started after the CIA flooded the Afrikan community with the drugs from Central America, funding dirty wars against Nicaragua. It led to increased militarization of the police, tougher drug laws, and the greatest prison build-up in history. Afrikans and Latinos became the main causalities of that war.
As prisoners, we are just bodies that fill cells in prisons, situated in economically depressed rural areas, producing jobs for settlers.
Today, Amerika has the largest prison system in the world. More Afrikans are now convicts in prison in 2022 than they were slaves on the plantation in 1852, and hardly have any more rights than we had when we were slaves.
Crime simply provides the justification for locking us up behind the razor-wire electrified fences. Imprisonment is an integral and indispensable part of the colonization and of Afrikans and Latinos in the United $tates. I was born and raised in Puerto Rico, my father a black Puerto Rican and my Mother a white Puerto Rican; as colonial subjects we have always been captives of Colonialism.
The imprisonment in the U.S. will only end when we throw off the chains of colonial-capitalism and free ourselves from the rule of the colonizer.
We, all minorities, Blacks, Latinos, etc need to come together under the same line of thinking – I encourage every one to educate yourself, know your history, know your past, know your culture. It doesn't matter how dark the color of your skin is, what state or country you're from, in prison there's only two uniforms – the prisoners and the guards – remember always which one you wear. The only way to beat this monster is by uniting, and come together as one body.
ALL Power to the People!