The New Corrections Cage Matches (Another Method of Execution on SQ's Death Row)
This update incorporates the "health and safety concerns created by Housing Cage Staging" grievance submitted on 21 July 2021. A bullet point appears before text from the grievance. An asterisk appears before comments/explanations of the text for readers not familiar with terms, misnomers, and other devices prison officials implement to obscure the big picture.
Current policy forces prisoners from both sides of East Back (EB) to be in close proximity to each other (forced under threat of CDCR115)
*A "CDCR115" is an infraction. Repeat infractions of this particular variety leads to punitive solitary confinement resulting from what is called "program failure." Prior to and while being classified program failure, loss of privileges, i.e. phone, canteen, packages, etc. are imposed. But who is it that's not playing by the rules?
Administrative level prison officials and their supervisory staff are directing policy which discourages prisoners movement by presenting prisoners with an ultimatum to either be placed in danger of exposure or decline transport to destinations i.e. medical appointments, law library, visits, mental health programs, and get a 115.
*For clarification, San Quentin Death Row prison officials refer to these holding cages as "holding cells." The misnomer obscures the fact each is constructed of steel grate. The cage is approximately 3 feet wide (front to back and side to side) with no solid partitions between them.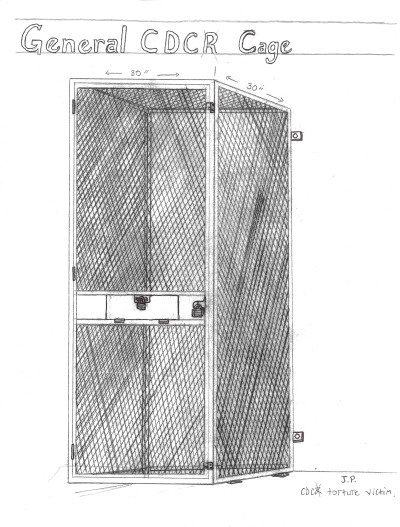 If prison officials continue promoting/demanding social distancing (even outdoors as with the "one side of EB per day" modified yard policy) then also continue staging prisoners in cage rendering social distancing impossible inside the unit (known to have inadequate ventilation) that would demonstrate an extreme lack of care – a criminal act under PC2652 (aggravates under threat).
*Prison officials know or should know placing prisoners in close proximity makes them susceptible to exposure to any number of COVID-19 variants. Yet not only do they demonstrate an extreme lack of care they're basically saying "get into the cage and be exposed or else!"
Housing cages are not even disinfected between uses.
*Death row prisoners going to and coming from various locations are staged in these cages before and/or upon return (see second bullet point of grievance/602-1)
Staging prisoners in holding cages is for the sole purpose of convenience not health & safety.
*Apparently due to custody staff's inability to maintain accurate lists of where prisoners are at any given time of day and lack of intelligence for search and escort (SE) officers, the cages are where prisoners are held once they are located by the desk officer who calls out names of prisoners over a loud speaker saying "get up and dressed" to the prisoner then saying "Tier officer bring them down to a Bay Side Holding cell" for whatever the case may be.
Current staging policy design causes yard release disruption/delays.
*Death row has 7 different yards (essentially split into 14 since only one side of EB goes out at a time). Yard release is scheduled to being 7:30 AM for these group yards but that does not happen. Further delay/disruption occurs as the desk officer halts yard release so the tier officers can escort prisoners with dictated medical appointments to the holding cages instead of releasing prisoners on their tier to yard. This disruption/delay design is relatively new.
The current holding cage staging policy has no validity in law or science regarding its deceptive benefits and potentially adverse effects.
*At the onset of the COVID pandemic CDCR demonstrated an extreme lack of care with regards to its death row population. It executed a dozen prisoners by lethal injection during a moratorium and still seems to be aiming for more with this housing cage staging policy. The grievance submitted 21 July 2021 concludes as follows:
Specific Action Requested: 1) Discontinue the double standard regarding social distancing. 2) Discontinue the policy design causing yards program disruption/delays. 3) Enforce 15CCR3271 without implementing retaliatory/punitive policy designs under guise of safety measures. 4) Stop threatening prisoners with CDCR115 violations who refuse to be placed in holding cages with these conditions. 5) Stop staging prisoners in holding cages knowingly endangering their health and safety by rendering social distancing impossible.
*using holding cages and/or congregate staging of prisoners in close proximity to each other going to or returning from medical appointments for a variety of symptomatic illness, facilitates the spread of a variety of viruses including but not limited to COVID-19 variants and influenza strains. The bottom line is: it is illegal for prison officials to knowingly endanger the lives of prisoners (See also 15CCR3271).