Thinking is Hard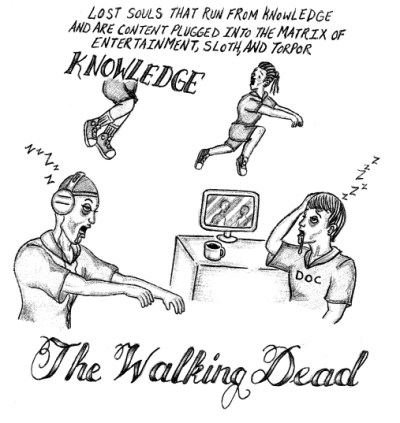 In hopes of getting a back issue of ULK (preferably issue 53 - with Texas reform updates) I shared ULK 59 with a few others. Most had something to say about the drugs in prison. The best way I can summarize most of the conversations is that thinking is hard and people are reluctant to do it.
Most who I talked to fall into two groups: either they do drugs as a way to escape, which I think is a psychological and environmental problem I can't say much about; or they do them to feel like they are "beating the man." These are the ones that will smoke openly in the dayroom, even if it means the whole building will get locked down. Explaining to them that they aren't beating the man when he's getting paid an obscene amount of money to bring it in isn't effective. Not sure where to go from there.
---
MIM(Prisons) Texas Coordinator responds: Directly contradicting a belief that someone holds strong enough to put a whole facility on lockdown is unlikely to change their mind, like this comrade has experienced. Peer pressure is often one huge motivator for people, and I'm honestly surprised that the rest of the prisoner population isn't shutting down people smoking in the dayroom, for their own persynal interests of not being on lockdown. A group of people telling someone to stop a behavior is much more impactful than one individual.
On an individual level, there are conversational techniques that are more or less effective, depending on the persyn we're struggling with. In this case, there's one technique that stands out to me to try: asking questions. Instead of coming at the persyn's belief head-on, try to show em the contradictions and illogical thinking in eir plan by asking questions and getting a really deep understanding of eir thinking.
So rather than saying "your belief is wrong," we can ask em "how does that work?" and actually try to get em to explain eir reasoning. Building trust by validating what is true about eir perspective ("you're right, we can't just sit around and do nothing") helps open em up to share more. The main goals in this kind of conversation are 1) to underline we're on the same team (us against the pigs), and 2) to try to understand where ey's coming from, and 3) help em come to eir own conclusions about what is wrong about eir thinking, and what ey needs to think about more. This is just one technique to try, and i would love others to write in on what's worked for em in dealing with this kind of problem.