UFAO Links Up with UFPP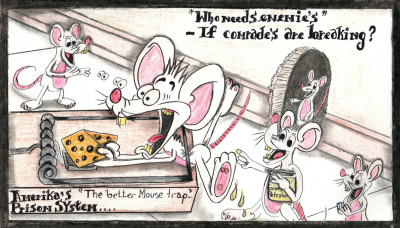 I'm writing concerning the ad in Under Lock & Key I read for the United Front for Peace in Prisons (UFPP). It was baffling, as it had every concept, principle and law that is in my Family's code. I am the Father of the United Family Against all Oppression (UFAO) and we would like to support the UFPP.
About 150 of us are currently at Macon State Prison and 20 of the Family are in other camps. I'm currently in the hole for going to war with the officers and the Bloods for breaking a peace treaty. I extend my hand in assistance to stop imperialism and oppression through paperwork or blood.
When the officers see Bloods, Crips, GDs, Muslims, Vice Lords, Piru, coming together, they don't know what to do. One day we were in the rooms meeting and no one was hardly on the floor. They came in telling us to lock down for no reason, just because they had the authority.
I had to use the scientific method in coming up with a peace treaty. I went around surveying the people of different parties about what makes them fight and kill each other. It's not the color no more, it's about different creeds stealing and tricking each other. So I came up with the antithesis to it, which was to give out prizes at chess and basketball tournaments. It had other things such as a poor box in each dorm where the UFAO is at, which is for everybody.
Nothing happened in the dorm I was in until the Bloods stole out of the box of the GDs and Muslims and they broke the treaty. So, me being the General didn't approve of it, so a war broke out. Because once you say you're revolutionary, your word and peace treaties mean a lot in my eyes.
I am also asking for guidance and support because people are getting free, going home, and I don't want the impression of a gang or drug lord. I'd rather finish what Assata Shakur, Martin L. King, Malcolm X, Frederick Douglass and other great leaders left off on. I'm open for all political and friendly advice. My goal is to support all oppressed people no matter their affiliation, and under a treaty with people with affiliations in gangs.
We as a whole must unite and become one family to end the criminal label that the United $tates put on us, to disguise what their gang is doing. Because they have abandoned and malignant hearts when it comes to power and wealth. And I'm going to stop the real terrorists at all cost.
---
MIM(Prisons) responds: We commend this comrade for pushing for peace on their unit, and for pointing out that the imperialists are the real enemy. It makes sense that in organizing the lumpen for peace, we will still see lumpen tendencies arise, like the one our comrade described above about stealing the poor box. Even though we're bringing people together for revolutionary reasons, we are still heavily influenced by our capitalist culture and indoctrination. We need to make it a priority to bring thorough revolutionary education to all the comrades we're working with, in order to combat this lumpen mentality of getting up on the backs of others, and undermining our struggles for peace.
Prisons are a volatile environment. And we're building for peace in prisons. It's somewhat ironic to enforce a peace treaty using physical violence. We should take this incident as a lesson that while we're discussing how to begin a peace treaty, we also need to discuss how we can hold others accountable to the peace treaty if they break it. Is a prison war the only possible method of accountability?
If anyone needs literature to help educate others about the role of the United Front for Peace in Prisons in our overall fight against our common oppressor, then write in for back issues of Under Lock & Key. If you've been able to develop a sound peace treaty and have experimented successfully with how to hold others accountable when they fall out of line of the treaty, then please send a report to ULK so we can grow stronger as a movement.