White Nationalism and the Prison Movement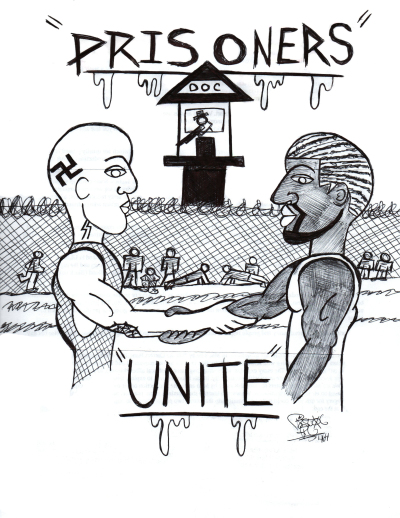 Issue 55 of Under Lock & Key is taking a deeper look at building the United Front for Peace in Prisons at the margins. We've already spent a lot of space debating the role people on Special Needs Yards (SNY), especially in California. While that is an issue we will need to continue to address, here we focus first on white nationalist lumpen organizations, that are more likely to be on the mainline, and how anti-imperialists might relate to them. We also have a few pieces looking at the question of sex offenders who are generally seen as pariahs. That topic is a subset of the SNY discussion. In this article we will focus on the white nationalist question, and the question of oppressed nations allying with whites in general. In many cases handling this question properly will have a big impact on our success, because there are a lot of white people in prisons and many of them team up with white nationalist orgs.
One commonality across these examples is the need to consider how people end up where they are. We print an example of someone taking sex offender charges out of expediency, and ey points out that many such charges are flimsy. In some cases sex charges are politically motivated bad-jacketing. We will also see many examples of people taking up white nationalism, to protect oneself and also just out of a youthful ignorance, something many in prison can identify with.
So there are a few principles of dialectical materialism that we should apply in our analysis of groups which are often considered pariahs of the revolutionary movement: 1) dialectics differs from metaphysics in that metaphysics believes a thing has an essence; 2) dialectics in contrast sees everything as always being in a constant state of change; 3) and we can best understand that change by looking at the contradictions within that thing, while also considering the external contradictions that may influence it (them). To put it another way, no one is born a white supremacist or rapist, and just because someone's actions were that way in the past doesn't mean they have to be in the future.
What is White Nationalism?
Elsewhere in this issue we talk about white nationalism as an ideology that is a product of imperialism. Another point we must stress when talking about white nationalism is it is the majority ideology among the oppressor nation under imperialism. Most of this issue will be dealing with extreme examples found in imprisoned lumpen organizations. But there is a whole range of white nationalist ideologies, and the lumpen organizations are not necessarily the most extreme. Because the imprisoned lumpen are in the trenches, they must be more scientific than the more privileged wings of the white nationalist movement, and their motivations are often quite different.
In our current political climate in the United $tates, "white nationalism" is a hot topic. It is being used to criticize President Trump and those around em. But most of this criticism is coming from the perspective that former President Obama was not a white nationalist. The split between the left wing and right wing of white nationalism is about how to best manage the oppressed, even when that is not how they think about it. If we recognize that the current imperialist order is one that puts whites in a position of supremacy, then we must conclude that any position that works to preserve that system is white nationalist. Or we may say Amerikan nationalist to avoid confusion when its proponents do not appear white. But even though some internal semi-colony people are sitting at the table, globally, white supremacy in the form of Amerikan hegemony is alive and well.
Initially, the question of how and when to strategically ally with white nationalists is a broad one, as it refers to how we might ally with the majority of people in North America. But within that majority there are different classes and political tendencies. And white nationalist prisoners may be at the top of the list of likely allies from that group.
Another argument for the importance of working with the white lumpen is the Marxist analysis of the lumpen as a particularly dangerous, wavering class. If this country is heading in a more fascist direction, white nationalist lumpen youth and former military will be the first bases of recruitment for the fascists. This concern applies to the lumpen in general, but the national split makes it a harder sell for the internal semi-colonies to take up fascism. As always, our strategy is to win over all who can be won over, not to set false limitations based on identity politics or preconceived assumptions.
More so than former military, the white lumpen have connections to the struggles of the oppressed. And it is the massive prison system in this country that we can largely thank for that. The modern prison system is an inherent part of the modern ghetto, which has been lumpenized. While segregation is stronger today in many cases in the ghettos, it is weaker outside of the ghetto. This translates into a stronger class divide within the oppressed nations. The extent of this divide in the white nation is something that requires more research. But from the information we have, white prisoners are much, much more likely to integrate into petty-bourgeois society rather than be caught in a ghetto-like situation upon release. But as long as they remain in prison, whites do experience that ghetto life and the most brutal repression that we have in this country.
Young Patriots, White Lumpen Revolutionaries
One of the best examples we have of white lumpen youth forming an anti-imperialist organization was the Young Patriots Organization, which started in Chicago in the late 1960s. Soon the offshoot Young Patriots Party spread the movement to other parts of the United $tates. Their example demonstrated both the potential and limitations of such an organization. As long as there are pockets of whites that face similar conditions to the oppressed nations, as they do in prison, a revolutionary organization that can speak to and organize white lumpen will strengthen the cause of anti-imperialism. However, the Black Panthers, in particular Bob Lee and the leadership of Fred Hampton, played a very hands-on role in the development of the Young Patriots. In general history does not lead us to expect revolutionary white organizations with correct political lines to take hold in North America without good examples from the internal semi-colonies.
Even after becoming established, the Young Patriots were very limited by the reactionary nature of their own nation. The Patriot base was displaced southern whites who ended up in urban ghettos; a much smaller group, but parallel to the New Afrikans who made the Great Migration. When the Patriots returned to the south they were not received well. Two of the members were killed shortly after returning to the south, because of their organizing.(1) In other words, we are looking at exceptions to the rule where there are pockets of whites who are both separate from the oppressed nations but still living very similar lives and in proximity to them. When Peggy Terry of the Young Patriot-associated organization Jobs or Income Now (JOIN) ran for vice president, with Black Panther Eldridge Cleaver as the presidential candidate in 1968, they received a mere 28,000 votes in California. In contrast, the openly racist George Wallace campaign got 500,000 (almost exclusively white) votes.(2) And finally, for most of their existence the Patriots had more spies watching their organization than they had members.(3) This security issue is something others have pointed out with white nationalist lumpen organizations in prison that can be swimming with federal agents.
Often the Panther rhetoric spoke of the Young Patriots as representing "white power" in a way that was parallel to the Panthers' "Black Power" and Young Lords' "Brown Power". While we generally disagree with that line, the Panthers later called out all other white groups as "fascists" with the exception of the Patriots. The Patriot culture flew in the face of the rest of the white anti-war and student movements, including their confederate flag logo. We might draw a parallel to the Lucasville prison uprising in Ohio in 1993, where it is reported that swastikas, lightning bolts and words like "Supreme White Power" appeared alongside graffiti throughout the prison saying "Black and White Together" and "Convict unity."(4) These white identities, historically associated with power over New Afrikans were transformed in these unique circumstances.
Racism as a Tool of the Oppressor
MIM(Prisons) is cautious about presenting racism as merely a tool of the imperialists to divide "the people" as that is the line of the revisionists who claim that the majority of people in the imperialist countries are proletarians that must be united in their common class interest. As the practice of the Young Patriots demonstrated, this is not the case. However, in prisons is where we see the greatest potential for a class unity with whites that is progressive in the United $tates. And in prison, it is certainly true that racism is a tool that is actively used by the administration, even if often times white nationalists are too willing to play the role of keeping other prisoners in line for the state.
Of course, not all white prisoners are part of overtly racist lumpen organizations. Former-Black-Panther-turned-anarchist Lorenzo Komboa Ervin documented the history of the federal penitentiary at Terre Haute, Indiana, which was transformed from a completely Ku Klux Klan-dominated facility to one where New Afrikans built power in alliance with white prisoners. Ey argues that the anti-racist whites, often imprisoned for anti-war activities, were able to re-educate other white prisoners where non-white prisoners would not be able to.(5) This is an example of the importance of white-specific organizing, though not on the basis of an outward white nationalism.
We must reach people where they are at in a segregated society. We saw this with the Panthers in Chicago who were viewed with great skepticism by the white residents of Uptown, but were welcomed by the Young Patriot leadership. We saw this in Lucasville, where the New Afrikan leaders picked Aryan Brotherhood member George Skatze to stand with them as a representative of white prisoners because of eir history of settling disputes between whites and New Afrikans.
"At some point on this first day George saw a black inmate (Cecil Allen) talking through a bull horn to a small crowd of other prisoners. George went up to listen. To his surprise the man on the bull horn pointed to George and said, 'There's nobody going to be talking to you guys but me or this man right here,' meaning George Skatze."

Accepting their request for help, Skatze later "approached the whites, who were sitting in the bleachers. Putting his arm around a black inmate George said, 'If the guards come in here they're going to shoot us all, no matter what color we are.' We asked George who that black man was. He said, I don't know; I had never met him before."(6)
Veteran of the first wave of the California prison movement, Kumasi describes one scene in the late 1960s where hundreds of prisoners circled around the yard chanting, "Power to the people! Death to the pigs!" Approaching the group of white gangsters on the sidelines ey framed the situation as "are you going to be with us or with the pigs?" And since the reality reflected eir statement, they sure didn't want to be seen as siding with the pigs. As the whites started to join the ranks of the protestors, Kumasi grabbed one of their hands and raised it in the air as they faced the warden. In a segregated society this sort of representation of different nationalities can have powerful effects.
Kumasi has a number of stories about organizing across nationality. Similar to today, the California system was very segregated back then. Various white power and nazi gangs existed, as they do today. The united fronts Kumasi forged with these groups were not long-term and could be quite impulsive. It was really the strength of eir own organization that pushed others to come along. A justification of the line that building up one's own national unity helps build up the united front. Because the movement for change had reached such popularity and support among New Afrikans, it was easier to get the Chican@s to join up (who had not yet been divided between north and south).
A USW comrade has this to say about organizing in California today:
"There has been times when we've done alliances with white nationalist groups in prison. Any time we had a common goal, say shutting down SHUs, or removing informants off yard, assistance with legal work and what not.

"The only way for this to function is by creating a different set of politiks/policies than those used amongst the other LOs. As long as it does not interfere with the LOs' goals to end oppression. It is my opinion that even when dealing with oppressor nation LOs we must keep a move ready to be made once achieving certain goals due to the history the oppressor nation LOs have and because of their values as humans. We wouldn't like to see the LOs of the oppressed be set back a step or two after gaining ground. I think that even unity of some form can be achieved with pariahs — taking into account what they've done and what they are willing to do to not only redeem themselves but to benefit the struggle even at the cost of sacrifice. There is a place, space, form and energy for everyone in a struggle. It is our responsibility to organize, learn, and organize again."
What these histories demonstrate is that in cases where the white nationalists aren't completely in bed with the pigs, they tend to see themselves as prisoners and the pigs as their foes, like everyone else. And it is the unity around demands for all prisoners, ones that are nationality-neutral, that we will see opportunities for united front. So while national unity may need to come first, class unity will always be important in the prison movement.
White nationalism in general, whether of the left-wing or right-wing variety, is based in an alliance with imperialism. But there are examples in history of portions of the white population in the United $tates who may have overt racist overtones without the attachment to imperialism. Or at least with a mixed relationship to imperialism. And in many cases this racism is more motivated by fear of the other, or just self-protection than it is any deep investment in racist ideology itself. The AB comrade who wrote "The Enemy of my Enemy" seems to be an example of this white nationalism based in youthful ignorance. And the experience of the prison system has given em the opportunity to learn about the lives of the oppressed, and to live that life emself. George Skatze from Lucasville was also an example of this, someone who stood with New Afrikan prisoners and literally put eir life on the line in the struggle for prisoner rights and then later at the hands of the state when ey was one of the comrades who did not make a deal with the state to avoid death row as some of the charged prisoners did.
While others suggest we fight racism as a way to end oppression, we say to fight oppression to overcome racism. And in some cases oppression itself will overcome racism, by uniting those once divided by ideas of race. Our ideas are a product of our material conditions, and in participating in the transformation of our conditions our ideas change.