Who's talking in code, pig?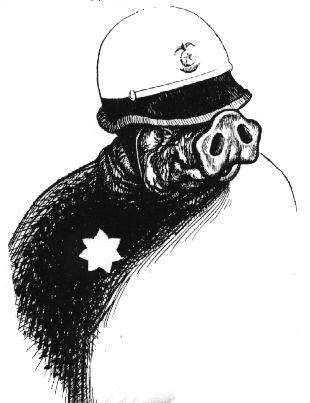 i received your letter today. My Brotha, i did receive your letter in Feb, and i had responded to it, but it was confiscated by the Institutional Gang Investigation Unit (IGI). They claim it was gang related, they claimed New Afrikan Collective is a code word for BGF, now you know how silly my keepers are.
For the past 18 years IGI/ISU [Institutional Gang Investigations/Investigative Services Unit], have used their gang policies as a tool/tactic to circumvent our free speech right, they are using every means at their disposal to censor my voice.
In April and May they all of a sudden decided that my Muslim name was a fictitious name, so, between April 1st and May 29th they confiscated about sixteen outgoing letters under the fictitious name policy. Enclosed is just an example. i have been using my Muslim name since 1982. This had nothing to do with my Muslim name. IGI/ISU were attempting to censor my voice.
i filed a 1983 civil suit (Free Speech & Religious violations). i also sent to the court as an exhibit photo copies of the front of at least 20 letters i had received between Jan and May 29 2008 that clearly shows my Muslim name on each envelope and they passed through IGI/ISU. So this is clear proof that their actions had nothing to do with my name.
...
Your Beloved Brotha,
a California Prisoner
MIM(Prisons) adds: This comrade has been a leader in an effort to build peace among the warring groups within the California prison system. The letter that was held by IGI from reaching MIM(Prisons) was regarding these efforts. The Catch-22 that this comrade, and many of us, find ourselves in is that if he writes honestly about the work he is trying to do then he is labelled a gang member and censored. The pigs do everything they can to prevent a peace process from moving forward in a system that has hundreds of race riots every year that have spilled onto the streets, particularly in Los Angeles County. You would think that it was the pigs jobs to encourage violence so that they can further repress certain groups rather than to put an end to this senseless killing.
One of the charges brought against MIM(Prisons) and many prisoner activists to justify censorship of our communications is that we are writing in code. Yet, our track record speaks for itself. The Maoist movement has continuously and tirelessly worked to put an end to oppression and exploitation. Within the prison movement we have put massive resources into providing hundreds of thousands of pieces of literature to help educate prisoners across the country to provide guidance and hope for a better future.
Meanwhile, it is the pigs who use code words such as "gangs" and "security threat groups" to target the oppressed and any efforts to bring peace and progress, without sounding like the racist arms of imperialist oppression that they are. If talking in code is a crime, censor the pigs, and let those of us who have solutions to the social problems of drugs abuse, violence, and national oppression get to working on putting these solutions into practice.