Why Take Action?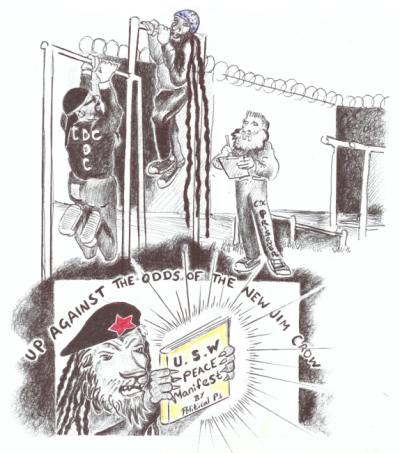 We take action regardless of whether we will ultimately win or lose. We take action simply because it is in our nature to resist injustice and oppression. It is who we are. And we recognize that not everyone has that same nature. We should not criticize or look down on those who don't have enough strength for this fight against the odds. After all, oppression of the weak and unfortunate is the very thing we are struggling against. So we hold no animosity towards the naysayers as long as they do not directly interfere with our cause, and we are happy when our actions benefit them even though they refused to participate. People cannot help being the way they are. For those of us with the revolutionary spirit the struggle comes as naturally as apathy and passivity comes to those who refuse to participate.
But the truth is that we most definitely can make a difference. The government and the TDCJ administration would like us to believe they are all-powerful and can do whatever they want without concern for any consequences, but that is just propaganda intended to make us give up before we even start. We know this from experience because we have won victories already. We have seen even just a handful of prisoners come together many times and force the administration to improve conditions or follow its own rules.
We know that just because our actions are ignored at first or because we got a rubber stamp response on a grievance doesn't mean it didn't have an effect. Everything has an effect and it all adds up. We recognize that change in any area of life generally requires sustained action over a long period of time. The pigs' first line of defense is to keep us ignorant and keep us discouraged, but we must know better than to fall into those traps.
What we often see is prisoners coming together in a spontaneous uprising when abuses reach a crisis point. The administration will quickly back down and meet their demands. But then when this temporary mobilization of the mass of prisoners falls apart, the administration incrementally begins the same abuses all over again. If they overstep and the prisoners mobilize themselves once more, then the administration just repeats the process of backing down and incrementally reimposing the same abuses. In this way they gradually accustom the prisoners to accept the abuse of their rights and human dignity.
So another reason why we take action is simply to stay mobilized and able to resist the incremental erosion of our rights. We don't fool ourselves about the possibility of keeping the whole mass of prisoners fully mobilized. The majority will always care more about watching TV and playing fantasy football. But there are also at least a few prisoners who see revolutionary work as a way to pass the time that is just as enjoyable and interesting, with the added benefit that it actually gives them some real power over their circumstances. If we can keep this core of dedicated revolutionaries organized and active at all times, then we can put up constant resistance to the erosion of our rights. And we will have an organizational framework and leadership already in place that allows us to quickly mobilize the masses for some larger project whenever it becomes necessary.
We know all this is an uphill battle, but we can take heart when we study the past. In the broad sweep of history the course of events has overwhelmingly been in our favor. The oppressors of the world have been fighting a desperate retreat for the last thousand years, losing battle after battle in the struggle for human rights. It is clear which way the wind is blowing. And the struggle for prisoners' rights fits squarely within that larger struggle.
There will be a day in the not-so-distant future when people look back with horror and shame at our current culture of mass incarceration and the conditions in these prisons. And those who struggled for prisoners' rights and reform of the criminal justice system will be grouped among the heroes who fought to overcome absolutist monarchies, colonialism, slavery, worker exploitation, racism, sexism, and every other form of oppression. We can take action with absolute confidence that we are on the right side of history. In the long run, we are assured of victory.
---
MIM(Prisons) responds: So much of what this author writes here speaks directly to the value of perseverance in our work. The project of building revolution (or making any great impact on the world) is made up of many, many, many days of mundane tasks. Some days of excitement. And many more days of mundane commitment.
In a debate on whether people are born as, or developed into, revolutionaries, it seems like this author would argue the former. But surely everyone who's turned on to politics can also remember a time in their life when they were apathetic and passive. Whether from an incorrect understanding of how the world works, or a lack of faith in our own ability to change and make change. At some time, probably over a long time, we decided to stand up.
Well, how do people turn from only participating when there's an acute problem, to making that long-term commitment to building a revolution? (Hint: it's not a persynality trait we're born with.)
Author and bourgeois psychologist Angela Duckworth says developing interest and passion for your work (the type of passion that sticks it out through the hard times) is made of "a little bit of discovery, followed by a lot of development, and then a lifetime of deepening."(1) In the quote below Duckworth talks about "having fun" as part of developing interest. While prisons certainly aren't fun, we can apply this concept to prisoners facing repression, where the "trigger" for interest is repeated exposure to examples and experiences of resistance.
"Before hard work comes play. Before those who've yet to fix on a passion are ready to spend hours a day diligently honing skills, they must goof around, triggering and retriggering interest. Of course, developing an interest requires time and energy, and yes, some discipline and sacrifice. But at this earliest stage, novices aren't obsessed with getting better. They're not thinking years and years into the future. They don't know what their top-level, life-orienting goal will be. More than anything else, they're having fun."

"... [I]nterests are not discovered through introspection. Instead, interests are triggered by interactions with the outside world. The process of interest discovery can be messy, serendipitous, and inefficient. This is because you can't really predict with certainty what will capture your attention and what won't. You can't simply will yourself to like things, either. ..."

"... [W]hat follows the initial discovery of an interest is a much lengthier and increasingly proactive period of interest development. Crucially, the initial triggering of a new interest must be followed by subsequent encounters that retrigger your attention — again and again and again."
Just because someone is initially uninterested in the politics behind the mass action, through repeated exposure and "retriggering interest," we can encourage them to go deeper. And after the initial interest is sparked, Duckworth says deliberate practice, a sense of purpose, and a hopeful attitude, are what enable us to commit and excel. These approaches are what cause us to overcome the adversity that the author describes in the article above, of administrative failures, discouragement from staff, and even our own mistakes.
And Duckworh argues, based on eir decades of study, that these qualities can be nurtured and developed — by individuals themselves, and by people outside of those individuals. As organizers, we need to work to develop interest, practice, purpose, and hope in others. In eir book Grit, Duckworth lays out many methods to do this, some of which we've touched on in other articles throughout this issue of ULK. With this response, we primarily want to highlight that a revolutionary fighting spirit is something that we can cultivate; just because someone doesn't have it now doesn't mean they won't ever have it. And it's the organizer's job to make that process as successful as possible.